Catching My Brunch: Big Fish
August 21, 2013
If there's any city that I feel knows how to do brunch, it's Calgary. Every Saturday or Sunday morning, local restaurants in the Calgary region offering brunch are bustling with activity, and the wait times are never-ending. Luckily, one of my last trips to Calgary resulted in stumbling across brunch where reservations were accepted.

Big Fish - 1112 Edmonton Trail NE - Calgary AB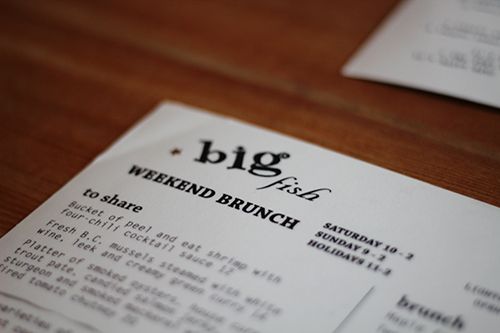 As you can probably imply from the name, Big Fish is known for their seafood. With a commitment to sustainability by participating in the Oceanwise program, and supporting local businesses, I'm surprised I hadn't heard of them before. Oyster nights, fish, seafood paella, and other crustaceans can be found on their menu throughout the week, but I had no idea what they would be serving up for brunch.
Walking in shortly after 9 AM on Sunday, the restaurant was practically empty, giving the group of 7 of us the restaurant to ourselves. We were greeted warmly upon arrival, and seated with our drinks and menus in hand shortly after. Once we placed our orders, a plate with housemade ketchup and jam was brought to the table to accompany our dishes - and both condiments were delicious.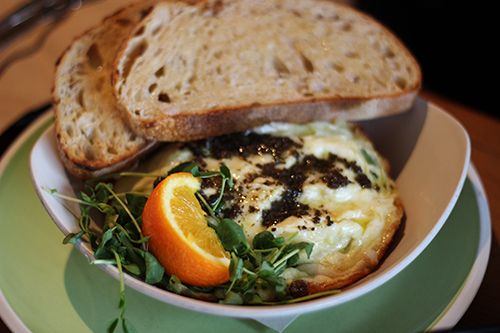 Wild mushroom, truffle, basil and white cheddar scramble on Noble duck confit hash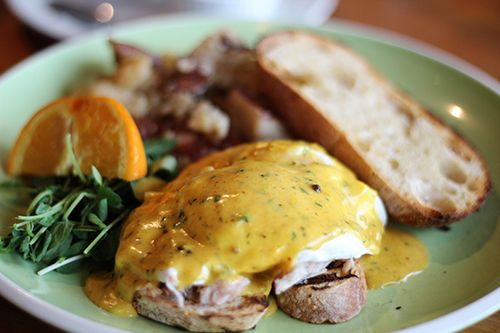 For myself, I had the Dungeoness Crab Eggs Benedict with Basil Hollandaise ($14), which came out with smashed red potatoes, baby pea tendrils, and Sidewalk Citizen's toasted bread. My eggs were soft poached perfectly, yolk oozing over the top of the entire dish when broken open. I love that real crab meat was used in the dish - its so rare, so I love being able to order fresh crab off menus when its available. The hollandaise was thick and creamy, but not overpowering, so that I could still taste the crab itself. With tender, flavourful potatoes and crisp toasted bread, the dish was perfect for brunch and I didn't feel overly stuffed.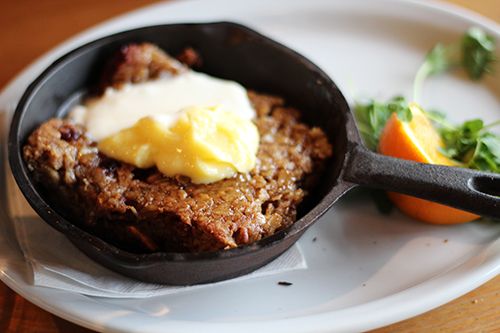 Maple fried Highwood Crossing oatmeal with orange curd and vanilla bean cream
If you're a seafood fan but your culinary counterparts are not, the brunch menu at Big Fish is diverse and has something for everyone. The portions are perfect for brunch, and everyone at the table enjoyed the dish that they ordered. Most dishes run in the $12-$15 range, making brunch affordable, and with reservations accepted, there's never a wait. I would return to Big Fish for brunch without hesitation - heck, I actually really want to join them on Sunday nights for the traditional seafood paella!