Local Comfort: Plow & Harvest
August 18, 2013
Whenever a new restaurant plans to open up in Edmonton, people here get pretty excited. There was so much buzz on social media about the opening of Plow & Harvest - not to mention, tons of giveaways for invitations to their exclusive sneak peek tasting before opening. I was included in the bunch of people excited about the opening, 'cause who doesn't love comfort food? The winter months here can be horrible and there's nothing better than a hearty bowl of soup or a heaping portion of mac 'n' cheese on a cold night!

Plow & Harvest - 10041 170 Street - Edmonton AB


Like the name suggests, Plow & Harvest aims to focus on making connections with local producers, to use their product to create the familiar flavours in comfort food that we all know and love. Walking into the restaurant, it really does have the farm and countryside feel - white picket fence and tractor included! The wooden accents and decor have a homey, rustic feel to them, and the large windows allow for lots of natural lighting.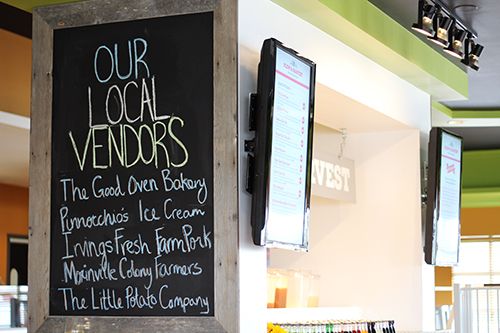 During the night, I had the chance to speak with Chef James Bailey, who was on the team that came up with the concept for the restaurant and designed the current menu. A chalkboard around the side of the restaurant highlighted some of the local connections that the restaurant has already made, and he informed me that the restaurant is continuing to seek long-term relationships with farmers so that the menu can be as local as possible. In the next printing of the menus, the names of producers will be printed in the description of the dishes, so it will be great to see the recognition there. I have to say though - he did mention that Irving's Farm bacon is the best he's ever had, and I've got to agree!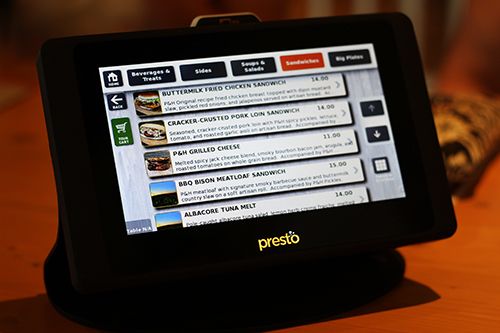 At each table we noticed a tablet that had a program to peruse the entire menu. With the device, you were also able to put in your orders and even pay with a credit card on the spot. Pretty nifty, but it takes out the aspect of socialization with your server.
Another feature of the restaurant that I appreciate is the openness of the space. The kitchen is open and visible to all patrons, and the tables are set at at a good distance from one another to allow for privacy. There aren't any major barriers that block one side of the restaurant out of view from the other either.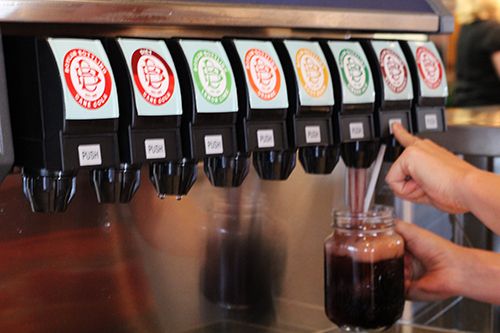 Aside from their list of local beers and wines to drink, Plow & Harvest offers Boylan's All Natural Sodas on tap and in bottles. Seven different flavours are available - with cherry cola, ginger ale, and lemon lime to name a few. I tried out the Cane Cola and Root Beer while I was there, and did enjoy both. The sweetness is less pronounced compared to their typical counterparts as cane sugar is used. The root beer actually reminded me of the old fashioned root beer you can get at the fair - so now you can get that flavour year round at Plow & Harvest!
But enough about the restaurant - lets talk food. When we arrived, our server immediately offered us the fresh brewed iced tea and the fresh squeezed lemonade. The iced tea wasn't very sweet, so the bitterness of the tea was quite apparent. The lemonade on the other hand was quite tart, and I would have preferred it to have more water in it. After the ice melted down a little, it was much easier to drink and tasted like a homemade lemonade.
The first item out to the tables for tasting was a small sampler of the Baked Potato Soup. Plow & Harvest describes it as a creamy potato soup with smoky bacon, sharp cheddar, sour cream and green onions - and that's exactly what it was. A thick, creamy soup with small chunks of potato, and smokiness from the bacon. I would love having it on a cold day, but would prefer for it to be a little less salty. Others at the table found the saltiness to be acceptable, so I guess it's just me with a palate that prefers things a little less salty.
Next up was the Hand Cut Plank Fries, and their shape really did resemble planks of wood. My serving was a mix of slightly crisp and limp fries, as they had evidently cooled down already before leaving the kitchen. If served right away after frying, I'm sure they would be hot and crisp.
Pickles were the next to show up, and we each had a small serving of pickled cucumber, onions and jalapeños. I personally like my pickles crunchy, salty, and sour, but the kind pickled by Plow & Harvest were sweet, slightly sour and a little soft for my liking. The pickled jalapeños were crazy spicy - in a good way - whereas the pickled onions were savoury and sour. Of the three, I definitely enjoyed the onions the most, and was glad to see that they are included in some of the sandwiches made here.
The first sandwich we got to try out was the Not-So-Sloppy Joe: Plow & Harvest secret recipe with ground beef, sweet peppers, and melted cheddar on soft artisan bread. And it was aptly named - no mess as the mixture didn't have too much sauce, and held together well on the bread while being eaten. The bread itself was nice and soft, with a bit of chew, but I would have enjoyed the sandwich more if it were more salty than sweet.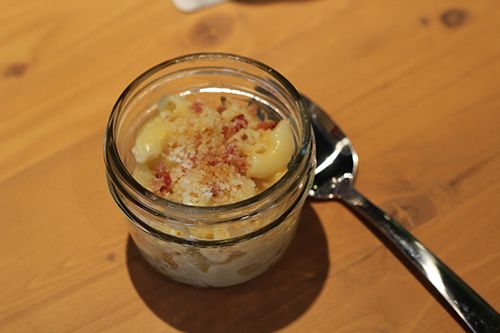 Cute little servings of the Baked Mac-N-Cheese with Bacon Breadcrumbs arrived to the table next. Unfortunately, this was my least favourite sampling of the night. The pasta was quite soft, and the cheese sauce was thin and runny, giving the dish little cheese flavour. The bacon breadcrumbs were fragrant, but quickly lost their crunch if they sat on the pasta for too long. I understand that everyone has their own preferences for macaroni and cheese - with mine being al dente pasta in a spicy, creamy, cheese sauce. Talking to others at the table revealed lots of different variations, as comfort food can be very personal. One thing I should mention though is that the mac 'n' cheese comes only as a side, and not a full dish.
The next sandwich for the night was the Grilled Cheese, and I honestly did a double take, as it didn't look like a typical grilled cheese. The Plow & Harvest grilled cheese contains a melted spicy jack cheese blend, smoky bourbon bacon jam, arugula, and roasted tomatoes on whole grain bread. The flavours worked really well together to make a sweet and savoury sandwich, as the cheese was melted perfectly, enrobing all the other ingredients inside. My gripe with this sandwich is the bread. The entire piece of bread was very crisp, but not in a grilled sort of way - it was as if the piece of bread was first toasted, then lightly grilled to give it a little colour, which made it quite dry. I prefer the bread to my grilled cheeses to be crisp on the outside and soft on the inside, which is why this one was so different.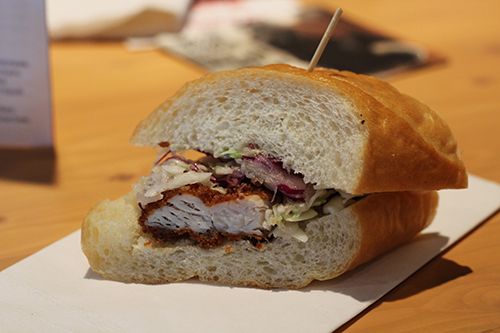 Last but not least, we had the Buttermilk Fried Chicken Sandwich, which I had been most looking forward to. Chef Bailey said that they marinate the chicken breast in buttermilk with salt for 24 hours, then deep fry, and top it with dijon mustard slaw, pickled red onions and jalapeños. The chicken was amazing. Crispy, juicy, and the spicy slaw completed it, cutting the fat. If there's anything I'm coming back to the restaurant for, it's this sandwich. I liked it so much that I had to try it twice to verify how good it was!
To end the meal, Chef Bailey secretly let me try out the Frozen Vanilla Custard that they get from Pinocchio's Ice Cream. It really does resemble a frozen, creamy creme brûlée. So delicious, and I can only imagine what it would taste like amazing in their frozen custard sandwiches!
Overall, it was a nice night at Plow & Harvest to celebrate their grand opening. While there are still kinks to work out here and there, I hope it will become a great go-to for comfort food. As discussed with Chef Bailey, the core menu items won't change often, but they may end up having different features each day available to order. As many of you know, when local food is involved in the picture, prices tend to go up. Luckily at Plow & Harvest, the prices are quite affordable, sitting in the $14-$16 range for most plates. They aim to keep prices affordable, and the environment comfortable, as the restaurant wants to be an establishment people are willing to visit often to have familiar food and support local producers.
With this Edmonton West location as their flagship location, the group behind Plow & Harvest aims to open a few more locations in Edmonton before expanding down to Calgary and the rest of Canada. Theres such a wide variation in local produce, that I wonder if the menu will be different in other locations that are bound to open up. Guess we'll wait and see!
Disclosure: as this was a media event, views expressed in this post are solely mine. I was not expected to feature this restaurant on my blog, nor obligated to do so. This post is 100% my opinion, and as always, my priority is to you, the reader, to present an unbiased, thorough review.