Manicure Monday: NCLA - Stephanie's Galaxy
May 27, 2013
Haaaapy Monday! After a weekend of grey skies and rain, I cannot wait for the sun to come out and shine this week. It's been a busy weekend for me, but I hope you've all had the chance to relax, and to my American readers, hope you had a great Memorial Day weekend!

Today for Mani Monday I have something a little different to share with you all. Have you ever seen those tutorials for galaxy-inspired nails and thought they were absolutely beautiful? Cause I have. But I'm an incredibly busy person without time to spare, so sitting down and using multiple polishes to achieve the look is out of the question for me. Enter NCLA's nail wraps.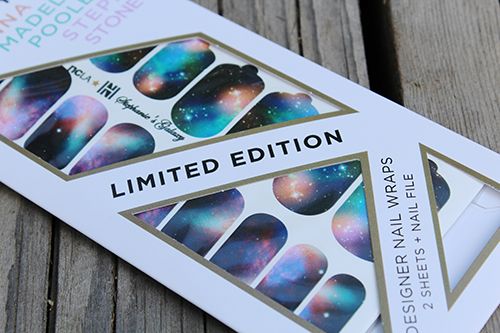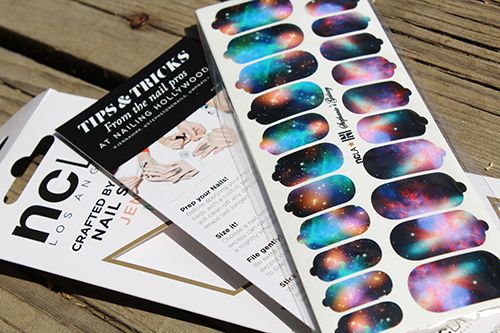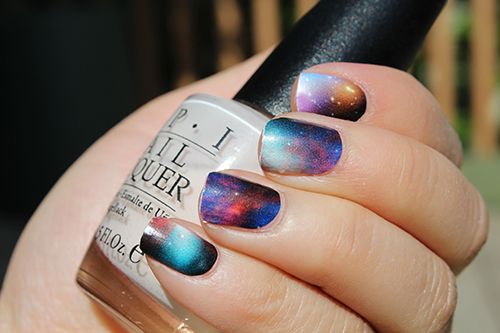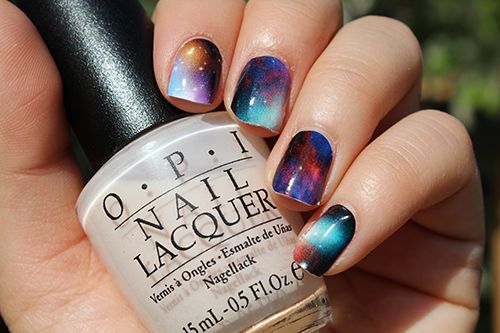 When I first laid my eyes on these nail wraps, I couldn't help but think how beautiful the print was. I love the idea of nail wraps for complex designs, because not only does it look perfect on the nail, but it lasts for so long. Each package of nail wraps by NCLA comes with 44 different sized stickers, which could realistically give you 4 manicures if you're willing to trim down the bigger pieces. There is also a set of directions and a nail file to help you with application. Having only used nail strips once before, these ones were a little stiffer than my
previous set
, but they were still very easy to apply and finish off with a top coat for enhanced wearability and shine.
I decided to test out the wear on these nail wraps, and on
day 6
of wear pictured above, you can see the minor tip wear and small chips on my index and pinky finger. I thought it was amazing to see the design wear so well and for so long on my nails. But I do have some cons - wearing wraps on your nails means that you nails are unable to breathe. Removal was super simple, but I found that the nail wraps did remove and damage the upper layers of my nails. This is a problem
on my part
, seeing as I neglected to put on a clear base coat before application as stated in the instructions. Whoops. It was an easy fix for me to take a buffer to smooth everything out and recondition my nails with cuticle oil to restore their original condition, so make sure to protect your nails before application. Secondly, a majority of the nail wraps were too big for my fingers, so if I wanted to utilize the full package, I would have to trim down the larger sizes for future applications.
So whats the verdict? I think the NCLA nail wraps are an awesome product - they've got great designs and I'm sure they could wear up to a full 8-10 days without much of a problem. They're available via
Nail Polish Canada
for $16 and ship for free. If you were to do 4 manicures, that works out to $4/mani, which really is a great deal when you compare it to other brands offering nail wraps for upwards of $8. I'm particularly fond of these three (
1
,
2
,
3
) styles, and I have one more set to share with you soon!
Have you tried any of the NCLA nail wraps? How did they turn out for you?
Disclaimer: This product was sent to me by Nail Polish Canada for consideration of a review. This post is 100% my opinion, and as always, my priority is to you, the reader, to present an unbiased, thorough review.