SWICH things up!
May 15, 2013
This past Mother's Day, I had the chance to preview the food that will be available from a new food truck here in the city this summer. SWICH food truck is going to be hitting the streets soon, and they're pretty impressive - they make everything from scratch! Literally everything. Bread, meat and spreads.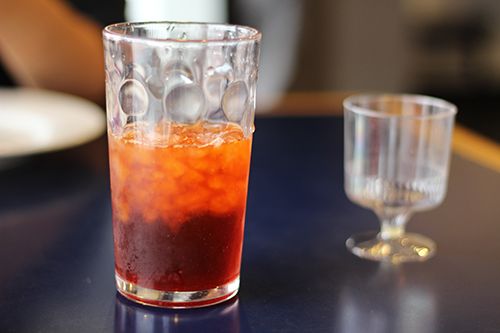 The lunch time pop-up event at Lan's Asian Grill was a great way to introduce some of their artisan sandwiches that will be available. With three planned sandwiches and dessert planned, the SWICH team started off the meal with mimosas and Bourbon Thai Tea.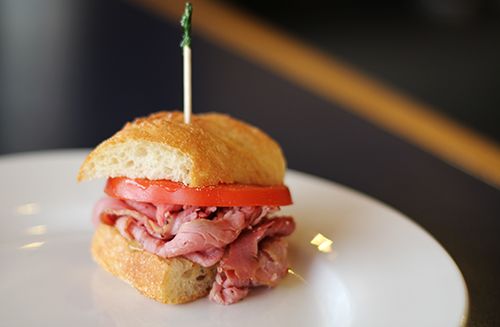 First up was the Thai Ham Sandwich. Ham cured with lemongrass, kefir lime leaves, and fish sauce, shaved and topped on a fresh baked hoagie with tamarind mustard and a tomato. The enjoyed that the hoagie had a slight chew to it, but the star here was the ham. It was so tender and easy to bite into - not to mention the mix of flavours used in the brine marinated the ham perfectly and it wasn't overly salty. I would eat this ham all day.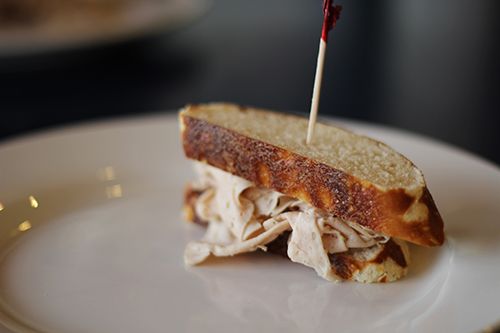 Next up was the Thai Green Curry Chicken Sandwich, which was hands down my favourite of everything I tried that day. Between two slices of pillow soft pretzel bread was a smooth green curry deli chicken, pickled bamboo and green curry aioli. Seriously a huge flavour explosion with every bite - I'm not a green curry fan, but I loved this sandwich. Every part of it!
The last savory sandwich for the meal was a Montreal Smoked Wagyu Beef sandwich. There's now a producer in Southern Alberta that produces Wagyu, a smooth marbled beef, and SWICH is proud to be the only truck in Edmonton to serve it! After being cured, brined and smoked, the beef is shaved thin and served with a sauerkraut aioli and dry roasted red cabbage inside a ciabatta bun. The sauerkraut flavour was light, and each bite into the slightly chewy bun yielded a certain creaminess to it from the beef. The smokiness was apparent, but not overwhelming.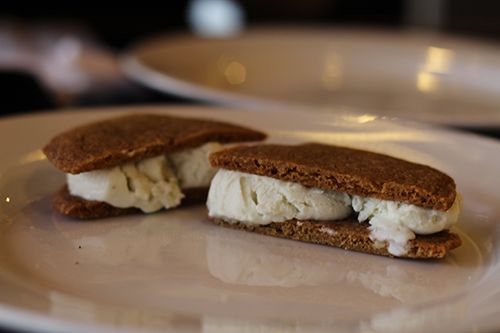 Dessert for the meal continued on with the sandwich theme with an ice cream sandwich. Lemongrass ice cream slathered between two ginger cookies - I was a little hesitant upon hearing we had lemongrass ice cream, but this match was actually perfect! The ginger cookies had a bold ginger flavour as they are made with fresh ginger juice, and had crispy edges and a soft middle. The combination was sweet and spicy, and a really great palate cleanser for the end of the meal. I can't wait to see what other dessert sandwiches they have in store!
After the SWICH popup experience, I cannot wait for their truck to hit the streets. They should be out by the end of May, with a lot of potential locations that they'll be disclosing in the near future. It's pretty impressive that they make everything from scratch.. That's a lot of dedication and hard work. Once the truck is out and about, make sure to give them a try. They'll impress you and your taste buds will thank me!