On my quick trip to Banff last month, I had the chance to stop by a restaurant I've been dying to try in Calgary. Finally. I think I've been wanting to make a visit for a couple months now, so finally sitting down in the restaurant was a dream come true. Sad dreams, I know.
Model Milk Bistro - 308 17 Avenue SW - Calgary AB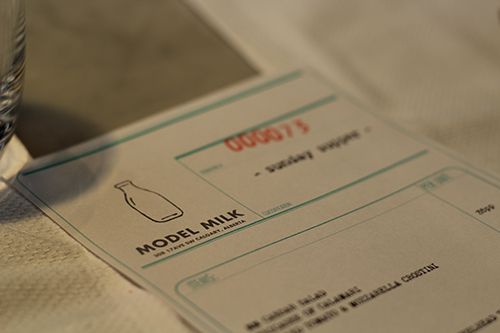 Model Milk was a restaurant I really wanted to visit, mainly for their Sunday Supper. Everytime I've been down in Calgary, I've never been around on Sunday night - so when the opportunity came up, I jumped at the chance. We weren't able to make reservations for early in the evening (5pm), but were assured there should be seats available when the restaurant opened.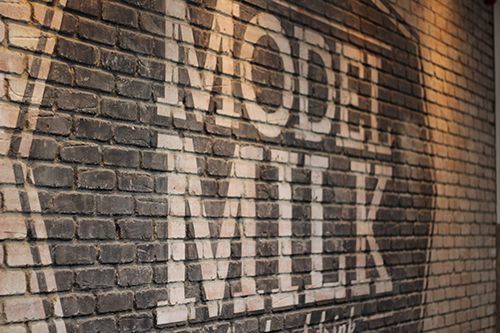 A majority of the interior of the restaurant is lined with brick and warm wooden accents, while many unique light fixtures are placed throughout. The juxtaposition of classic and modern architecture makes this restaurant really special.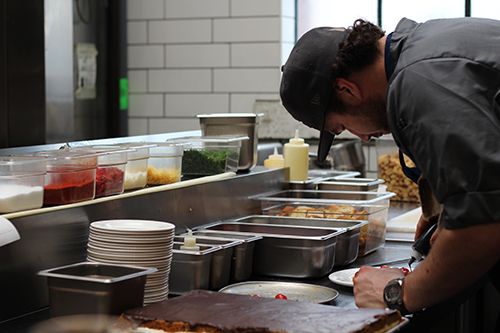 I was meeting my friend (
Carmen
)for dinner, and arriving at 5:15, we were surprised when the waitress informed us that all their walk in tables had already been taken. Apparently there was a big line up before they even opened, so seating at the eating bar were the only seats available. To tell you the truth, I always prefer the eating bar cause you can see all the action and interact with the chefs in the kitchen!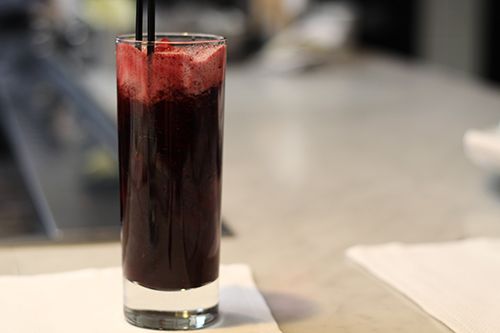 Now, for those of you unfamiliar with Sunday Supper, it happens at Model Milk every Sunday, and it's the only thing you can get - no orders off the regular menu. The menu is preset and different each week, and you get a 3 course meal for $35 per person, drinks excluded. But don't think you're just getting 3 dishes, cause each course consists of a couple different items. So to start off the meal that night, I tried one of their unique non-alcoholic creations, the Blueberry sour ($6):
wild blueberry purée, fresh lemon, lavender, ginger, egg whites
. The drink itself had a trace of tartness, but it was refreshing and yummy to sip on throughout the meal. There were so many interesting choices both alcoholic and nonalcoholic - I can't wait to be back to try out some more of the unique creations!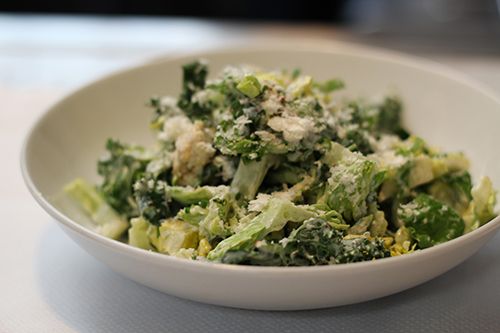 To start off our meal for the night was the MM Caesar salad served family style, consisting of kale, baby romaine, Caesar dressing and Korean chili powder. The greens had a satisfying crunch to them, while the salad was garlicky and slightly spicy. Garlic lovers, try this out. Vampires? Beware.
Next up was an individual Smoked Tomato & Mozarella Crostini for each person. When I first saw the crostini, it kinda struck me as looking like a beautiful egg. The melted mozarella topped with an intensely red 'liquid' yolk on a crisp crostini had a nice smokiness, while the balsamic countered it with a light sweetness.
The last dish to our first course was the Fricasee of Calamari. The calamari was presented in ribbons, served with dehydrated tomato, edamame, and croutons. The calamari was tender and easy to chew, and full of salty and spicy flavours. Of all the dishes, this was one of my top picks for the night. Best of all, it's available on their regular menu!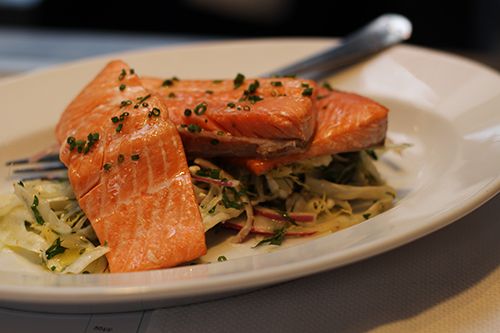 The first dish of the main course to be served up was the Oven Roasted Lois Lake Steelhead Trout served over a mix of onion and fennel. I'm not normally a fish person, but the trout was cooked to perfect, flaking off with each bite. The fish itself wasn't overly seasoned, so the true flavours of the trout were able to shine, and the fennel below added a different element of texture and flavour. This was Carmen's favourite of the night!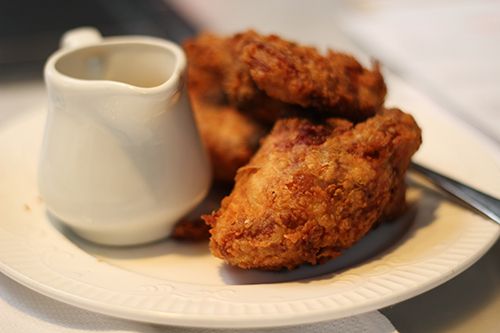 The second feature dish of the main course was Model Milk's Fried Chicken served with pan gravy. The coating of the chicken was nice and crisp (even after sitting for a while), coating the tender, moist chicken on the inside. The gravy was light, giving the dish a bit of depth and moisture when eaten altogether - definitely recommended!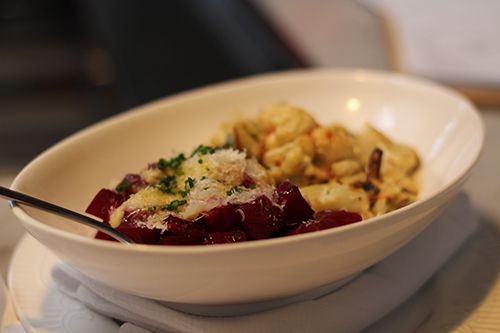 Every sunday supper meal comes with four sides with the main course. First up was a combination of the Beets Bakey & Roasted Cauliflower with Taleggio. Ever since having beets in a salad at CHARCUT, I've loved beets as a side. The beets kept their form but were easy to bite into, juicy and naturally sweet. The cauliflower on the other hand was creamy and not so cheesy that it felt heavy.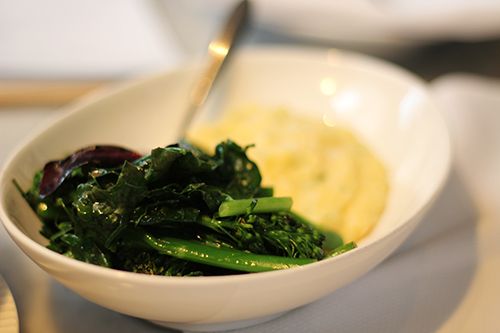 Our other two sides were Sauteed Greens with Sesame and Polenta. As a little girl growing up, I was never exposed to polenta. It was always rice, rice, and more rice. I love seeing it as a side on menus, as I love the creaminess and texture. The polenta cooked up that night was no different, and it was definitely big contrast to the crunchy greens served in the same dish.
To end off our Sunday Supper meal was a delicious Banana Cake with Housemade Chocolate Ice Cream. The cake itself had a layer of vanilla cream in the middle, and covered with dark chocolate. It was served up warm, moist, gooey, and not too sweet - just the way desserts should be! The ice cream wasn't too rich, and just slightly sweet like the cake. We actually got to see how the chefs make the ice cream too, it was a cool little machine that made small batches at a time. See? So much fun to be had sitting at the eating bar!
At $35 per person for a huge, filling meal on a Sunday night.. I have nothing to complain about. The dinner service was well executed and the service was prompt and friendly. The menu for Sunday Supper changes on a weekly basis, but I'm sure you'll love it no matter what is on the menu. Be sure to arrive early, or snag a reservation. Sunday Supper runs each Sunday until 10pm - maybe I'll see you there the next time I'm around in Calgary!