Soda Jerks
September 05, 2012
Back in the 30's, soda jerks were usually nothing close to being a jerk - they were the people behind the counters in drugstores, serving up drinks from the soda fountain. Here and now in Edmonton, Soda Jerks is a restaurant offering burgers & bottles of old fashioned soda.

Soda Jerks - 17520 100 Avenue - Edmonton AB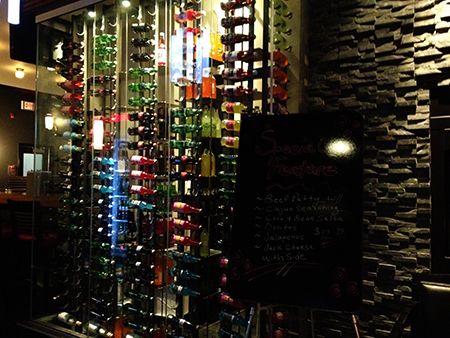 Walking into Soda Jerks, you're greeted by a cozy environment furnished with a beautiful fireplace and dark wooden decor. To the left is a stunning refrigerated display of a variety of sodas, from where the name is partially derived. To be honest, I was actually expecting a old-style drugstore environment to make the restaurant live up to it's name, but hey, classy decor works for me.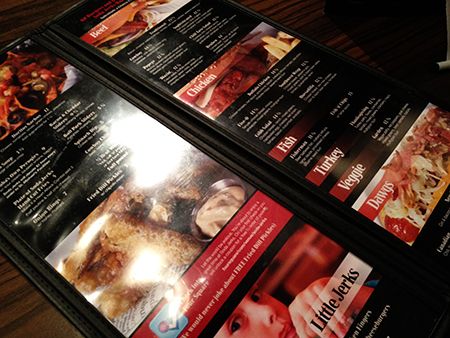 Back in April, I decided to go for a quick dinner before meeting with friends in the evening. Shortly after we arrived, we were seated by the hostess and given time to look at the menu. For a Wednesday night, the restaurant wasn't empty, but not too busy, with most patrons being families with children. On the menu there are a variety of sodas and shakes to choose from, as well as burger combinations. Alternatively, you have the choice to customize a burger to your liking.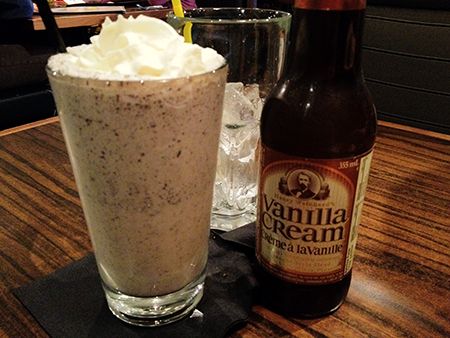 To start off, I had ordered a Cookies N Cream milkshake ($3.75) while Vince had a Henry Weinhard's Vanilla Cream Soda ($3.50). The milkshake was nothing out of the ordinary - simple, thick, and tasty. The vanilla cream had a strong vanilla flavour, and was quite sweet.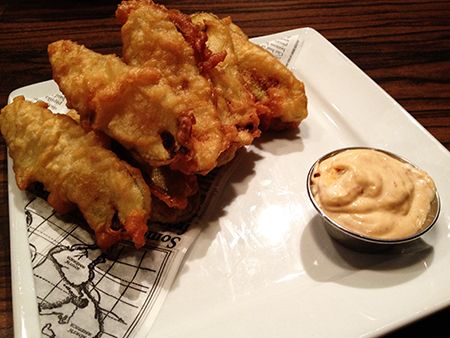 To hold us over while waiting for our burgers, ordered the deep fried dill pickles ($7) to start. I had always wanted to try a deep fried pickle but never had the chance (couldn't find them at the fair!), so I was excited to see this finger food on the menu. The fried pickles were coated in a thick layer of batter before frying, which made them feel really oily while being eaten. The chipotle mayo they were served with helped cut the greasiness down, but realistically, I could probably eat only 2 or 3 pieces before feeling like its too much oil I'm eating (the plate has about 8 pieces).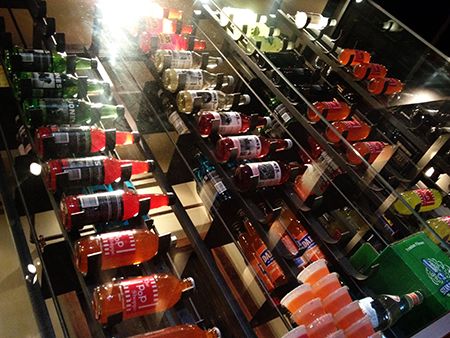 After finishing the appetizer, we waited, and waited, and waited some more until about 20 minutes had passed without us seeing our waiter. Finally he checked in with us, only to say that our order had been misplaced somewhere. Nothing was being cooked for us, and we had to reorder, which would mean waiting another 15-20 minutes before getting our food. Considering that the restaurant wasn't busy, I found it unacceptable for such a large mistake to occur. Our waiter was apologetic, but honestly, it was a big time kill. For the rest of the meal, we didn't see him too often either. Hopefully this doesn't happen too often!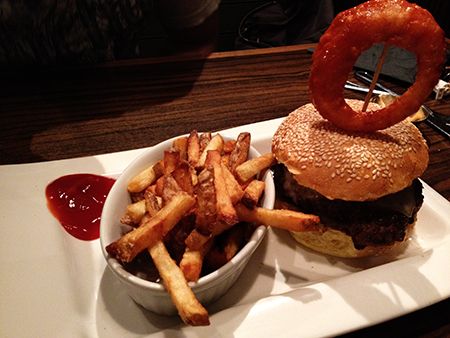 The Cowboy ($14.50):
Cheddar, chili, bacon, onion ring, coleslaw, sesame seed bun
. Vince's burger didn't really have anything out of the ordinary - the chili was something different, but nothing outrageous. The burger itself was juicy and tender, and I thought the presentation was cute!
For myself, I ordered a custom burger ($12.75) with: a beef patty, lettuce, tomato, onion rings, roasted red peppers, and a variety of dressings (garlic mayo, dijon mustard, ketchup, cajun spice, ranch). The combination was good, but honestly, I'll eat almost any burger. The most important thing for me is to have fresh, tasty ingredients. That's all you need to make a good burger, but of course you can go gourmet and spice things up. What I really like about the customization though is the range of possibilities. You can turn your burger into a salad, add premium toppings, and just experiment with so many ingredients. Some notable ones? Root beer BBQ sauce, candied pecans, Gin & bacon sauerkraut, Doritos and chocolate dipped bacon.
While the service may not be the best, go ahead and experiment - have some fun! The combinations are endless.