Unfortunate Service: Pazzo Pazzo
April 12, 2012
A couple weeks maybe months.. ago, I found myself standing in a long lineup outside of Pazzo Pazzo, waiting in the cold like an idiot. Knowing me, I don't dress warmly to be outside when I expect to be indoors eating.. and if the line was any indication, I thought I would be standing outside for at least an hour.

Pazzo Pazzo - 10016 103 Avenue NW - Edmonton AB

It was the weekend that the Groupon deal for Pazzo Pazzo was coming to an end, but many of the patrons in line weren't those with the Groupon. They just plain loved the food! We were told that the food was awesome, and the portions were massive - there was no way we could eat two entrees. Challenge accepted.

When we finally entered the doors of the building after freezing for 10 minutes, I sent Vince up to the front to put our name down for a table. Funny thing is, I had called two days in advance trying to get a reservation, but the gentleman I spoke to on the phone assured me it wouldn't be necessary and would be seated when I got there. Poor judgement call, sir. It took 20 minutes for Vince to even get the attention of anyone in the restaurant, despite many of the employees standing in front of him, not acknowledging his presence. They were obviously understaffed for the night, as multiple tables were vacant, waiting to be cleaned. I had no idea how long we would be waiting for.

We waited a full 50 minutes before we were called to be seated at the table, and we knew exactly what we wanted to order after staring at the menu *which was covered in dirty food residue* while we were waiting.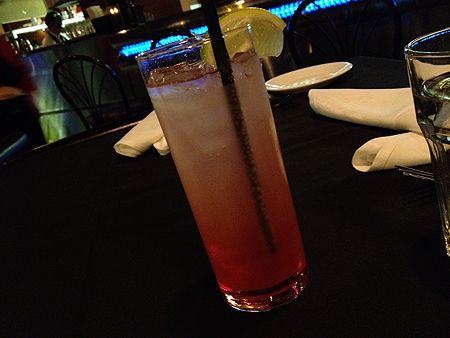 I started off by ordering a peach & raspberry Italian soda. It looked beautiful when it arrived to the table, but the syrup proportions were way off - I felt like I was drinking cough medicine. Drinks aside, the waitress brought along a basket of bread for us to snack on until our appetizers came.
The bread itself was nice and soft on the outside, with a crisp exterior. With a bit of butter, it tasted delicious, and was so satisfying because both of us were starving.

Prosciutto e'Bocconcini ($16)
As we sat and waited for our appetizer, it seemed like the table next to us had ordered the same thing.. too bad they didn't, and our dish was actually sitting at their table. After sorting out the confusion with our waitress, they passed the dish over and we were able to eat. Honestly, something like that really shouldn't be happening in Edmonton's "finest" Italian restaurant.
For our appetizer, we ordered the prosciutto wrapped bocconcini, smothered and baked with tomato sauce and basil. The balls of bocconcini were substantial and much larger than I imagined, but wrapped in the proscuitto they were delicious. The only thing I wasn't too fond of was the middle of the bocconcini were still quite cold - possibly a little longer in the oven would have made this dish much better for me.

Carbonara ($22)
Next up to arrive was Vince's entree, the pasta carbonara. I was shocked at the mere size of the pasta, wondering if he would be able to eat it all. Then I started to wonder how big my entree was going to be - the people in the line while we waited were right! Pazzo Pazzo's version of the carbonara is made with chopped bacon, Italian sausage, mushrooms, garlic, parmesan cheese, eggs, and basil. While the pasta tasted good after the first few bites, the ratios of meat to pasta were too wonky for our liking. The dish was overwhelming to eat, because the meat was quite salty, and there wasn't enough pasta on the plate to tone it down. We ended up taking a lot of the dish home, and recooking it with more pasta to even it out.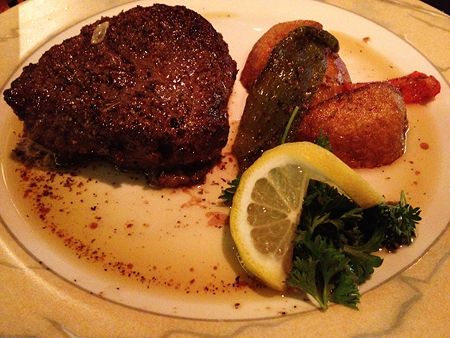 Beef Tenderloin ($33)
Under normal circumstances, you may say I was out of my mind to order beef tenderloin at an Italian restaurant. And I would fully agree. BUT, I had read that the tenderloin here is amazing, and someone even recommended it to me on Twitter! All the main entree dishes on the menu at Pazzo Pazzo are served with your choice of salad or pasta, so I ordered the tenderloin to be served with penne pasta and a cream sauce.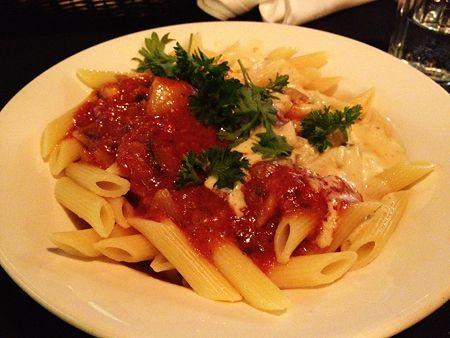 But I received something different. Both a tomato and a cream sauce. Turns out it was pretty good, and I was able to try out both of their offerings - I must say that I enjoyed the cream sauce more though, as the tomato sauce wasn't really anything special. Looking at the plate above, it doesn't seem like my entree was that big.. but turn the plate at another angle and you will see that I had a ton of food to eat.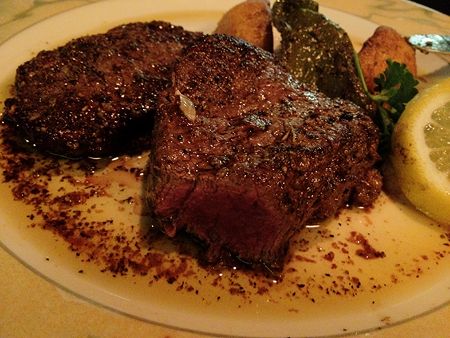 There were TWO pieces of tenderloin on my plate! Cooked medium rare and served with veggies on the side, this tenderloin was perfectly cooked and seasoned, tender and moist. Probably one of the best steak dishes I've eaten out in a long time. My only wish for this particular dish, was for it to be dressed with less olive oil. My food was smothered in it, and was very oily. I would've liked having my food not dripping with oil.
Now here comes the bad part. The service. I've had some pretty bad experiences at some restaurants here in the city, but the service during the meal that night was nothing compared to some of the worst times I've spent in certain establishments. While I do understand that the restaurant was busy, I don't think waiters or waitresses should ever ignore patrons that they are serving. While I thought waiting 20 minutes just to have our names written down to get a table was bad, or even having one of our dishes sent to the wrong table was bad, our waitress never once checked in on us during our entire meal, or even cracked a slight smile. She never came over to our table to ask how our food was, she never came over to fill our glasses of water (which were basically empty throughout the entire meal), even despite seeing her look over at our table. IF our food was unacceptable, we wouldn't have been able to tell anyone, because no one ever came over to our table. After we finished with our entrees, we waited 20 minutes for her to come by to take away our plates. Seeing as we wanted the Carbonara to be packed up, she disappeared for another 15 minutes before reappearing with the bill. Not only did she come back with the bill, but our packaged food was nowhere in sight. 10 minutes later she returned, and we had to remind her that she had packed up food for us.
Honestly, for a place where the food is good, the service needs to be set at a higher standard. I wasted so much time at the restaurant that night just sitting around and waiting, I could have sat at home watching paint dry. I wish I could say that maybe this experience was just an isolated one and it won't happen again, but looking at the reviews on Urbanspoon, it seems that there is consistently bad service. It really is unfortunate because patrons such as myself may have possibly returned in the future if my dining experience had been better.