Meet Christina M Boutique (w/ a Giveaway!)
April 02, 2012
Lately I've been obsessed with Etsy. I spend so much time on that site, browsing and adding items to my cart nonstop. I literally have 50 items sitting in my cart right now and it's so hard not to buy it all! Good thing my Visa bill stops me :)

Anyway, we're skipping Manicure Monday this week for something better! I want to introduce you to Christina, owner of the Etsy shop Christina M. Boutique. Christina is based out of New York, selling gorgeous handmade bracelets and necklaces in a wide array of colours and materials. One of the items I've received from her is the Elle necklace in lavender, and I absolutely love how the necklace brings a soft pop of colour to any outfit.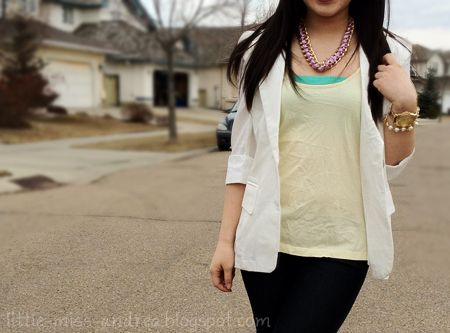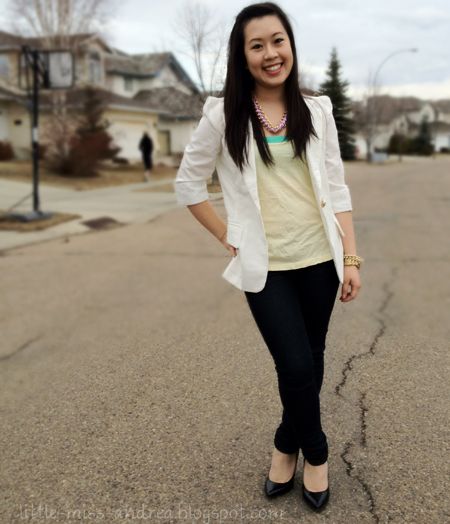 Blazer: bought in Asia | Top & Bandeau: CR | Jeans: J Brand
Pumps: bought in Asia | Accessories: bfrend, Coach & Chrstina M. Boutique
Christina's shop just recently released some new designs, but I'm happy to say she has offered the Elle necklace in any colour to one of my readers! The necklace is a wonderful piece featuring a gold chain & soft ribbon. It will automatically glam up any outfit! If you're interested in winning the necklace, simply follow the guidelines below.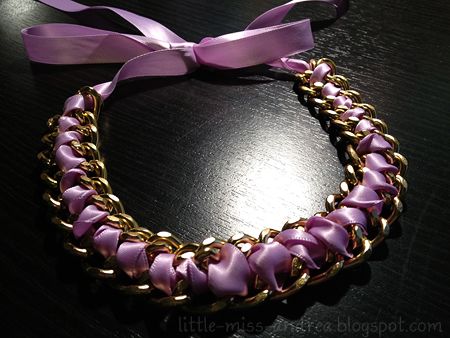 MANDATORY ENTRIES
1. Like
Christina M Boutique on Facebook
2. Follow this blog via GFC
3. Leave a comment below about your favourite piece from her shop!
All 3 must be completed for any entries to be counted
ADDITIONAL ENTRIES
1. Follow Christina on Twitter (
@Shop_ChristinaM
)(+1)
2. Favourite
her Etsy shop
on your Etsy account.
3. Follow me on Twitter (
@littlmissandrea
)(+1)
4. Tweet ("Enter to win the Elle Necklace from @littlmissandrea & @Shop_ChristinaM http://t.co/eSEAjX2M")(+2)
5. Follow Little Miss Andrea via Bloglovin' (+1)
Please fill out the relevant fields in the Rafflecopter widget below - those are the only entries that will be counted. The giveaway is open to US and Canadian residents 18+ years of age, or with parental consent. The winner will be chosen randomly on April 6th, 2012, and have until April 10th to claim his/her prize.
Make sure to check out
Christina's shop
. Good luck everyone!
a Rafflecopter giveaway