Hello St. Albert: XIX Nineteen
December 13, 2015
Edmonton is a growing city and the suburbs have been a popular place for couples to move and start their families. Dining options are typically restricted to chain restaurants and fast food establishments, but if there's one local restaurant that has proven that fine dining can thrive in the suburbs, it's XIX Nineteen.

XIX Nineteen - #104, 150 Bellerose Drive - St. Albert AB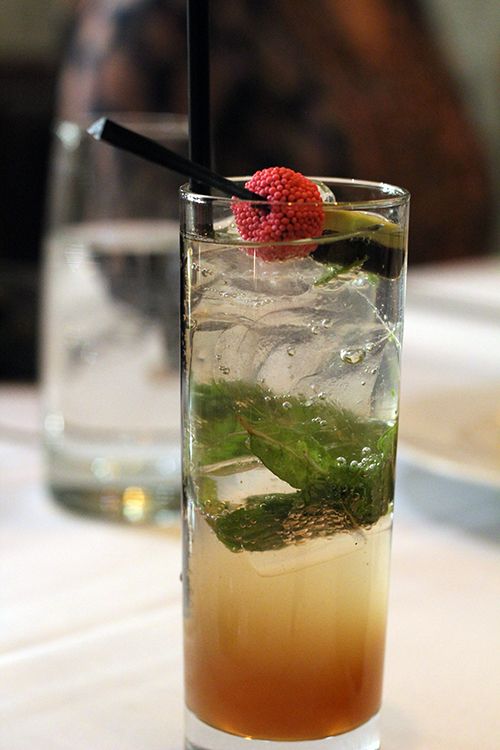 XIX Nineteen
is a popular destination for diners in the Terwillegar/Windermere area of Edmonton, and for good reason: the food and service are always top notch. After three successful years in Edmonton, Nineteen has expanded to
a second location
at the Shops at Boudreau in St. Albert.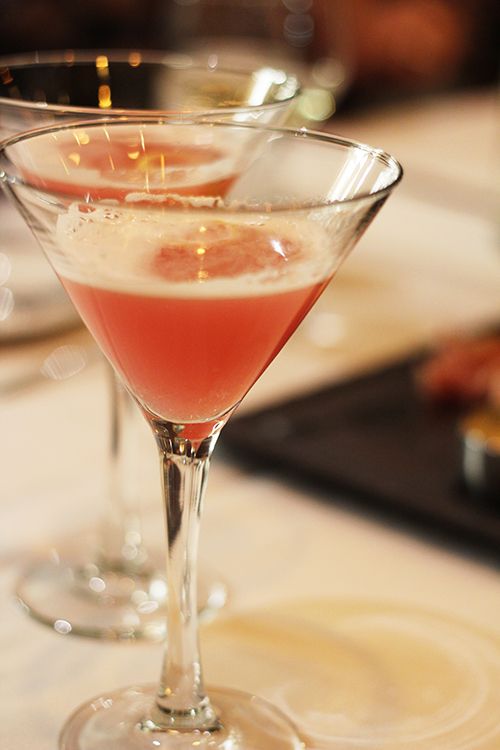 The restaurant space in St. Albert is similar to the location in Terwillegar, where a brightly lit (and incredibly clean!) open kitchen allows diners to watch the kitchen team expertly prepare plates for service. Modern accents complete the decor, giving the restaurant a chic, upscale feel.
So how does St. Albert differ from Terwillegar? Aside from a slightly different menu, diners are in the hands of Head Chef Rino Lam, a graduate of the NAIT Culinary Arts program and certified Red Seal Chef with over 15 years of culinary experience. I had an opportunity to preview the menu, and I was excited to see what Chef Rino had in store for us.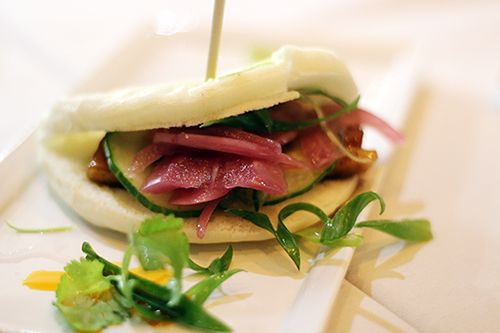 The evening kicked off with the Irving's Farm Pork Belly "Fung Bun" ($14), where citrus soy-glazed pressed pork belly, pickled red onions, cucumber and green onions are folded into a Chinese-style, soft steamed bun. The acidity from the onions cut the fattiness of the pork belly nicely, and the sweet and salty balance in this dish was perfect. I really wish more restaurants would serve buns!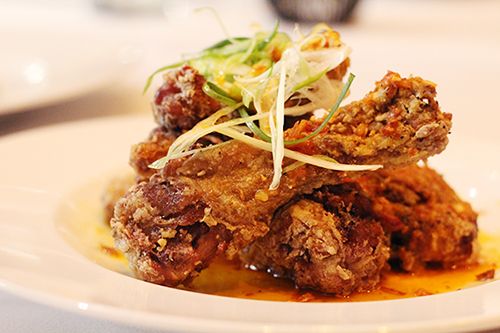 The Garlic Quebec Duck Wings ($15, lounge menu only) can be done two ways: with spicy honey garlic sauce or fried garlic, shallot, scallion, and chili flakes. Our wings were done with the latter, and they were delicious! The crispy coating gave way to fragrant confit duck wings with a kick of heat.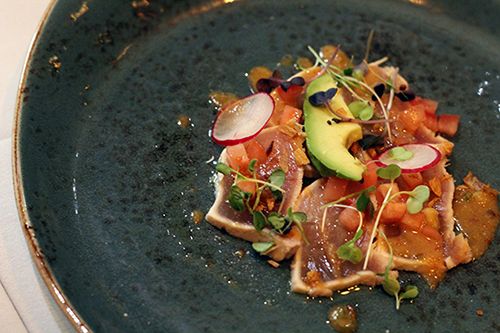 An individual portion of Nineteen's Spicy Miso Albacore Tuna Tartare ($17) came next, dressed with avocado, tomato, deep fried garlic, shaved radish and a spicy miso dressing. The tuna was fresh and well seasoned, but I think what I loved the most was the beautiful pops of colour on the plate!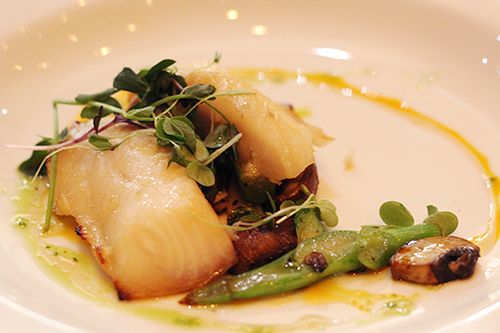 When it came time for the mains, a delicate Miso Marinated Sablefish with wild mushrooms and rapini made it's way to the table. The buttery fish was cooked perfectly and would be fantastic for anyone looking for a lighter main dish. Unfortunately it isn't currently on the menu, but I hope it makes it there!
Everyone was in for a treat when the Alberta AAA Beef Tenderloin ($38) hit the table. Sous vide and seared to a beautiful medium rare, the premium cut of beef was served with a vibrant beet risotto, Quebec goat cheese crusted zucchini, walnuts, and baby arugula.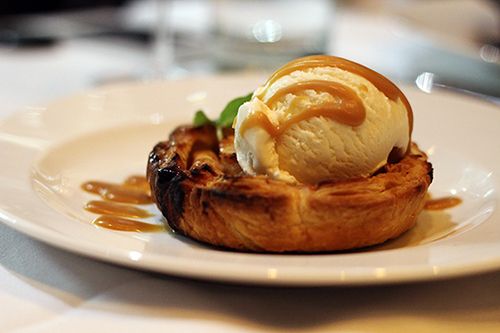 We were absolutely spoiled when it came to desserts as four different offerings were placed on the table. First up was an apple pie complete with a deliciously crispy, flaky crust and a generous scoop of vanilla ice cream. The pie wasn't overly sweet and would be a great finish to a meal!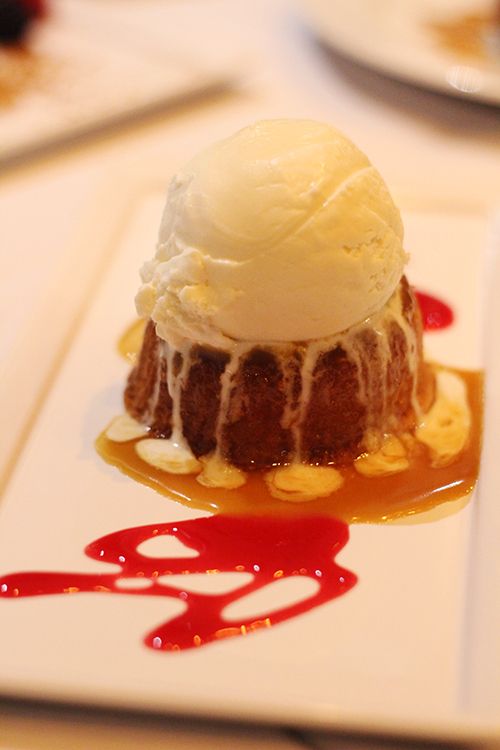 Next up came a warm brown butter cake, again with a big scoop of vanilla ice cream. This is for those that love digging into a slice of cake while it's still warm! The cake is warm, moist, and tasted great combined with the ice cream and caramel sauce.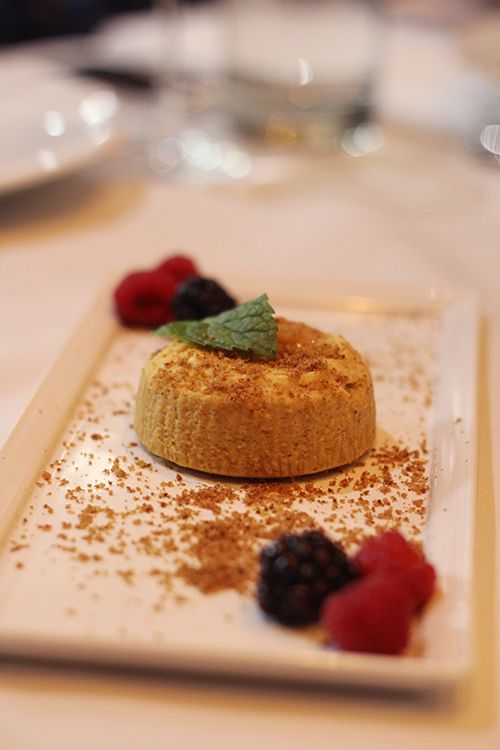 Since it doesn't quite feel like "real winter" yet, Nineteen's dessert menu features a light pumpkin cheesecake dusted with graham crumb. The pumpkin is subtle, but what I liked about this cheesecake was the lighter texture. Without the density, it ends up being a cheesecake that isn't too rich after a heavy meal.
Last but not least came the Pizookie (below) - Nineteen's pizza cookie! Served straight from the oven in a sizzling hot skillet, this is everything that a chocolate chip cookie should be! Warm (read: hot!) from the oven, gooey, chocolatey, and served with ice cream. It's a sinfully rich dessert that is definitely worth all the calories.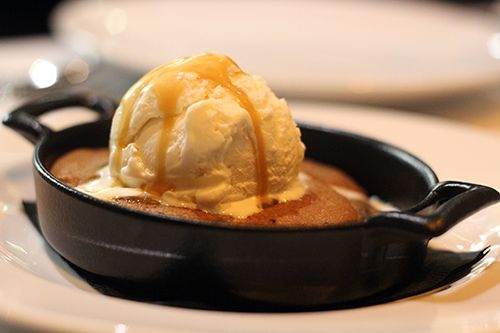 Pizookie
It's great to see local restaurants succeed and it's awesome that Nineteen has been able to open up a second location. I can't even count how many times I've heard people complain that Nineteen is too out of the way for them to visit, so hopefully this new spot in St. Albert can entice some Edmontonians to finally have their first taste of their Asian-inspired Canadian cuisine. The menu is definitely on the pricier end of things, so while Nineteen isn't a restaurant to visit everyday, it's a great spot for celebrations and special date nights. For those looking for something more budget friendly, Nineteen's lounge offers happy hour specials from 3-6 PM daily, so you can try cocktails and appetizers at a fraction of the cost.
This location in St. Albert also hosts brunch on Saturdays and Sundays from 9AM - 2PM. Even though the Terwillegar location is a 5 minute drive from my house, I'm definitely interested in making the drive to check out their brunch offerings! A big thank you to Chef Andrew Fung, Chef Rino Lam, and the team at XIX Nineteen for the great food and service, and congratulations on opening your second location!
*Disclosure: I was invited to XIX Nineteen in St. Albert to sample the new menu. Views expressed in this post are solely mine. This post is 100% my opinion, and as always, my priority is to you, the reader, to present an unbiased, thorough review.