Striving for Authenticity: Alberta Hotel Bar + Kitchen
December 08, 2015
When Tavern 1903 in the old Alberta Hotel suddenly shut down this year, Edmonton's food scene lost a great restaurant. As the space lay empty, everyone wondered what it would be converted into.

Alberta Hotel Bar + Kitchen - 9802 Jasper Avenue - Edmonton AB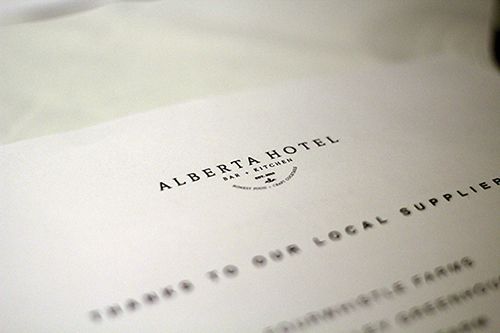 When it was announced that Chef Spencer Thompson of
Toast Fine Catering
would be opening his first restaurant in the space previously occupied by Tavern 1903, I was pretty excited. Toast Fine Catering is a permanent vendor in the Old Strathcona Farmers Market that serves up breakfast and brunch options for market-goer's every Saturday morning. I've never had a bad breakfast there, so I was looking forward to seeing what Chef Spencer had up his sleeves.
The
Alberta Hotel Bar + Kitchen
had a three week soft opening prior to their grand opening on November 19th. I booked a group dinner with my friends for my birthday this year and we were all looking forward to trying out the entire menu. For our group of 15 people, I was surprised upon arrival to find that we had been split into four separate tables. Normally this wouldn't be an issue, but with one dedicated server to our group (she was lovely!) the service was very disjointed. As the first table was receiving their food, the fourth table hadn't even made their order yet, so instead of being served as a group, we were served as four separate tables that weren't dining together. Just something to take note of if you're planning on making a reservation for more than 6 people.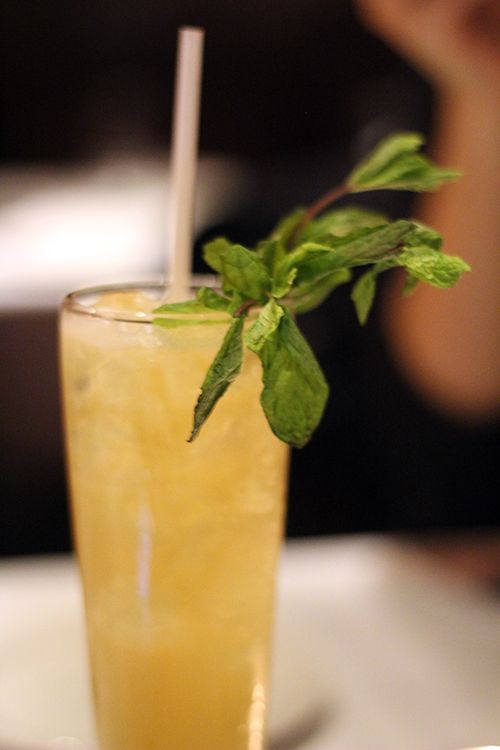 Strange Brew ($12.75)
Now onto the food. The Alberta Hotel Bar + Kitchen promises diners an authentic experience - honest, transparent, and uncomplicated. The menu features many local producers - likely due to the relationships that Chef Spencer has developed over the years with vendors at the farmers market. The offerings are fairly concise and include options for diners with vegetarian or gluten free diets. General Manager Brandon Baker (previously of Three Boars) is the mind behind the cocktail menu which has a handful of cocktails he crafted himself.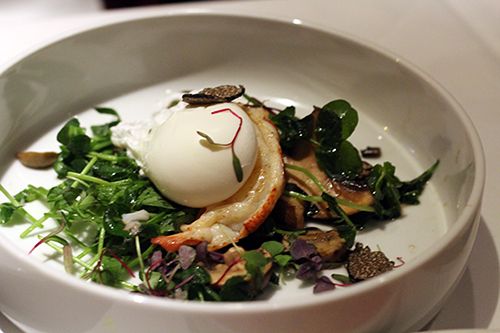 My table started the evening with a couple appetizers, and first up was the Warm Mushroom & Lobster Salad ($18). The salad was presented beautifully with pea shoots, crimini mushrooms, a hefty chunk of lobster, a poached egg, and shaved Italian truffle. The components were fresh and the mushrooms flavourful, but the salad itself wasn't too exciting.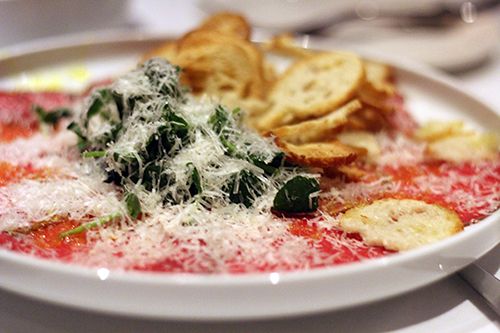 Next up came the Beef Carpaccio ($17) sliced paper thin and finished with a drizzle of cold pressed canola oil, pea shoots, and shaved pecorino. It was nice to see the kitchen using pea shoots rather than arugula (as many do in this dish), since it brought on a different dimension of flavour. Unfortunately the dish itself was underseasoned, and a bit of salt and pepper could have gone a long way.
The Steamed Manila Clams ($16) arrived in a heaping pile, served in a light broth with heirloom tomatoes, garlic, lemon and crostinis. The clams were fresh, and the light, savoury broth highlighted their natural sweetness. The dish had great value given the portion size, and was perfect for sharing among the table.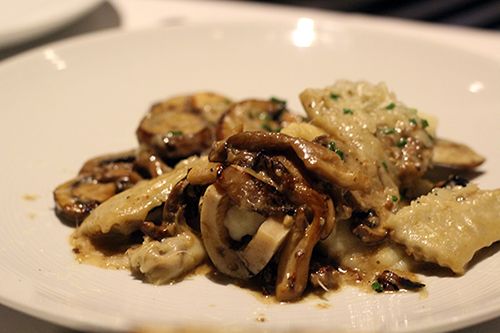 We also had an order of the Bone Marrow Agnolotti ($16) cooked in brown butter and served with wild mushrooms, celery root puree, and shaved pecorino. Agnolotti are delicate pockets of pasta, and those that arrived at our table had burst open, with their contents spread widely across the dish. While the dish didn't quite have the best presentation, it was the most flavourful and my favourite of the four appetizers we had ordered.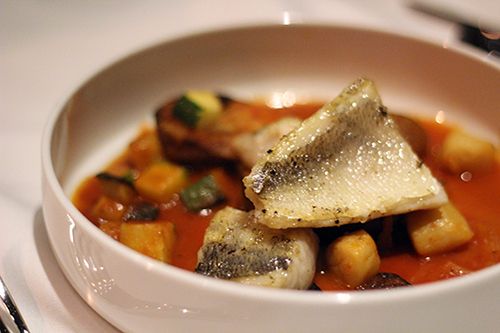 When it comes to the main dishes the menu has five different options, where one is a vegetarian pasta and the remainder feature local proteins. My boyfriend opted for the Manitoba Pickerel ($24) with scallops, clams, zucchini, fennel, and potatoes cooked in a gin and tomato broth. The fish was fresh and cooked nicely, and the flavours didn't overpower the fish itself.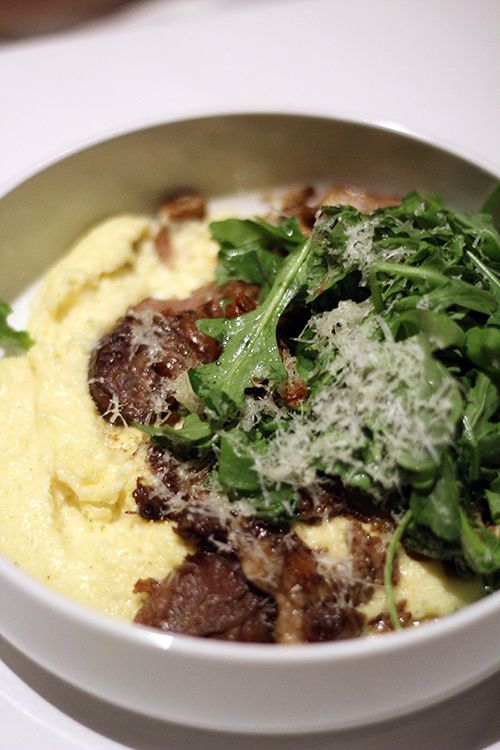 Another dish at our table was the Pembina Pork Cheeks ($24) cooked with wild mushrooms and served on a bed of buttermilk polenta with arugula, tomato jam and pecorino. The pork was fall-apart tender and the polenta was light and creamy. It was a great dish with balanced flavours.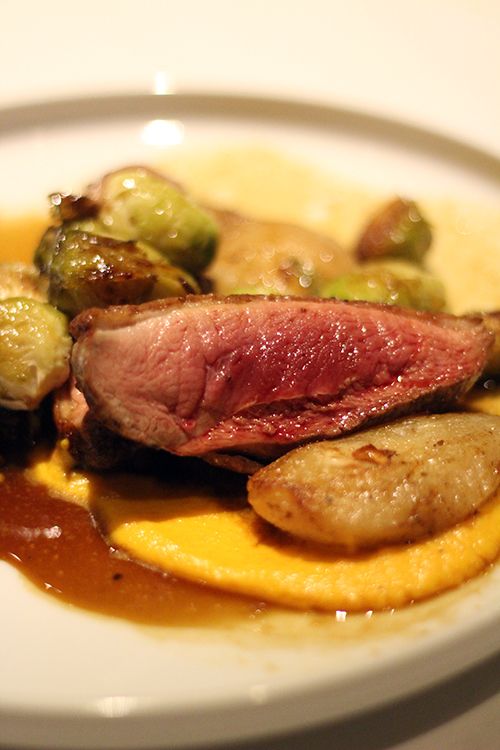 For myself I had the Duck Breast ($28), because any time there's duck involved, it's mine! Two beautiful pieces of duck breast sat atop a carrot puree with brussels sprouts and roasted pears. Unfortunately mine had been overcooked, but the kitchen had no problem replacing it. The second plate's duck was beautiful - medium rare, and seared off with a nice crisp skin. The duck was delicious, but even better was the roasted brussels sprouts. They were flavourful, not over cooked, and I could not stop eating them. This was definitely the star of the night for me, and I wouldn't hesitate to order it again.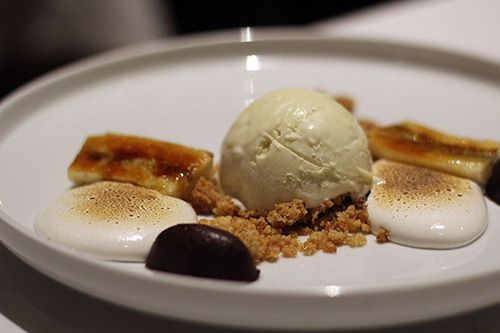 Pastry Chef Kai Wong has brought together a great selection of desserts. Of the five options, there was one calling my name - namely, the Alberta Hotel Banana S'mores ($12). Chocolate ganache, graham crumbs, bruleed banana, whipped marshmallow, and a scoop of housemade banana ice cream were presented beautifully in a deconstructed manner on the plate. Deconstructed plating can be hit or miss, but this dessert was fantastic. Eaten together or separately, every component was delicious, but I was partial to the ice cream.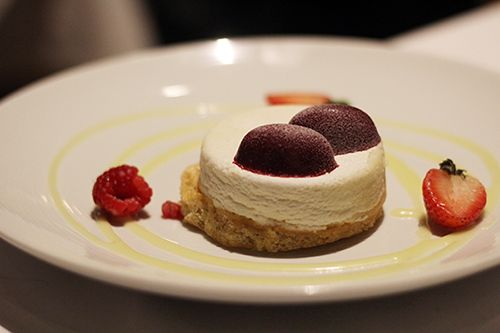 Cheesecake ($10)
While there were some hits and misses throughout the evening, we noticed that there was a lack of consistency from one table to the next. A dish could be underseasoned at one table while the same dish was heavily seasoned at the next. Even more interesting was that two of the same dish being ordered at one table could taste completely different. It was evident on the night of our visit that the kitchen was lacking consistency, which was unfortunate given that the kitchen had been practicing for over three weeks. The Alberta Hotel Bar + Kitchen has huge potential in becoming a strong name in the Edmonton food scene. As a big supporter of local producers, I do hope to see them succeed and strive for consistency in their dishes. While I won't be rushing back for a visit, I'm eager to return for another bite of that duck breast in the future. A big thanks to all my food-loving friends that came out to celebrate my birthday - life would be less calorically dense without you!