State & Main
October 09, 2013
Back in September, State & Main opened and it is now the only full-sized restaurant located in the mall. With the constant renovations and "facelifts" being made to Southgate, State & Main has the right amount of flair to fit right into the modernized shopping centre.

State & Main - #850 5015 111 Street - Edmonton AB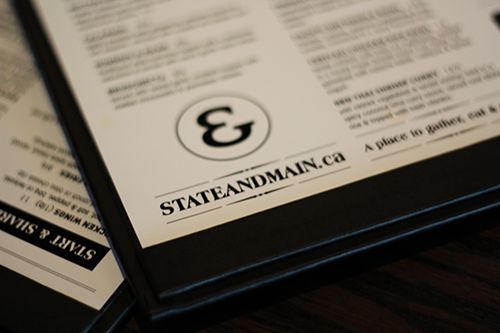 State & Main is actually a new Alberta-based chain restaurant with locations already in major cities like Calgary, Lethbridge and even Saskatoon and Winnipeg. My boyfriend and I decided to stop by for a quick lunch on a Thursday around 12:30 and were actually surprised by the number of people in the restaurant. While I understand State & Main is located in a shopping centre, not many employees have a long enough break to have a sitdown lunch at a restaurant, and malls aren't very busy during the early afternoon. It's great to see that they're getting lots of business though!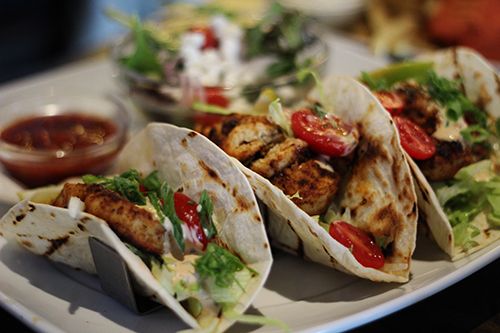 When given the menu, I couldn't help but feel a bit overwhelmed by the number of options. There were so many different dishes available, and multiple potential sides with every dish. Eventually, I settled on the Long Beach Fish Tacos ($16/3 tacos):
lightly spiced mahi mahi, avocado, shredded lettuce, tomato, green onion, chopped cilantro & fresh lime. Served with a mixed green salad
. The waitress was kind enough to ask the kitchen to omit the cilantro from my dish, so the tacos were pretty tasty. The pieces of fish were flaky and substantial in size, and adequately seasoned so as not to taste fishy. The vegetables were fresh and tasted great inside of the lightly grilled taco. The side salad was a nice way to lighten up the dish, but I found the vinaigrette to be quite acidic, and wished it could have been less sour.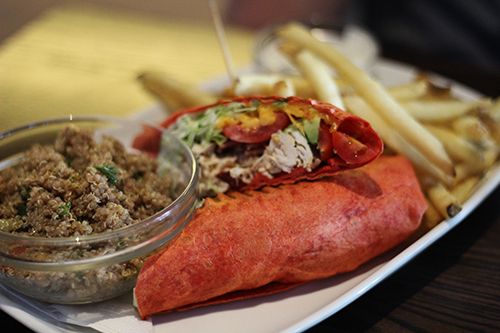 My boyfriend went with the Chicken Club Wrap ($13.50 w/ 2 sides):
oven roasted chicken, peppered bacon, aged cheddar cheese, avocado, tomato, mayonnaise & crisp shredded lettuce
. The price included two sides, and he chose french fries and a quinoa salad. The wrap itself was grilled crisp, encasing the fresh veggies and cooked chicken, but the bacon was quite predominant, overpowering the other elements in the wrap. The fries were delicious, almost like they were coated with batter first before they were fried to ensure they would be golden and crisp. The quinoa salad was served cold and sweet, with hints of balsamic.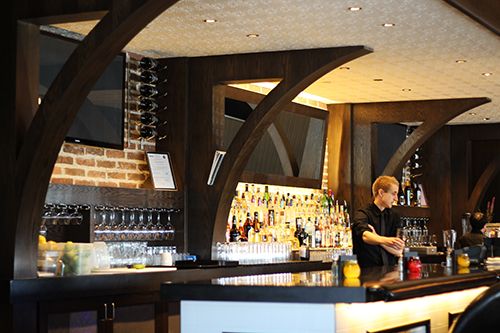 As the sister restaurant to Original Joe's, the similarities in their menu and food presentation at State & Main was readily apparent to me. I can't get over it, and just have to say that it just feels like an upscale Original Joe's. The food is good, but many dishes are well-loved favourites, meaning there's nothing new and exciting on the menu. It's a nice place to go for casual lunch or dinner, as the atmosphere is relaxing, and the service is quick and friendly. Check them out on your next shopping trip to Southgate!