Makeup Monday: Sephora Collection Dark Spot Minimizing Serum
October 21, 2013
Everywhere I go, I get complimented on my skin. It's all the old Asian ladies telling me I have a great complexion and they ask me what beauty products I use. But contrary to popular belief, I do get dry skin in the winter time, and I get the occasional breakouts. It's all about finding what products work for you and sticking to them. Recently, I've been having breakouts around my mouth and chin, and unfortunately it's left me with dark spots that don't fare well for my self esteem.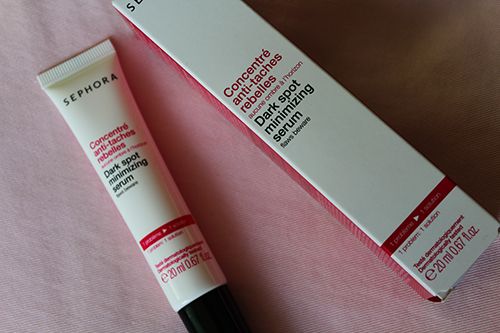 Don't get me wrong, I'm all for natural beauty, but deep down I think all of us girls have some insecurities about our skin and this is mine. Dark spots and scarring. So I did a bit of research to see what was out there, and went through numerous user reviews for different products on the Sephora website. I wanted to find a product that people reported worked for them, but I also didn't want to pay the huge price tag for something that may not potentially work for me. Here's where the
Sephora Collection Dark Spot Minimizing Serum
comes in.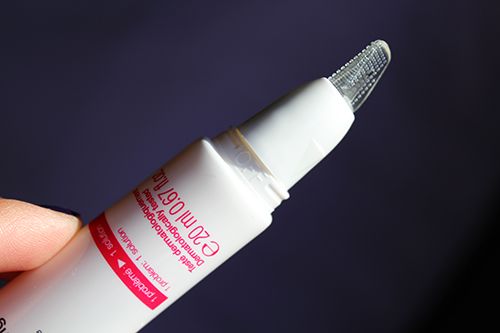 For me, I've had some great results with the Sephora Collection skincare line, and this serum looked pretty promising after reading some reviews. For $24 CAD, I was getting a decent amount of product without having to pay the $50+ price tag that many dark spot correcting formulations have attached to them. Looking at the applicator, it's pretty simple. Squeeze the tube to dispense the amount of product that you want from the smooth side, apply, and flip it over to utilize the 'exfoliating' side to rub the product into your trouble spots. What I love most is that the applicator can turn 180 degrees so that you can close off the dispenser to ensure no product comes out while you're rubbing it into your skin. Genius!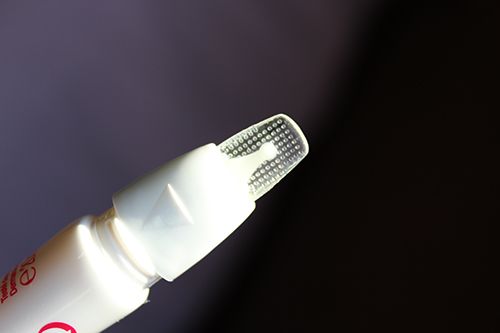 The product itself is a creamy fluid with a a fresh scent similar to the rest of the Sephora Collection skincare line. I've been using this product twice a day for about 3 weeks now, and I can say that it has made some difference in my dark spots! My spots haven't completely disappeared, but they are much lighter and I think they will continue to lighten with prolonged use. However, I don't think I can attribute the improvement to this product alone. We shed our skin, I use exfoliating face washes, and our bodies naturally heal themselves. This dark spot serum definitely sped up the process though, so I can't wait to see further results :)