1, 2, 3: Bye Bye Shanghai 456
October 26, 2013
Shanghainese food has a dear place in my heart. I don't believe I've ever gone out to a restaurant and had it on my own. It's always been Shanghainese dinner with my family, and I associate awesome family dinners with Shanghainese cuisine. Weird association, but a good one if you ask me!

Shanghai 456 - 49 Airport Road - Edmonton AB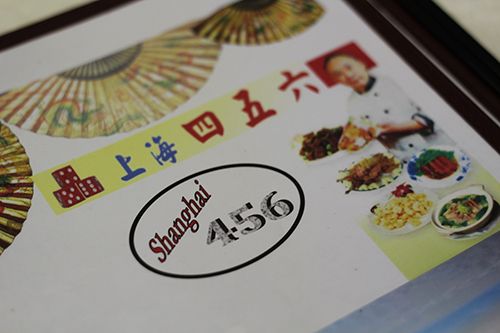 About two weeks ago, my friend
Diane
informed me that Shanghai 456 was set to close around the beginning of November. I've never gotten around to writing about their restaurant, but I'm hoping a lot of my readers can make their way to try them out before they're gone! Shanghai 456 is a bit of a randomly placed restaurant, as it's located in the old cafeteria of the city centre airport. As the lanes at the airport are being closed down, all the vendors there are being forced to vacate.
When you enter the building, you're inevitably hit with the smell of oil and greasy Chinese food. No word of a lie, as they work out of an open kitchen, so prepare yourselves for smelling like your meal for the rest of the day. It's got the 'hole in the wall' feel, as small model airplanes hang overhead of the tables and you're always reminded of where you are.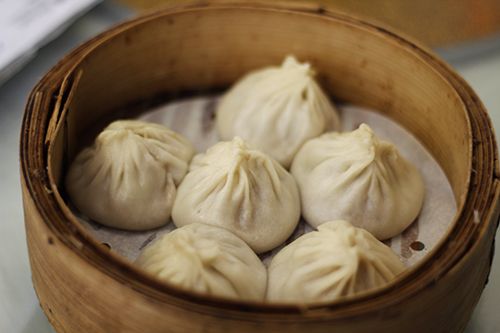 For any Shanghainese meal, you HAVE to order some Xiao Long Bao (XLB). It's iconic, and always delicious. At Shanghai 456, their XLB (#A2. $6.95) come 6 in a steamer, wrapped beautifully and waiting to be eaten. Don't be fooled though, and let it cool down first. The worst thing is biting into the little dumpling and scalding your lips and tongue with the hot soup inside! Pick up the delicate dumplings and set them inside a soup spoon before biting into them, to ensure you don't lose any of the tasty soup. I find the XLB at this restaurant are the best in Edmonton, and not too far from what you'd find in Vancouver or Shanghai. The dough is thin, and the soup inside is plentiful and tasty, but it's cloudy with a prominent fattiness to the broth. Either way, if its the best I can get, I'll order them again and again.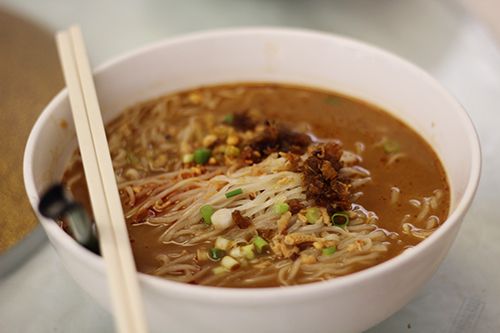 Another dish ordered was the Dan Dan Noodles (#D1, $7.95), which basically is a rice noodle in a spicy peanut broth with xo sauce. The dan dan noodles at Shanghai 456 are quite different from the same dish that my mother cooks up at home. The broth here is slightly spicy, with hints of peanut and a little sour, which really threw me off. The noodles were also a little overcooked, so I wouldn't order this again.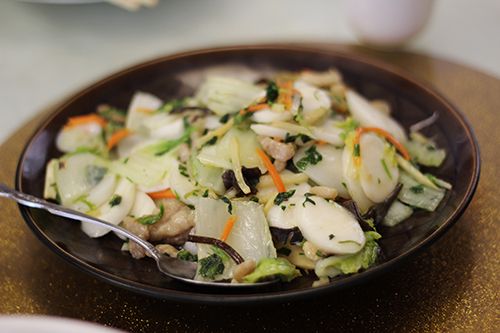 Another Shanghainese favourite for me is Sauteed Rice Cakes (#D14, $10.95) with pork, chinese spinach & bamboo shoots. My favourite thing about this dish is the texture of the rice cakes, cause they're soft and chewy at the same time. They also do a great job of soaking up the sauce! When I cook this dish at home, it can be difficult as the rice cakes tend to cook quickly and attain mushy status quickly. Shanghai 456 made a pretty good version, but I was still able to find mushy rice cake pieces scattered throughout the dish.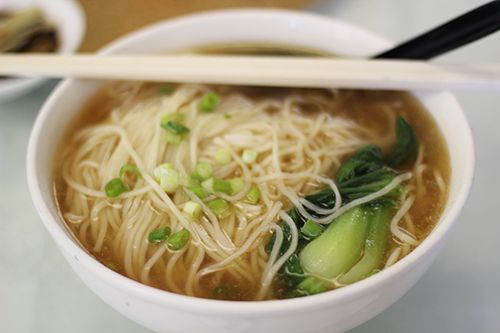 The Noodle Soup with Pork Chop (#D10, $7.95) (pork chop not shown) is a pretty simple dish that you can find all across Asia. It's featured in cafes and afternoon "tea" meals, and the version at Shanghai 456 is pretty good. Thick al dente noodles sit in a clear broth, with a panko crusted deep fried pork cutlet on the side. It's so satisfying biting into a crispy pork chop, then having a bite of noodles in hot soup.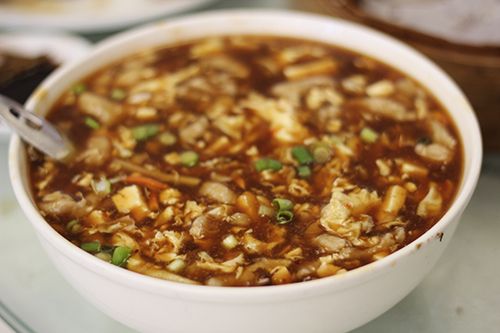 The House Special Hot & Sour Soup (#C1, $7.95) was something I was looking forward to trying out, cause I
love
anything spicy and sour. My dad makes an amazing version at home, so I was looking to see if Shanghai 456's version could compare. Unfortunately, their version had a hint of vinegar and just mild spiciness. They use tofu, chicken, carrots, bean sprouts, green onion, bamboo, and wood ear as ingredients in the soup, and there's a relatively large proportion of ingredients in the bowl of soup. If the flavours were truly representative of what a real hot & sour soup should be, I'd recommend it.
Shanghai Noodles Sauteed with Pork & Vegetables (#D13, $9.75) is another dish that people tend to associate with Shanghainese cuisine. Thick noodles are stir fried with bean sprouts, carrots, cabbage and pork, and the flavour often comes from soy sauce and hoisin sauce. The version cooked at Shanghai 456 is nothing exciting - it's a simple dish and tastes just like all the other versions cooked up in Edmonton's Chinese restaurants.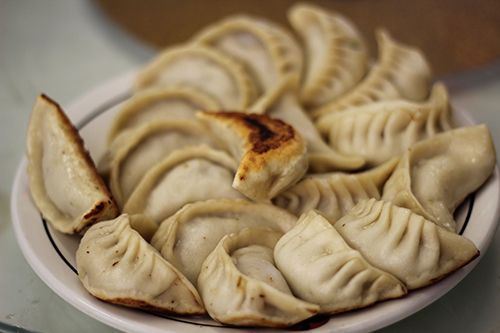 Last but not least, I have to talk about is Pan Fried Dumplings - otherwise known as Wor Tip (#A3, $7.50). Yet another iconic Shanghainese dish, the wor tip made at Shanghai 456 are delicious. Similar to a xiao long bao, wor tip dumplings are filled with a bit of soup, so proper eating etiquette includes taking a small bite and sipping the hot soup out before consuming the whole thing. They're pan fried to get a nice crispy skin, and are an alternative to XLB for anyone that can't eat pork!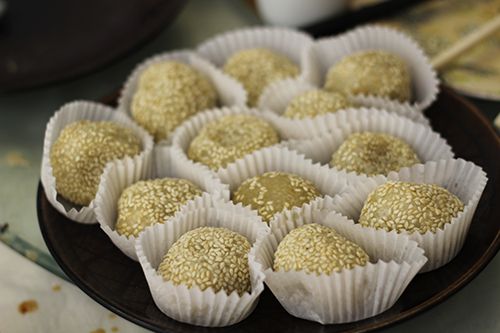 As with all Asian meals, there's usually a complimentary dessert served at the end of the meal. On the day of my visit, the dessert was was a glutinous rice ball filled with sugar & peanuts and rolled in sesame seeds before deep frying. It was a satisfying dessert, as the crispy exterior gave way to a semi-sweet interior filled with nutty goodness. But what I really wanted was the item down below: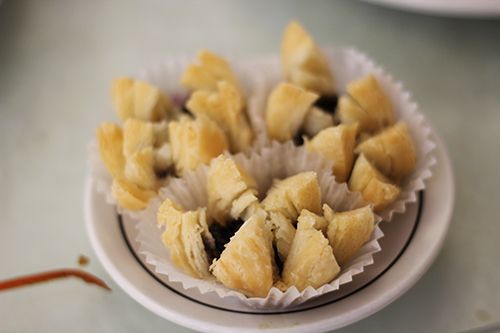 The Lotus Blossom (#A16, $3.25) is a flower shaped puff pastry filled with black sesame paste. I've recently started to fall in love with the rich flavour of black sesame, and this dessert did not disappoint. Layers of delicate puff pastry and the slightly sweet black sesame paste was the perfect end to the meal.
I've been spoiled with good Shanghainese food in the past, having dined in Shanghai & always getting my fix on trips to Vancouver. But it's so hard to find good Shanghainese food in Edmonton, let alone Alberta, so I like to get my fix from time to time at Shanghai 456 in order to fill those cravings. The food isn't perfect, but the portions are great and the prices are affordable. Although Shanghai 456 is on the road to closure, I would recommend going out to give them a try before they're gone. If anything, definitely try out their XLB, wor tip, rice cakes & lotus blossom. The owners are planning on going on vacation after they close, and will hopefully return to open a location elsewhere.. but who knows how long that could take? Let me know if you give them a visit!