Another Pho Joint: Nha Trang
December 25, 2010
Yesterday, Vince, Andrew, Crystal, Ronald and I headed to Basil Leaf, hoping to have a delicious bowl of pho. But to our disappointment, they were closed! Since when do Asian restaurants close on Christmas Eve?? I swear the only time asian places close is on Chinese New Year! What the heck? It was so cold too! Such a disappointment...

Quickly, we logged onto Urbanspoon to try to find a replacement other than Pho Tau Bay (I'm not a fan like many people are!!). The closest restaurant with the highest rating was Nha Trang.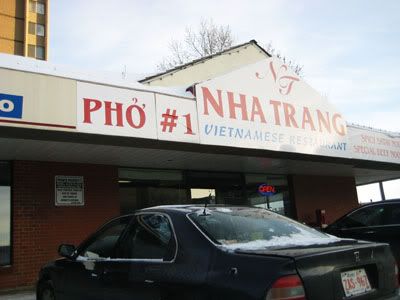 Is it really #1?
The place was relatively easy to find, located conveniently by the Glenrose Hospital, so I'm sure they get a large amount of traffic in the restaurant. When we walked in, we were greeted by a friendly Vietnamese lady, who promptly sat us at our table in the humble little restaurant.
Like most pho places in the city, Nha Trang offers two sizes of pho - regular & large. Most of the time, I find that there isn't a big difference in the amount of food you are receiving, but the large tends to be filled with lots of soup & a little extra noodle. Considering it was 1:30 pm and none of us had eaten yet, we were pretty hungry and ordered the different sizes for comparison.

My pho!
Basil and lemon slices were served atop ice to keep them fresh, while the bean sprouts arrived on their own in a huge pile.

Keepin' fresh!
I went with the beef & beef ball noodle soup, while the others tried out the pho dac biet. The verdict? The large DID have quite a bit more in the bowl, hurrah!!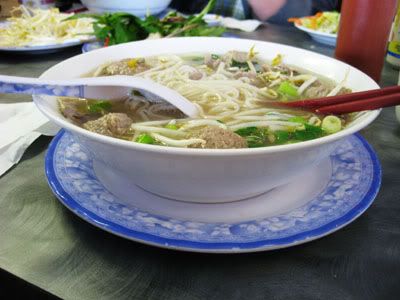 regular size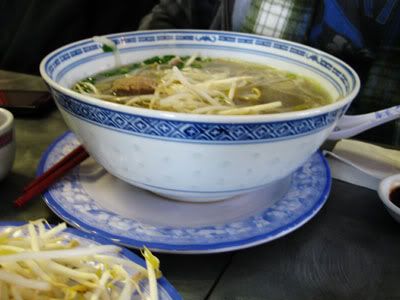 large size
The beef broth was generally tasty, but a little too oily for my liking. Noodles were cooked al dente, but I found the beef was a little on the tougher side. I understand that beef will vary from time to time, but I feel that good restaurants will have consistency and good quality meat, no matter when you go and eat. Last of all - Vince's bowl of noodles was garnished with a long piece of hair on top - yummy!! The waitress was happy to take it back to the kitchen and prepare a new bowl though, all which took two minutes. Not bad.
I'd still say Basil Leaf is my go to place for pho in this city - but I still have yet to pursue them all.
For dessert, we headed over to Dream Tea House to grab some shaved ice. My winning combo includes condensed milk, green apple syrup, tapioca & mango jelly. Delish!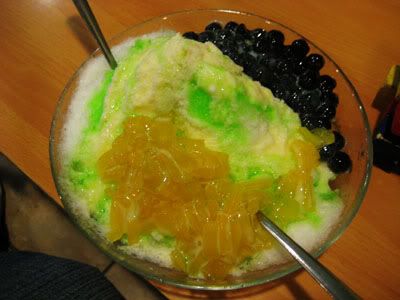 best shaved ice!
Nha Trang
10120 111 Avenue
Edmonton AB
Dream Tea House
7912 104 Street NW
Edmonton AB