Oh Yes, Ono: 'Ono Poke Co.
June 02, 2017
Edmonton has been waiting a long time for Hawaiian poke. I've tried variations of the dish on menus, but none of them have been true to the Hawaiian classic. Just weeks after the opening of Edmonton's first poke spot comes 'Ono Poke Co., promising to bring authentic poke to the prairies.

'Ono Poke Co. - 10142 104 Street - Edmonton AB


In the Hawaiian language, "ono" means fish and "'ono" means delicious. It's a play on words, and either would be quite the fitting name for Edmonton's newest poke place if you ask me.
'Ono Poke Co.
is slated to officially open to the public tomorrow (June 3rd), but I was lucky enough to get a sneak peek earlier this week with a group of friends.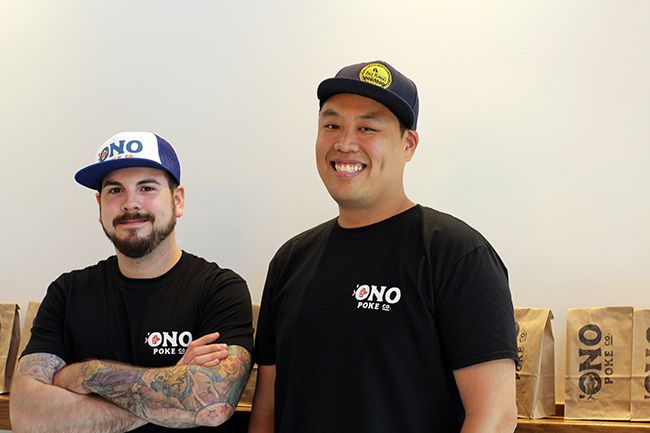 Sous Chef Matt Lafleur, Executive Chef Lawrence Hui
In early May Chef Hui travelled to Ka'anapali Beach in Maui, spending a week learning from some of Ka'anapali's top chefs and immersing himself in Hawaiian culture. It was important that he understood the roots of Hawaiian cuisine so that he could rightfully present the food and honour the ingredients back home in Edmonton. Each chef he spent time with shared their stories around Hawaiian culture and traditions and shared their versions of traditional and modern poke. Chef Hui had drafted a menu for 'Ono Poke Co. prior to his trip, only to completely change it upon his return to reflect what he learned while in Hawaii.
If you've ever been to Hawaii you'll know that you can find poke almost anywhere. Whether it's at the local grocer, Costco, or at the back of a liquor store, every place has it's own take on poke since Hawaiian cuisine draws it's influence from a multitude of cultures. It's like a melting pot of cuisines - you can find Filipino, Chinese, Korean, Puerto Rican, Portuguese, and Japanese flavours in many dishes, and Chef Hui is reflecting some of that influence in his menu.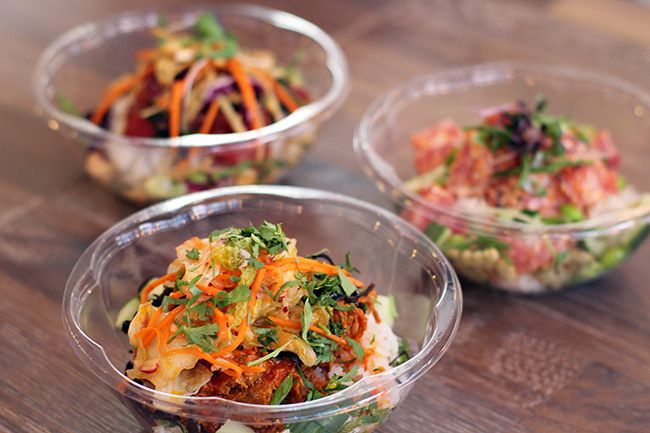 'Ono's chef-driven menu will offer six different poke bowls, featuring Ahi Tuna, Atlantic Salmon, Albacore Tuna, braised pork, and a vegan/gluten free bowl using a variety of beets. Bowls are available in regular (6-8 oz. | $11.95-$14.95) and large (14 oz. | $13.95-$16.95) sizes and have the option to be built on a bed of furikake seasoned rice, seasoned quinoa, or a spring mix salad. Two special poke bowls will be on rotation daily, and there is also the option to pick up marinated poke (at a market price) or a variety of sides to go like housemade kimchi, japchae noodles, and taro chips. The proteins, slaws, and garnishes are sourced locally whenever possible, so it's nice to know that the poke is sustainable!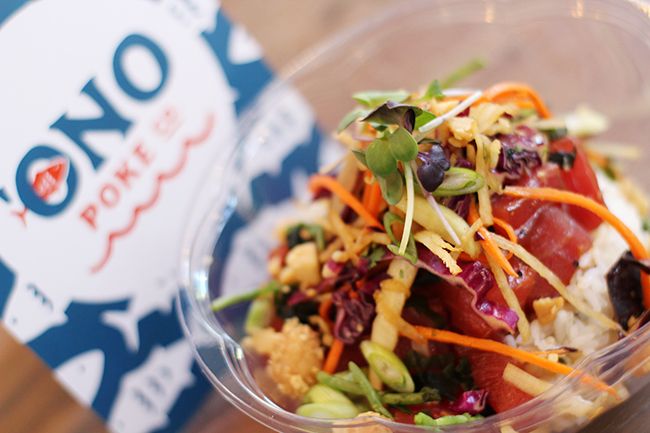 The first bowl we tried was the 'Ono Poke, this shop's namesake dish. The 'Ono Poke features chunks of ruby red Ahi Tuna mixed with shoyu, sesame oil, ginger, seaweed, and white onion, and then is topped with macadamia nuts, a sprinkle of Hawaiian salt, sea asparagus, green onion, and Asian slaw (red cabbage, daikon, carrot, cilantro). It's poke in one of it's simplest forms and it really is delicious. The tuna is cut into large chunks, is well marinated, and is a fair portion size. The slaw and macadamia nuts offer some freshness and crunch, while the strands of sea asparagus bring a hit of briny flavour from the sea.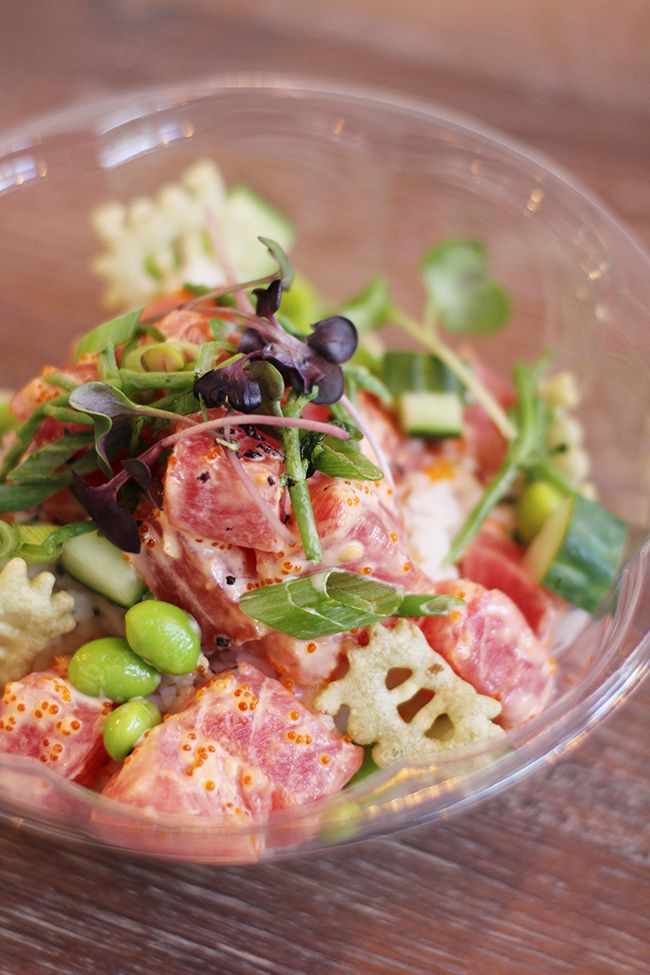 Next up we tried Uncle Tom's Surf Poke, named after Executive Chef Tom Muromoto of the Ka'anapali Beach Hotel. Chef Muromoto used to be a pro-surfer and actually took Chef Hui out to surf one morning during his trip, so this bowl is aptly named. This poke features Ahi tuna mixed in a spicy tobiko aioli with white onion and topped with cucumber, edamame beans, green onion microgreens, sea asparagus, and wasabi crab chips for crunch. Hawaiian's love their mayo, but I appreciated that the aioli wasn't heavy and didn't overpower the natural flavour of the tuna. The tobiko gave the dish some additional flavour with each pop, while the cucumber and beans brought freshness and texture. And those crab chips? So addicting I could eat a whole bag.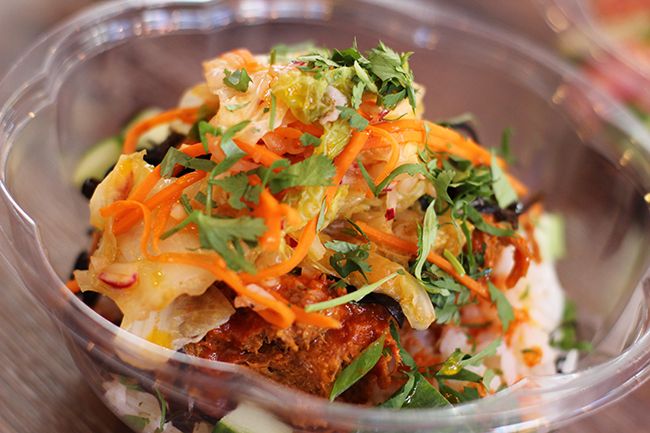 Last but not least was Chef Hui's modern take on poke with the Prairie Luau. If you like something with a bit of heat, this one is for you! Gochujang braised pork is shredded and paired with a gochujang vinaigrette and garnished with Chinese black fungus mushroom strands, cucumber, white onion, housemade kimchi, green onion, and cilantro before getting a drizzle of
Evoolution's
Harissa olive oil. While the bowl isn't overly spicy, it sure packs a punch in flavour. If you're a sweet and spicy fan ask for a scoop of 'Ono's pineapple mango salsa on top - it brings the bowl to a whole new level.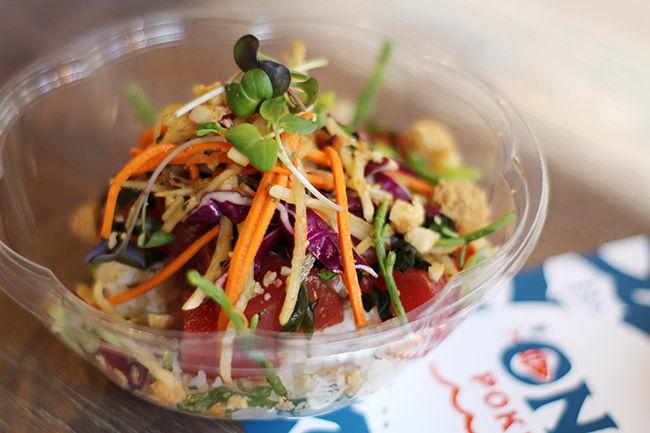 While 'Ono has yet to open it's doors officially, I can confidently say that Edmonton has a lot to look forward to. The fish is fresh and appropriately seasoned, and the bowls well portioned and balanced. I'm definitely looking forward to return to try the other bowls on the menu and see what kind of specials 'Ono will come out with. Hawaiian style shaved ice is also in the works, but it will be a few weeks until it makes its debut, so stay tuned! Chef Hui has worked hard to bring an authentic taste of Hawaii to the prairies, and 'Ono Poke Co. will surely make his mentors in Ka'anapali proud.
*Disclosure: I was invited to a casual sneak peek at 'Ono Poke Co.. Views expressed in this post are solely mine. This post is 100% my opinion, and as always, my priority is to you, the reader, to present an unbiased, thorough review.