Making Waves: Splash Poke Opens in Edmonton
May 31, 2017
Poke, the traditional Hawaiian raw fish salad, is no doubt an up-and-coming food trend outside of the Hawaiian islands. Over the past year there have been variations of the dish on many restaurant menus, but now Edmonton finally has it's own dedicated poke place in the heart of the city.

Splash Poke - 10079 109 Street - Edmonton AB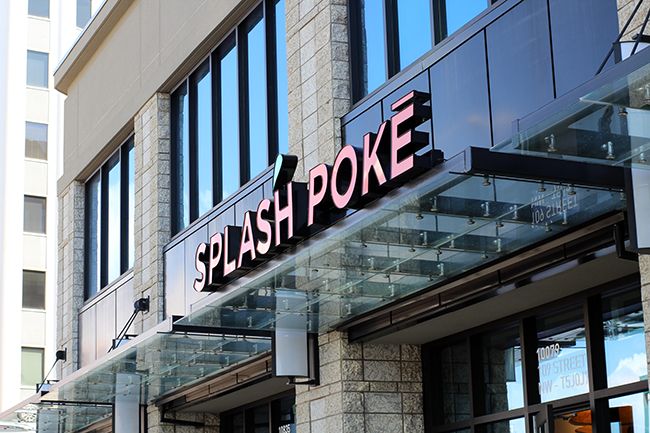 Splash Poke
opened it's doors last week on the main level of The Mayfair building on the corner of Jasper Avenue and 109 Street. If the hour long lineup around the building on opening day was any indication, I'd say Edmontonians have been waiting a long time for poke!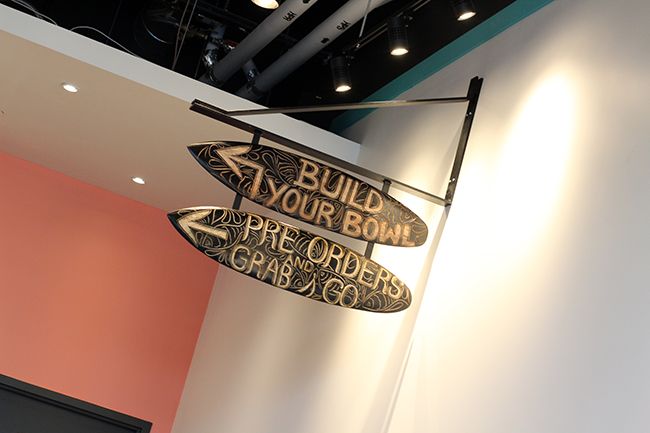 Poke (pronounced poh-kay) in its simplest form is fresh raw fish cut into cubes, lightly seasoned, and served on tender sushi rice. Traditional seasonings are heavily influenced by Japanese cuisine, where soy sauce, sesame oil, green onions and seaweed are predominantly used. Served as a meal it's healthy and delicious, so it's no wonder it's becoming so popular outside of Hawaii.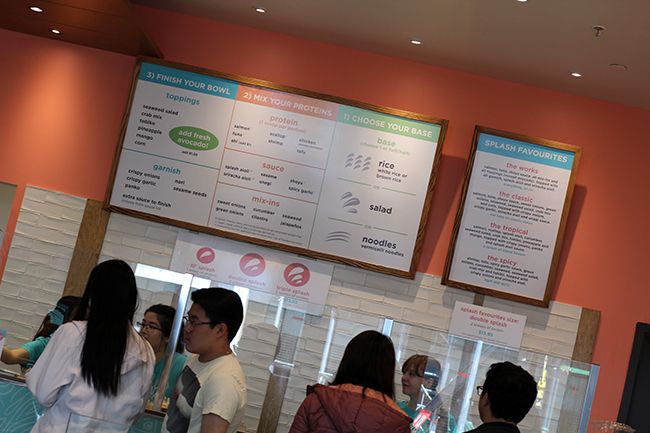 My fiance and I stopped by for lunch right before the doors opened at 11, and a small lineup of 5-6 people started to form right behind us. People want their poke! The space is decently sized with natural sunlight brightening up the space, with coral and teal tones providing a bit of cheerful colour.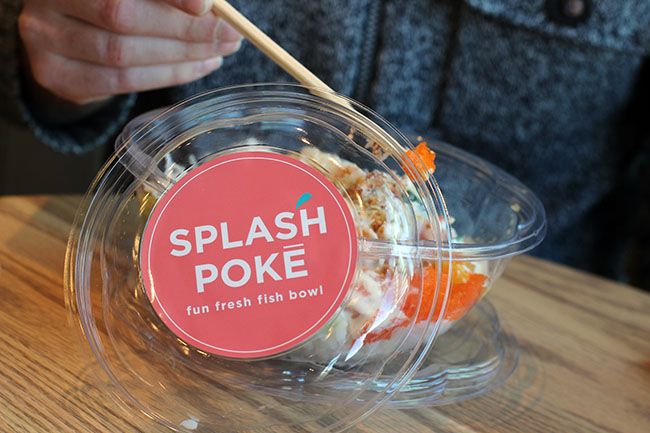 There aren't really any instructions on how to order, but as a fast-casual dining spot the process is fairly self explanatory. Follow the signs above the counter to order a signature bowl, or customize your own with their variety of proteins, toppings, and sauces. Pricing is dependent on the protein portion size (single $9.95/ double $13.95/ triple scoop $15.95) and whether you choose to add premium toppings (Ahi Tuna +$1, Avocado +$1.50).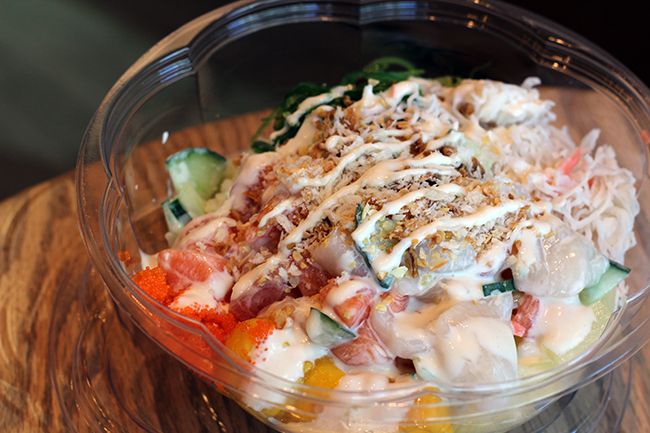 Off the 'Splash Favourites' menu Splash Poke offers four bowls: The Works, The Classic, The Tropical, and The Spicy. The favourites are only offered in the double size and no substitutions can be made. Gordon went with The Tropical bowl which featured salmon, scallop, splash aioli, cucumber, seaweed salad, crab mix, tobiko, pineapple, and mango, all topped off with crispy onions, panko, and additional aioli.
The bowl was beautiful with bright pops of colour and fresh fish, but I found it to be overdressed with aioli and with some competing flavours given the number of components. All mixed together the bowl felt quite heavy, and I was also a little disappointed to find masago instead of the promised tobiko on the menu. The double splash was decently sized, but we felt the portion of fish could have been more generous.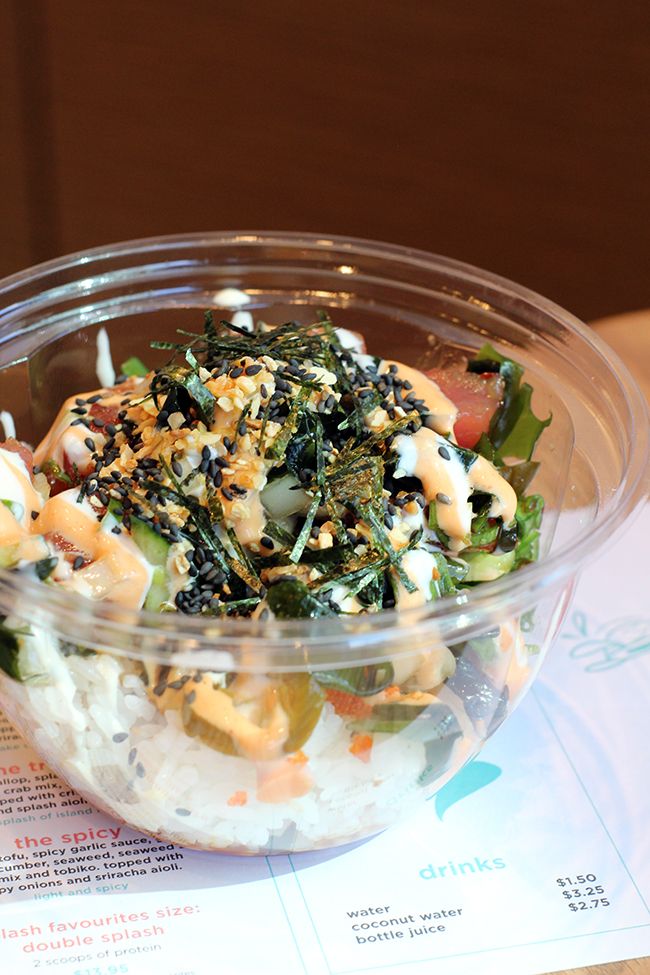 For myself I went with the build your own bowl option to customize a bowl to my liking. Building a custom bowl proved to be extremely difficult as the glass (acting as a sneeze guard) separating myself from the employees behind the counter was questionably tall. I found myself having to yell my order at the employees behind the glass separation - I couldn't hear them and they obviously couldn't hear me. Judging by the orders made after us, others had the same difficulty. I can't even imagine how hard it would be to order a custom bowl when the space is full of customers.
I ended up ordering ahi tuna with sweet onions, cucumber, green onion, seaweed, and jalapenos mixed with a combination of shoyu and spicy garlic sauce. I finished my bowl with tobiko (which again was actually masago), crispy garlic, nori, and sesame seeds, but unfortunately due to the difficulty in ordering my bowl was drizzled with splash aioli and sriracha aioli which I hadn't intended to order. The ahi tuna was fresh, and the sauces had enough flavour to add punch to the fresh ingredients. Without the addition of the aioli, this bowl would have been spot on for me.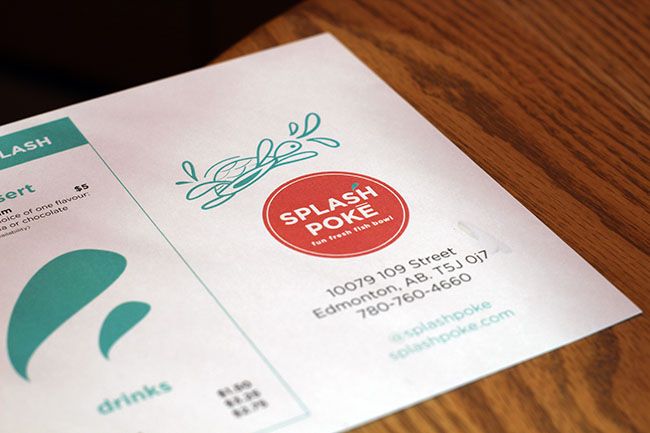 As Edmonton's first dedicated poke restaurant, Splash Poke is paving the way for more spots to open in the city. Although the bowls aren't true to those you would find in Hawaii, it's great that Splash offers the ability to customize bowls. However, with customization comes longer wait times, as each bowl is built in an assembly line fashion and dependent on how well the communication is on each side of the counter. With some adjustments to the the glass partition and staff familiarity with ingredients, customers should be able to get in and out of the restaurant in no time.
I'm glad to see that poke has finally made its way to Edmonton, and can't wait to see what comes next!