Fish Straight from Japan: Takami Sushi
May 11, 2017
There never used to be many options for Japanese food in Edmonton but if the number of restaurants opening over the last few years is any indication, it seems like Edmonton has developed a taste for Japanese food.

Takami Sushi - # 108, 10430 61 Ave NW - Edmonton AB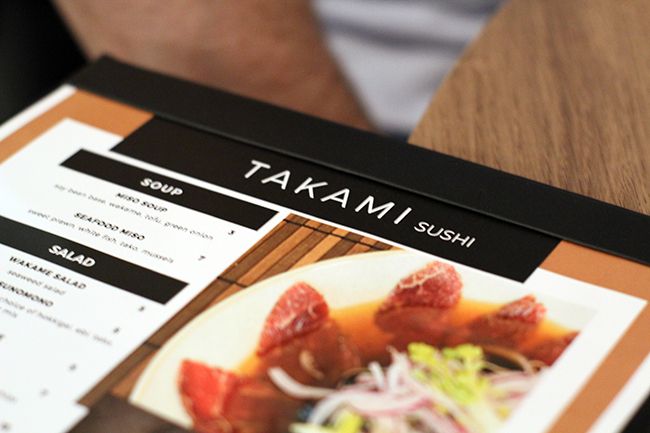 Takami Sushi
is the latest to join Edmonton's food scene, located on 61 Avenue just off of Calgary Trail. Taking up a space on the ground floor of a new development, the restaurant is easy to miss if you aren't looking for it.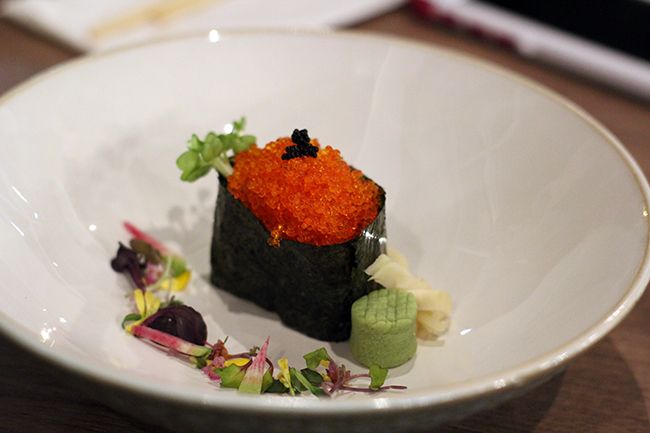 The space is open with a modern, industrial feel - high ceilings and polished concrete floors are accented with orange and brown decor. The restaurant has two separate seating areas, one with smaller tables and a second with long banquette seating perfect for larger parties.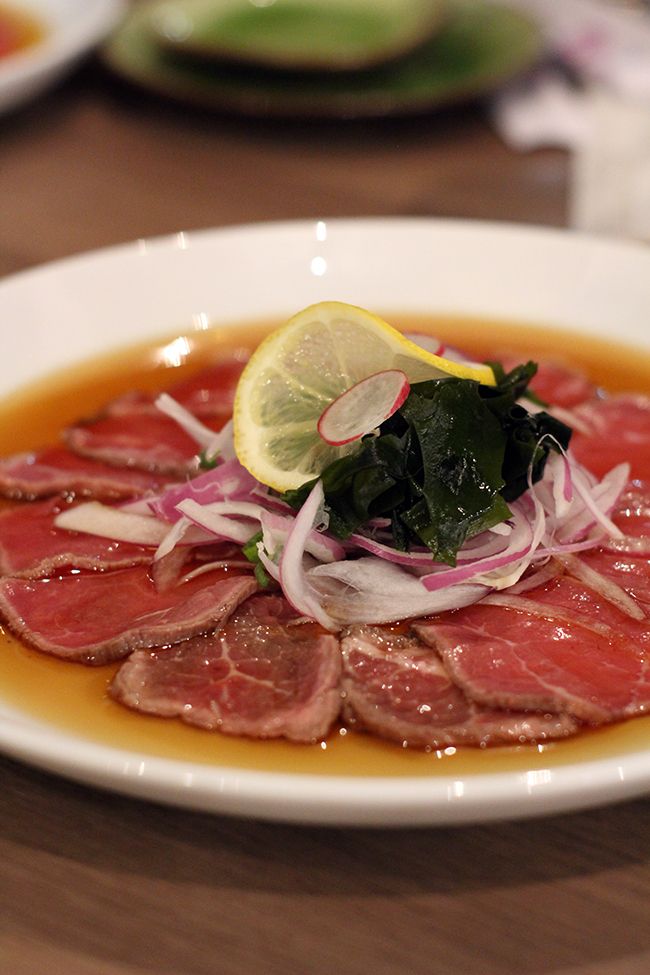 My first visit was for dinner with friends to celebrate my recent engagement to my fiance, and the ambiance of the restaurant was perfect. Our meal was off to a great start with an order of Beef Tataki ($14) garnished with red onion and wakame seaweed. The tataki was thinly-sliced, tender, and dressed with a tasty ponzu sauce. I prefer my beef tataki dressed well with toppings, so I felt the portion of onions and seaweed could have been more generous.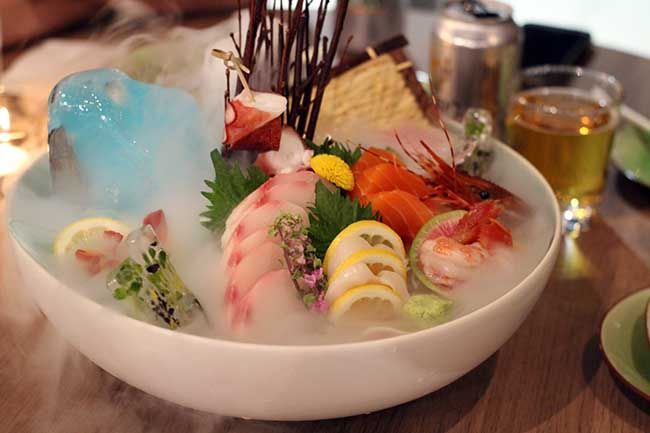 The menu at Takami feels smaller than most, as the priority is to showcase premium fish and ingredients from Japan. Red Seabream, Uni, and Bluefin Tuna are just some examples of the premium fish they fly in every Thursday, so I don't think I need to tell you which day to visit if you want a taste. Unfortunately we had dinner on a Wednesday night, so I definitely need to plan a return trip in the near future.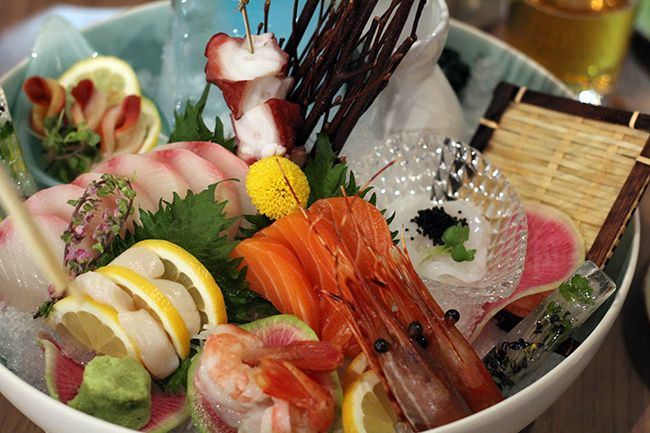 To give their regular selection of fish a try we ordered the 18 piece Deluxe Assorted Sashimi ($36). What came to the table was absolutely stunning - salmon, yellowtail, ami ebi, octopus, squid, and surf clam on a bed of ice, garnished with greens, flowers, and even dry ice. It was almost too beautiful to eat! Taking presentation and quality into account, the sashimi is quite reasonably priced at $2 per piece.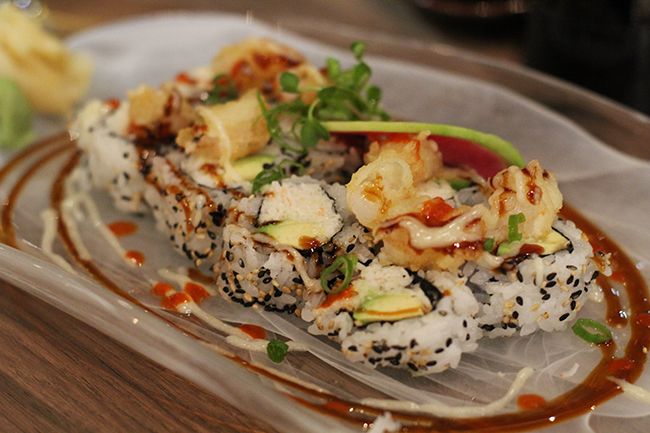 Takami's menu offers a selection of 8 maki rolls which are a nice option if you aren't a sashimi eater. We ordered four to add some variety to our meal, and first up was the TNT Roll ($17). With avocado, crab meat, shrimp tempura, garlic sauce, unagi sauce and hot sauce, the roll was substantial and flavourful all on its own.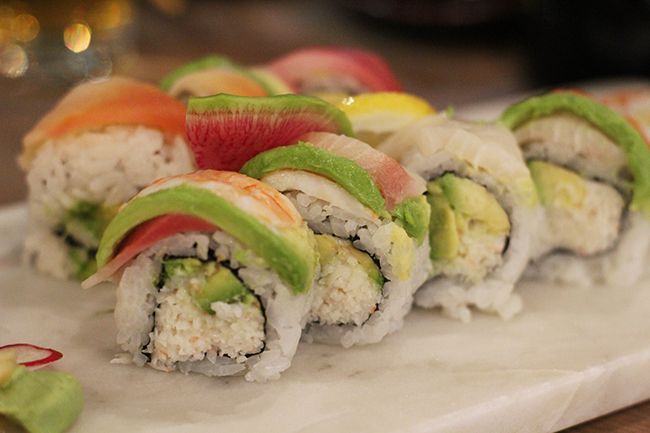 Out next was the Rainbow Roll ($15), a standard maki roll with avocado, crab meat, and an assortment of fish. There was a fair portion of fish on each piece, but nothing special to write home about.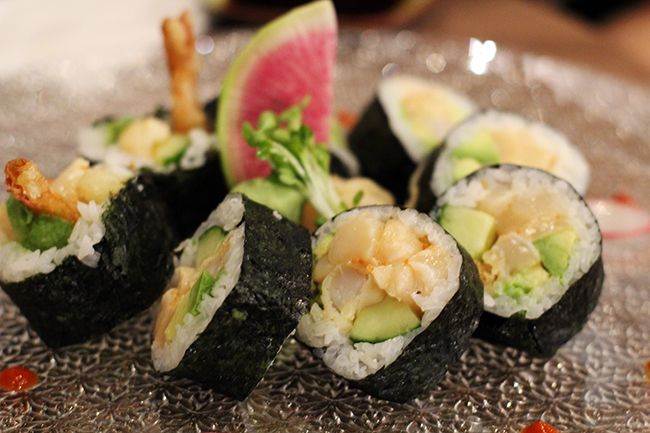 The Dynamite Roll ($15) caught my eye on the menu as it's different from the standard - Takami's version has chop chop scallop in addition to the usual combination of tempura shrimp, avocado, and cucumber. The scallop was fresh and the portion generous, giving the roll great value for what you get.
We rounded off our meal with the house specialty - the Fire Sake Roll ($17). The menu description makes the roll sound incredibly complicated, but the combination of ingredients really works. This roll has tempura shrimp and cucumber wrapped with torched salmon which is then topped with mayo, unagi sauce, green onion, tempura flakes, and a generous sprinkling of crisp deep-fried yam strings. This roll brings a bit of everything to the table - it's savoury, a little sweet, and packed with crunch.
It is also important to note that the wasabi served with every dish is ground in the restaurant. It's fresh and has a slightly different bite to it.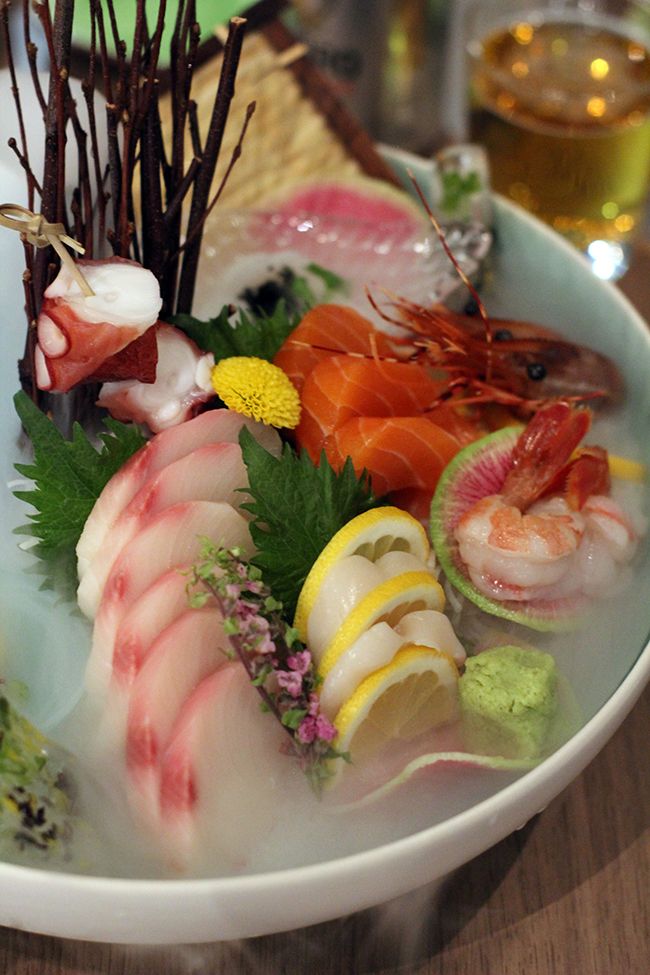 Given the quality and assortment of premium fish, Takami Sushi is a great option south of the river for those who enjoy fresh sushi and sashimi. Sushi Wasabi has been a go-to for us for years for quality fresh fish, and now Takami is a serious contender. Service was attentive during our visit, and our server was very knowledgeable about the fish and the menu. With the stunning presentation and quality of fish, we'll definitely be back to Takami sooner than later!
*Disclosure: I was invited to try a meal at Takami Sushi. Views expressed in this post are solely mine. This post is 100% my opinion, and as always, my priority is to you, the reader, to present an unbiased, thorough review.