Sunday Brunch Launches at El Cortez
April 08, 2016
Edmonton's brunch culture outside of buffet-style service was never hugely popular until last year. I've been noticing more restaurants jump on the brunch train, the latest being a popular Mexican spot right in the heart of Old Strathcona.

El Cortez Mexican Kitchen + Tequila Bar - 8230 Gateway Boulevard


As a place I frequent for tasty tacos and guacamole on the patio in the summer time, I was excited to see El Cortez offer brunch starting the weekend of March 19 & 20. Every weekend from 11AM - 2PM the restaurant offers five brunch dishes at a great price of $14.
I dropped by with my sister for brunch on opening weekend at 11AM and the restaurant was bright and inviting. We were shocked to find how quickly the restaurant filled up, as every seat was occupied by 11:30. Edmontonians love their brunch!
Chef Lindsay Porter designed this menu to reflect traditional Mexican elements, while staying true to the LA inspiration that the dinner menu draws upon. While all the options sounded fantastic I couldn't pass up the Chilaquiles, which featured peppers, onions, verde cream, queso, chorizo, and two eggs with sauteed corn tortilla chips. Arriving piping hot (and on a beautiful plate to boot!), the chilaquiles had a punch of flavour and a kick of heat with every bite. The oozy egg yolk really brought all the ingredients together in this filling dish.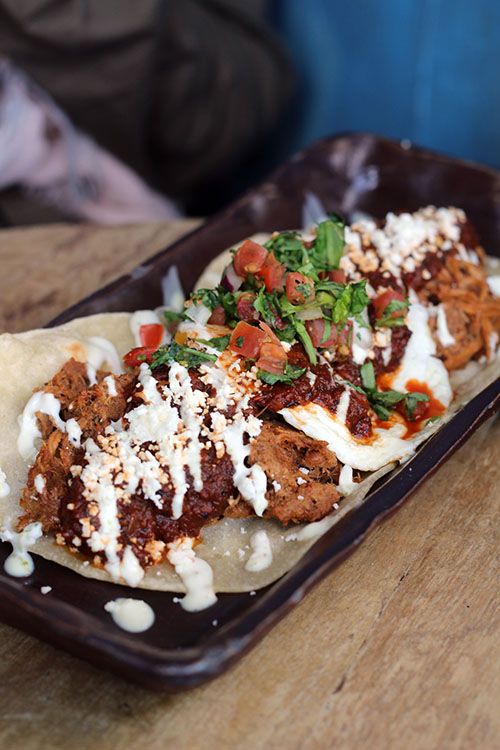 My sister went for the Huevos Rancheros with rojo sauce, 2 eggs, queso, pulled pork, pico de gallo, and crema on housemade tortillas. The fresh pico de gallo went well with the smoky pulled pork and rich rojo sauce. It's another filling brunch dish, but who can say no to tacos early in the day?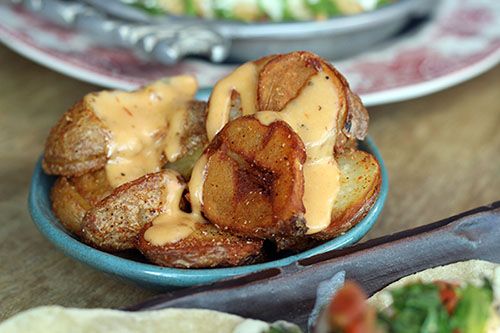 To accompany brunch plates, El Cortez offers a variety of sides ($4) to mix things up. While thick cut bacon, cornbread, and fresh fruit are great options, I had my eye on the Fried Patatas. I just can't say no to crispy potatoes seasoned with smoked paprika and drizzled with tangy aioli!
El Cortez is a strong contender in the Edmonton brunch scene. Although the menu is small there is something for everyone at a very affordable price. Service is great, food is tasty, and the lively environment is perfect for fun, casual brunch. If you don't feel strongly about any dishes in particular the regular menu is available too, so swing by on the weekend and let me know what you think!