Buffet of Abundance: Narayanni's
April 30, 2016
When it comes to Indian food I'll admit that I'm definitely not an expert, but I love the layering of flavours and combination of spices used in Indian cooking. I typically associate Indian food with heavy cream-based sauces and rich flavour, so when I heard that there was an Indian restaurant offering vegan dishes in their buffet I was curious to check it out.

Narayanni's - 10131 81 Avenue - Edmonton AB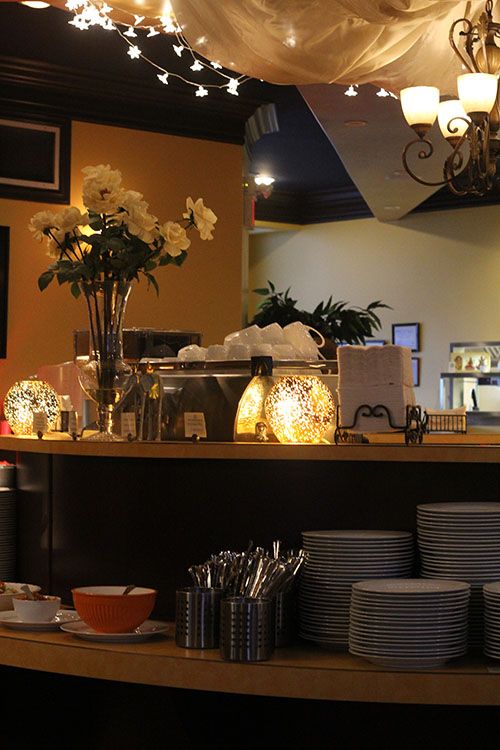 Tucked away behind the busy Whyte Avenue hustle and bustle,
Narayanni's
offers a bountiful buffet of South African Indian dishes. This family-run restaurant has quite the unique exterior, given that the building was a machine shop in the mid 1900's. After three years of renovations the Naidoo family opened Narayanni's in 2010 with the beautiful, warm interior present today.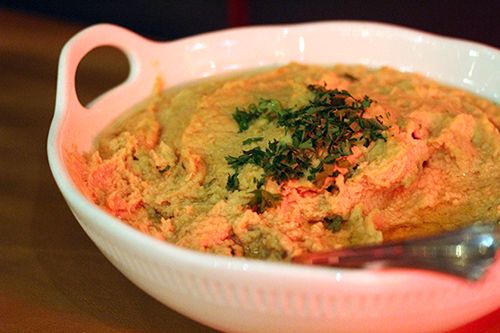 Hummus
Selva and Daya Naidoo emigrated to Canada from South Africa in the early 1980s and opened up Block 1912 as one of their ventures together. After selling the business and enjoying a few years of retirement, Narayanni's (named after their granddaughter and the Hindu goddess of abundance) came to be. Now on any given day Chef Selva can be found preparing food in the kitchen, while Daya works on desserts or mans the front of house alongside his daughter Youmashni.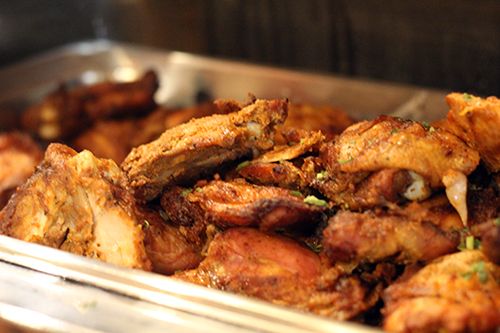 Grilled Masala Chicken
Specializing in South African Indian cuisine, Narayanni's offers a buffet with dishes that are lighter than the traditional Indian buffet. Without the use of dairy the flavours and textures of dishes are more prominent, and the buffet is a great option for those with vegan or dairy-free diets. The restaurant is proud to use free-range chicken and local produce whenever possible, and Chef Selva steers clear of artificial colouring, preservatives, and MSG.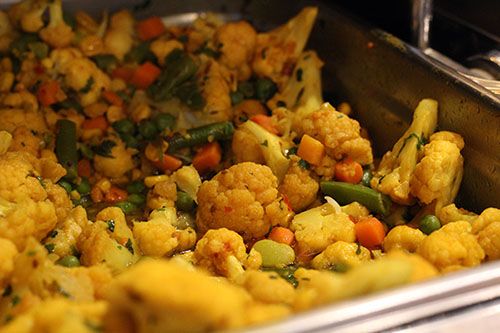 Braised Cauliflower & Peas
Narayanni's has always offered a dinner buffet, which changes nightly. Tuesdays feature a $15 cash only vegan buffet, Wednesdays are $15, Thursdays are $20, and Fridays/Saturdays are $25 (Saturday features a lamb!). The restaurant recently introduced a cash only lunch buffet from Tuesday through Friday from 1130 AM - 100 PM. At $12 per person you have access to soup, salad, rice, 3 vegetarian dishes, 1 meat dish, and dessert. It's incredible value - just make sure to visit the ATM before you visit!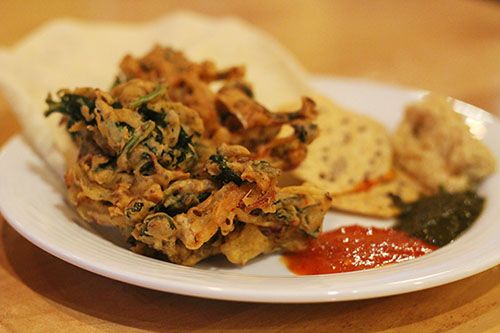 Bhajia
My mom and I stopped by for dinner on a Friday night and we were pleasantly surprised by how busy it was. Despite being located behind a busy street, Narayanni's unique cuisine clearly brings in old and new customers. The circular buffet station featuring a variety of dishes sat in the center of the room, with Youshmani in the centre making drinks for guests.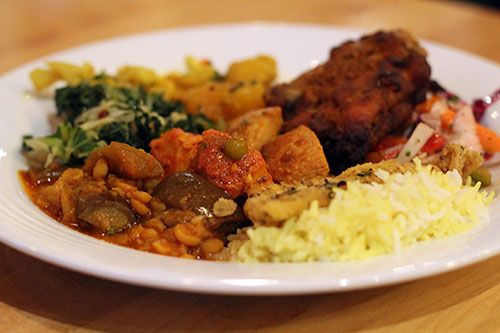 On this particular Friday night, the menu included:
Appetizers: Papadum, Bhajia (onion & spinach fritters), hummus, mint chutney, sweet mango chutney, lemon pickle dip
Salads: Mixed green salad, traditional wedding salad, greek salad
Soup: Curry vegetable soup
Vegetable dishes: butternut squash, chana dahl & eggplant, braised kale & cabbage, braised cauliflower & peas, paneer
Meat dishes: Grilled masala chicken, chicken curry, masala fried sole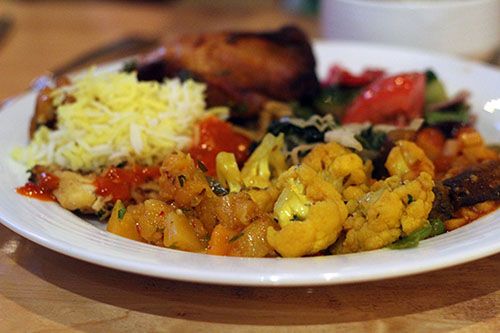 There were many dishes to choose from and we happily sampled our way through the buffet. To accompany our meal we were offered warm roti to soak up all the sauce on our plates. Unlike the traditional roti at Indian buffets, this one reminded me of a green onion cake - densely layered and super flaky. Of all the dishes that evening my favourites were the braised kale & cabbage and the braised cauliflower & peas. It was a surprise for me as these dishes, which were boring in appearance, turned out to be the the most complex in flavour and texture. Papadums are also a favourite of mine wherever I go, but the hummus and chutneys accompanying these lentil crisps brought them to the next level.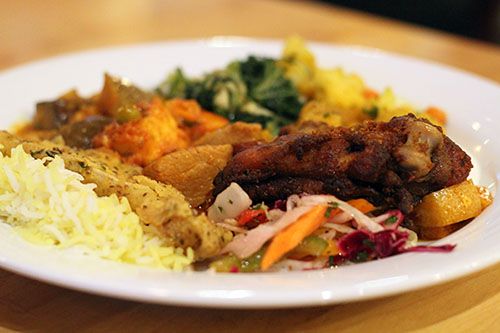 We rounded off our meal with a regular chai and a pistachio chai, both of which were excellent. The regular chai was just slightly sweetened, milky, and fragrant. The pistachio chai, on the other hand, was a little more decadent with notes of almond and topped with whipped cream and crushed pistachios.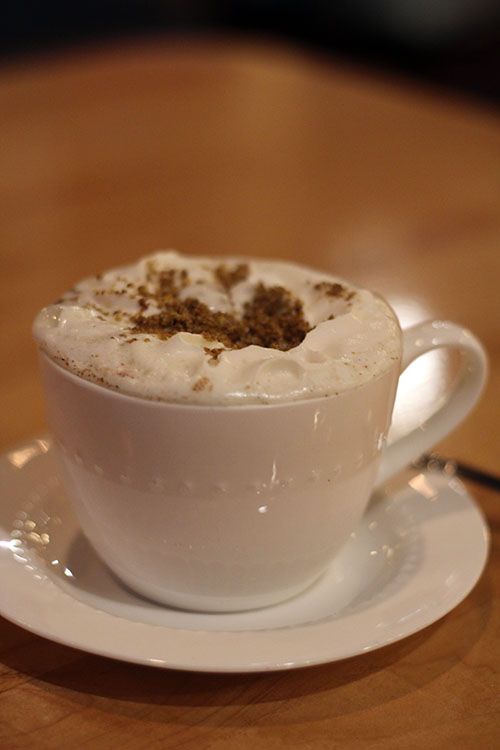 At the end of the meal I was satisfied without feeling as weighed down as I would from traditional creamy, buttery-based sauces found in most Indian buffets. And most importantly, the lighter fare didn't sacrifice flavour. The lunch and dinner buffet Tuesday through Friday is affordable, and $25/person for a weekend dinner buffet is decent value, but I would have liked to see an additional protein option at that price point. Narayanni's is fittingly named and representative of the abundance of good food served by Chef Selva. If you haven't been, you'll just have to see (and taste!) for yourself.
*Disclosure: I was invited to try the buffet at Narayanni's Restaurant. Views expressed in this post are solely mine. This post is 100% my opinion, and as always, my priority is to you, the reader, to present an unbiased, thorough review.