Sundays in the Park: Brunch at Fort Edmonton's Hotel Selkirk
April 20, 2016
When I have guests visiting in the summer I always recommend a trip to visit Fort Edmonton Park. There is so much history in that park alone, it's fascinating to take a step into the past. During the off-season the park operates on a limited basis with occasional film screenings at the Capitol Theatre, accommodations at the Hotel Selkirk, and Sunday Brunch at the Johnson's Cafe.

Johnson's Cafe at Hotel Selkirk - 1920 Fort Edmonton Park Road - Edmonton AB


Fort Edmonton Park played a huge role in my childhood. From attending their summer camps to going on a yearly field trip with school, the park holds many memories for me and I make a point to visit once a year. The park offers Edmonton's most unique Sunday Brunch setting, as Johnson's Cafe is inside the 1920's style Hotel Selkirk. Brunch at Fort Edmonton has been on my to-do list for a while, so my boyfriend and I were excited to give it a try when we were invited by the park.
Johnson's Cafe can accommodate up to 96 guests, and we were surprised to see how quickly the room filled up with tables of two and large family groups. Sunday Brunch runs from 10:30AM-1PM with seatings available every 30 minutes. Tickets for brunch are purchased online in advance at a cost of $32.95 for adults (13+), $27.95 for seniors, and $19.95 for children aged 4-12. For a buffet-style brunch the pricing is similar to others around the city, but there is even better value when the park is open since park admission ($26.20 for adults, $20.90 for children/youth/seniors) is included in your brunch price!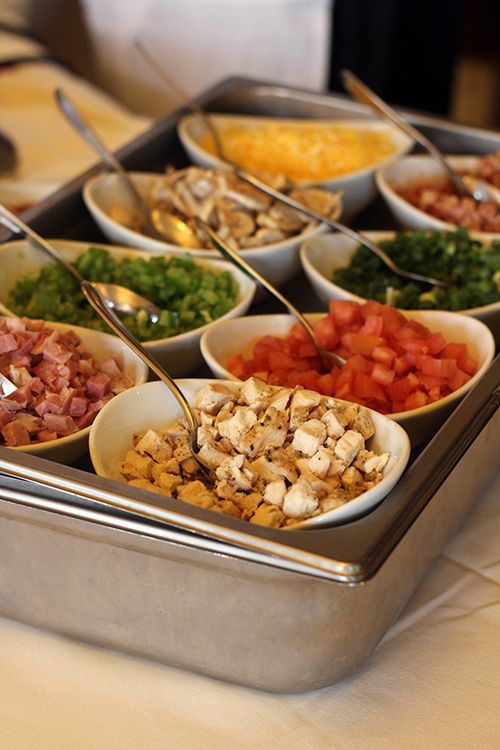 In terms of food there is a wide variety available and the serving stations literally take over the entire lobby of the hotel. The stations are grouped into morning pastries, cold plates and salad, signature hot plates, a chef-attended omelette station, a chef-attended carving station, and a specialty dessert selection.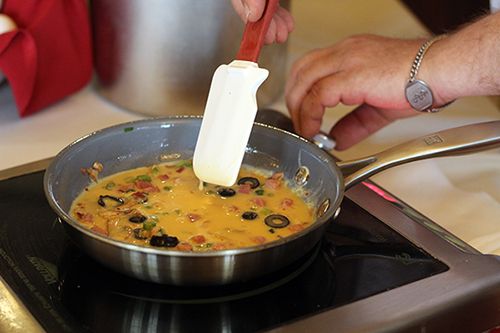 My first stop was at the made-to-order omelette station, where you could choose between an assortment of eight toppings. If the line was any indication, this was one of the most popular stations for brunch.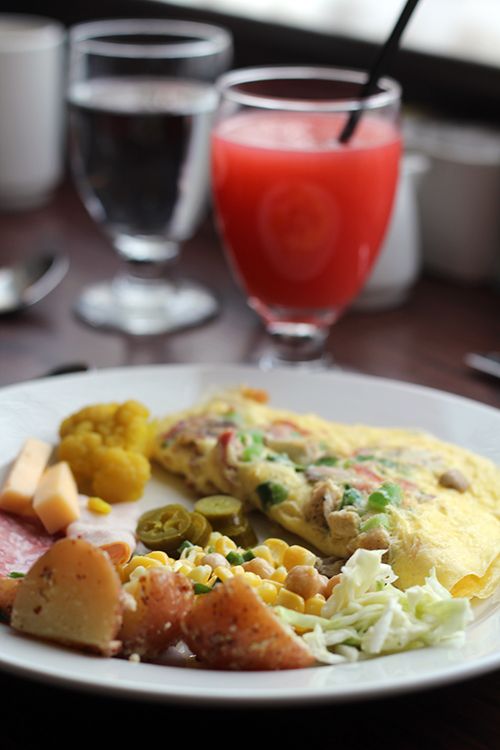 The cold section featured a fresh salad bar, assorted cold cuts and cured meats, pickled vegetables, fresh vegetables, and ready-to-eat salads like a traditional potato salad, corn and chickpea salad, and country-style coleslaw.
From the hot side was a variety of breakfast and lunch options. Breakfast must-haves included crispy bacon, plump breakfast sausages, and crispy hashbrowns, but I particularly enjoyed the parmesan grilled tomatoes. The signature lunch dishes change from time to time, but the ones available during my visit included grilled chicken, pasta, vegetable paella, and seared salmon, among other dishes. The chef-attended carving station was featuring a beautiful prime rib with a peppercorn jus.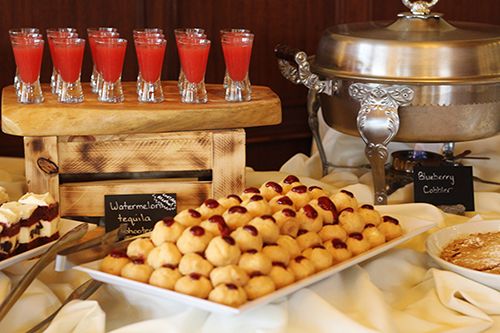 If there was one thing I was saving room in my stomach for, it was for the jaw-dropping selection of desserts! With sweets like red velvet cake, cream puffs, blueberry cobbler, watermelon tequila shooters, cupcakes and other plates, I didn't know where to start. The desserts change from one week to the next but the milk chocolate fountain is a staple, and when I saw the flowing chocolate I was done for!
After dipping numerous skewers of fresh fruit, marshmallows and rice krispies into milk chocolate, the other dessert that caught my eye was the rosemary creme brulee. The smooth custard with earthy rosemary was a perfect flavour combination that I'm going to have to replicate at home!
The Sunday Brunch experience at the Johnson's Cafe was lovely. Our server was constantly checking in and made sure our water glasses and coffee mugs were never empty. Food quality was great and there was enough selection to ensure there was something for everyone. While having brunch in a 1920's style hotel is an experience in itself, take advantage of the brunch price during Fort Edmonton Park's operational season and explore the park after brunch! With admission included in your brunch price, it really is a no-brainer.
*Disclosure: I was invited to try the Sunday brunch at Fort Edmonton Park. Views expressed in this post are solely mine. This post is 100% my opinion, and as always, my priority is to you, the reader, to present an unbiased, thorough review.