Ocean to Table: Sabor Seafood Fest 2015
August 14, 2015
If there's one restaurant in Edmonton that does seafood right, it's Sabor (formerly Sabor Divino). For the third year in a row Sabor is hosting their annual seafood festival, which runs now through August 30.

Sabor - 10220 103 Street - Edmonton AB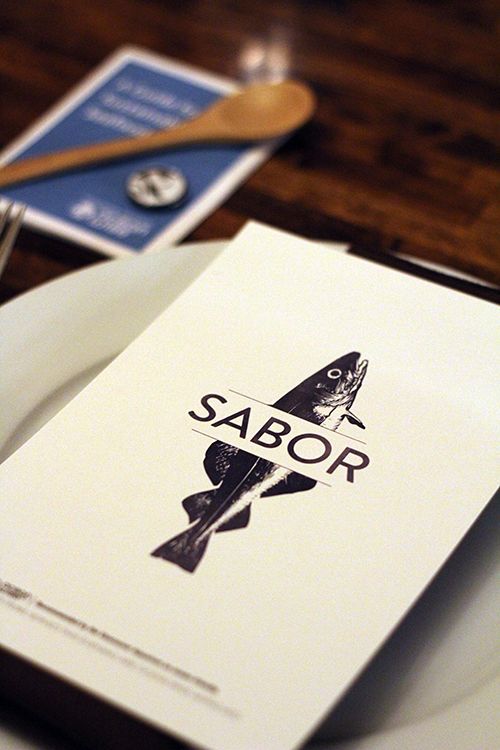 In the past year a lot has changed at
Sabor
for Christian Mena and Lino Oliviera, the proprietors of this downtown Edmonton restaurant. Sabor has been renamed and rebranded, their third restaurant
Urbano Pizza Co.
has opened next door, and Sabor has become 100% Ocean Wise approved. That's a big list of accomplishments for one year, but the Ocean Wise certification is one of the most exciting for their annual seafood festival.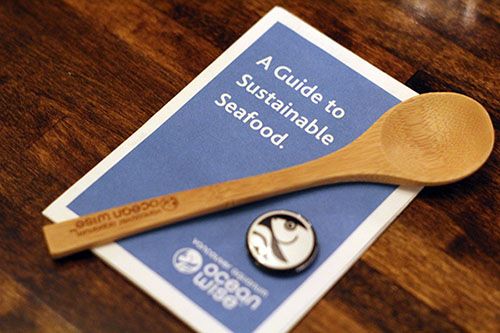 Ocean Wise
is a conservation program run by the Vancouver Aquarium that exists to educate people about the issues surrounding overfishing, and to empower consumers to make the choice to eat only sustainable seafood. Ocean Wise is in it's tenth year working with restaurants to make decisions to serve ocean-friendly seafood on their menus. Recommendations are made based on factors such as the availability of seafood at different times of the year, how the seafood is caught, and management of different fisheries. By dining at restaurants that are Ocean Wise approved, you have the power to make change on an individual level. How cool is that? So what exactly does this mean for Sabor? With a menu that is 100% Ocean Wise approved, you can indulge in seafood guilt-free and know that you are making a difference for our oceans.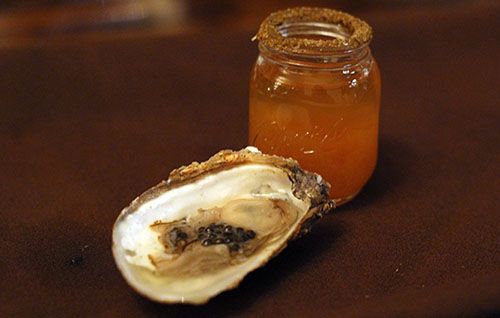 I had the pleasure of attending the kick off to this year's Seafood Festival to preview some of Chef Lino's new dishes. The night started off with a bang with the Sabor Caesar Shot: a Malpeque oyster topped with sturgeon caviar and served with a Caesar shot featuring
Eau Claire
Three Point Vodka. I love that Sabor chose to feature Eau Claire Distillery - as Alberta's first craft distillery, their spirits are sure to impress if you haven't tried them yet!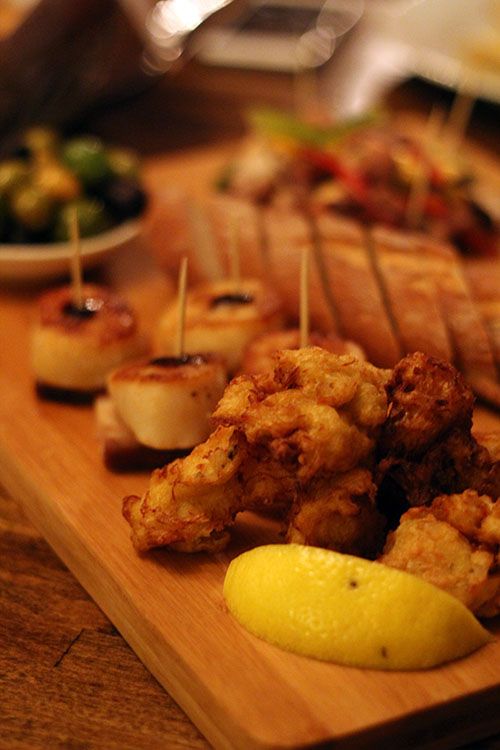 Each table was offered a Pinchos Board, featuring some of the items available on the menu at
Bodega Tapas & Wine
, to kick off the evening. Pinchos, which are related to tapas, differ such that pinchos are often presented spiked with toothpicks. In Spanish culture, the toothpicks serve as a method of picking up your food, but also as a way to charge you for how much you've eaten. Luckily Sabor doesn't charge based on toothpick count, because I would have had to shell out a lot of money!
Octopus & Mussel Salad
Our board for the evening featured Sabor's Aceitonas (house marinated olives, $5), octopus and mussel salad ($6, pictured above), crab fritters, seared scallops on pork belly, and snails in red wine with chorizo. The scallops and pork belly were a hit at our table, with the crispy crab fritters a close second. Olives, octopus and snail are such polarizing dishes to begin with, so I found that at our table there was not much in-between, you either liked the dish or you didn't.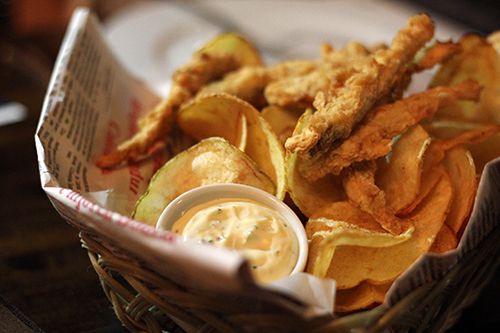 Our second starter for the evening was Chef Lino's play on Fish and Chips, featuring deep fried lake smelt and piri piri spiced chips. The fish were battered and fried to have a crisp coating, and the piri piri chips had a light seasoning to them. Fair warning though, the lake smelt are deep fried whole, so you chew on the small, edible bones with each bite. Unfortunately the fish and chips are not on the Seafood Festival menu, but Chef Lino will be featuring them once in a while throughout August.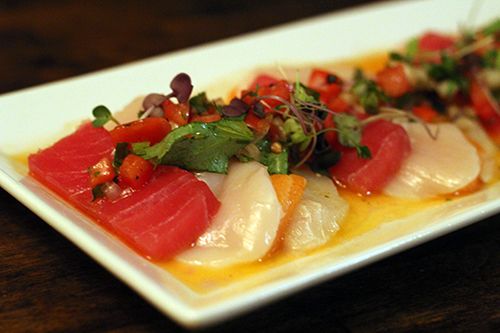 Next up was the beautiful Crudo Con Pebre ($24), featuring fresh Red Spring Salmon, Ahi Tuna, BC Coast Halibut, and BC Scallops. The raw seafood was topped with a simple combination of diced tomato, onion, garlic, cilantro, olive oil, and lemon which allowed the natural sweetness of each component to shine through. If you're a sashimi fan, this dish is for you.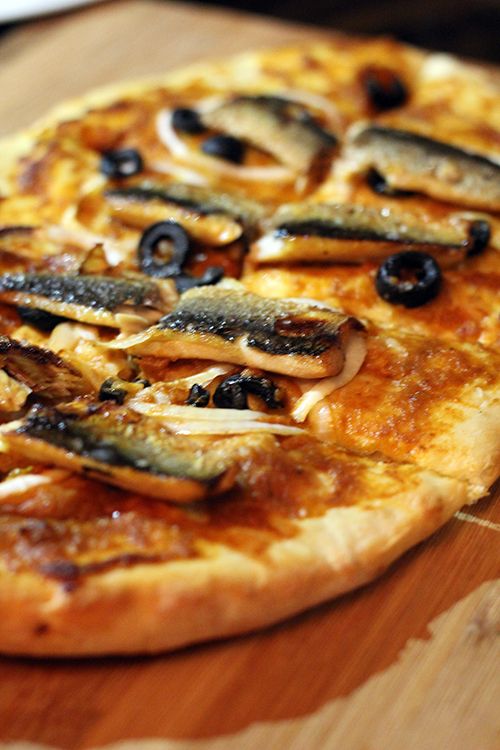 The following course was a Sardine Flatbread, paying tribute to Urbano Pizza Co. next door. The flatbread was light and covered in a briny onion and anchovy spread that I could not stop eating. Combined with the black olives and portions of sardines, I quite enjoyed this course for the evening.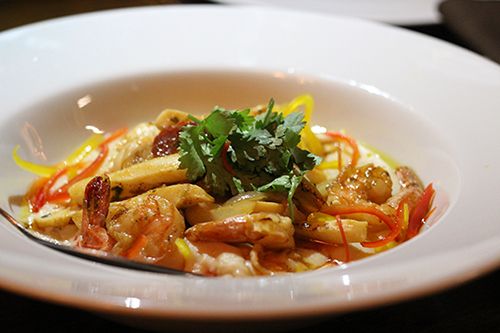 Entrees that evening kicked off with Grilled Humboldt Squid & Prawns ($18) on a bed of chorizo and white bean puree. This squid, otherwise known as the Red Devil, was cooked until soft and very easy to chew. I personally prefer my squid with more bite and chew (like most Asians!), so this dish may not be for everyone. What I really did enjoy though was the bean puree - rich, creamy, and with a kick of heat from the chorizo!
Roasted Rapini & Cornbread Migas
Despite having tried a wide variety of tasty seafood dishes, the star of the evening for me was the Bacon Wrapped Sturgeon on Puttanesca Sauce ($32). Sturgeon flesh is quite under-appreciated given that the prized caviar is what most people are after. It was great to see this fish as the star of the plate, and the firmer texture made for a substantial protein. There was smokiness from the bacon, salt and acidity from the sauce, and natural sweetness from the fish to bring everything together.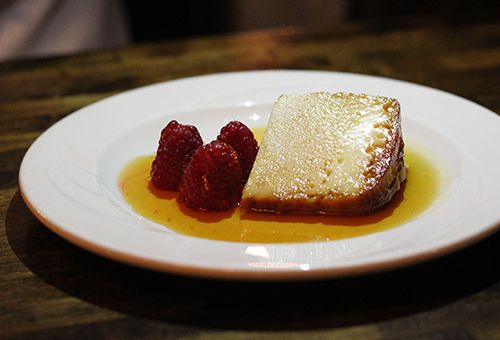 To finish off our family style meal everyone was treated to Mama Margarita's Pudim Flan. This flan is one of Chef Lino's favourite desserts made by his mother, and she finally caved and gave him the recipe. This Portuguese custard is creamy and sweet, and you can taste the richness of the eggs. Word on the street is that this custard is soon to become a gelato flavour at Urbano!
While Sabor serves up seafood on their menu throughout the year, the best time to enjoy all that the restaurant has to offer is during the seafood festival. If you can't decide on a specific dish, Chef Lino is also offering off menu family-style dining at $55/person. It's great value and fun for the whole table! The seafood is fresh, the dishes are inventive, and best of all, everything is 100% Ocean Wise. What's stopping you?
*Disclosure: Sabor invited me to attend their media tasting. Views expressed in this post are solely mine. I was not expected to feature this restaurant on my blog, nor obligated to do so. This post is 100% my opinion, and as always, my priority is to you, the reader, to present an unbiased, thorough review.