Thai Time: Boualouang Thai & Laos Restaurant
August 11, 2010
One of my BFF's Andrew just left Edmonton today to head back to Baltimore - but there was one thing I made sure would happen before he skipped town.. and that was to go out for some yummy Thai food!

Yesterday night I rounded up our friends Crystal, Carson, Ronald and Vince to go out to dinner with us at Boualouang for Thai & Laos food. I've always heard great things about this restaurant, and it was about time for me to hit it up and give it a try.

This restaurant is located in Chinatown, right next to the Chinese restaurant Sai Woo. Vince and I got led astray when we followed directions to their old location - do not make this mistake like we did! It's pretty much on the main street in Chinatown, and hard to miss. When we finally got there, we went inside the restaurant, only to find that it was a small, cozy little restaurant with dim lighting. Not to be racist, but the other thing I noticed was that everyone in there was Caucasian, and our table was the only one with Asians! So funny.

We ordered our usual Thai favourites, and we ventured into new territory since we needed more dishes to fill more people. The service at the restaurant wasn't bad, considering they only had two waiters serving the entire restaurant of approximately 10 tables. We were taken care of, but having patience is definitely necessary when you visit this place.

To compensate for the long waiting time, we were given an appetizer on the house. Well, I think it was to compensate.. otherwise, they wanted to treat us very well since I had my planner out! Anyway, the treated us to an interesting appetizer, I have no idea whether or not it was an actual Thai dish.



Appetizer dish
A top of a BBQ flavoured crispy mini, was a mix of papaya strips and green onion, garnished with a peanut and a small scallop. The mixture was slightly tangy, and an interesting start to the meal.
Our first dish was the papaya salad. I always love ordering this dish, because the spicyness given by the peppers pairs well with the sour dressing. Most of the time when I tell people that papaya salad is sour and spicy, they give me a funny look. And now I know why. Many imagine that the papaya salad is made with the ripe fruit we usually eat, where the skin outside is usually green or yellow, and the flesh is deep yellow or orange. Contrary to this thought, the papaya used in this salad is indeed the fruit that we consume, but this dish is made using young papaya that hasn't had the chance to ripen yet. Therefore, the strips are green and crunchy. After marinating with the dressing, the papaya really picks up the spicy, sour, and salty flavours, making it a very unique salad to eat.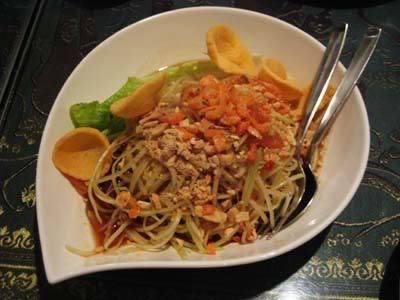 papaya salad
The papaya salad had a beautiful presentation, sitting atop of a lettuce leaf, and garnished with dried baby shrimp, and deep fried shrimp crackers. When I put the first bite into my mouth, it tasted great. We ordered the mildly spicy salad, so that we wouldn't get overwhelmed with spicyness throughout the meal. However, after a couple bites, my lips were on fire! This dressing really brings the heat, so just a little warning before you guys go out and order it!

Shrimp tom yum soup
Next dish to arrive was the tom yum soup with shrimp. I think by this point, everyone knows how much I love tom yum! I love the intensity of the spicy and sour flavour in this soup! Restaurants always make it the best, because they cook the soup from scratch, using all the necessary spices and herbs to flavour and concentrate the flavours. I love scooping out the deep red, opaque soup, knowing that it's going to taste amazing! The shrimp in our order were large and plump, and were much bigger than shrimp I've ever received in an order of tom yum soup. They were cooked perfectly! Thumbs up for the tom yum soup - which wasn't very spicy either!

delicious pad thai
Next up was the pad thai - a staple food to try out at every Thai restaurant! Here at Boualouang, the noodles were more of a deep brown colour rather than orange like most restaurants. This was probably due to the amount of soy sauce they added, which was actually a nice change. The noodles were al dente, and more on the salty side, which I liked because some restaurants cook it way too sweet.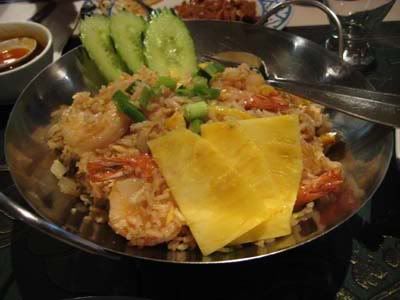 Pineapple fried rice
With so much food already on the table, our server added another dish, which was pineapple fried rice. This was a dish that Vince suggested we try, and was the one dish we ordered that I was hesitant about. However, once I tasted it, I was pleasantly surprised. The rice was not sweet like I assumed it would be, but instead, you could sense that pineapple was present in the dish, without actually having any in your mouth. I guess I'm saying the flavour was infused into the individual grains of rice. We agreed that we mostly liked this dish, but Vince was disappointed since the rice was more on the soggy side, and borderline overcooked.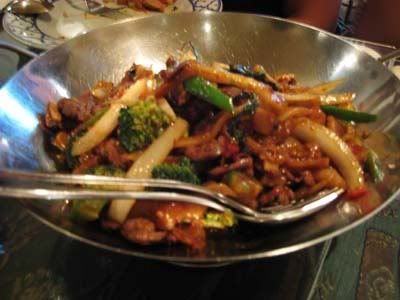 drunken noodles yum yum :)
The second last dish to arrive was the drunken rice noodles, or 'pad see iw' (I'm sure I butchered that one, sorry guys!). This dish is made using the flat rice noodles, and cooked using a salty, soy sauce based sauce. The fact that that the noodles are covered in sauce is one of my favourite things - you always know that they will be tasty and packed with flavour! The veggies in this dish, broccoli, onions, and peppers, also absorb the flavours and taste great when you eat them alone!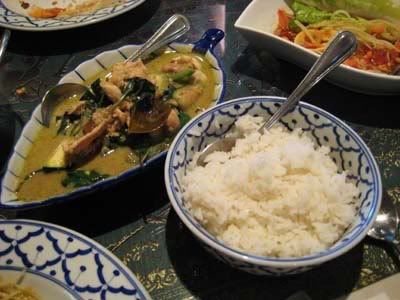 green curry!
Our very last dish was the one a Thai meal cannot go without - green curry. I'm not a big fan of curry myself, as I have never really liked the watery curry base, but I can have a couple bites just to test out the flavours. We paired our curry with coconut rice, which is a nice way to balance out the spicy flavours contained in the sauce. The curry tasted like most others I have had in the past, so it wasn't anything too special.
All in all, it was a great meal to share with some of my best friends, and a fantastic way to spend our last night with Andrew. I will definitely return to Boualouang in the future - I just hope they hire another waiter or waitress by that time! See you soon, Andrew. We miss you already!!
Boualouang Thai and Laos Restaurant
10669 97 Street
Edmonton