Delicious Delicious [CLOSED]
August 25, 2010
One of my uncles from my mom's side of the family recently came to Edmonton to visit, but with my family's busy schedule these days, it's so hard to find time to sit down and chat, even with your own family!

Lucky for us, today was the one day that everyone had a day off from work or from summer camps, so we called up my uncle and headed out for none other than.. dim sum! My parents have recently been talking about a new dim sum place that opened up in the West end of Edmonton, that they visited and actually enjoyed. As for myself, I really could care less. Once you taste dim sum in other cities like Vancouver, or even Calgary, looking at dim sum in Edmonton really turns you off. But once we went to this place, my perceptions of dim sum in Edmonton changed a little, not a lot, but just a little :)



My Placemat :)
The restaurant my parents brought everyone to was called 'Delicious Delicious'. It's a pretty big name to live up to, if you ask me. The restaurant has been open for approximately two months, and is located inside of the Albert's Family Restaurant that is inside of a Howard Johnson Hotel. Weird, right? Totally not where you would expect a Chinese restaurant to be! On the exterior of the hotel, there weren't many signs that a Chinese restaurant even existed inside the hotel, until you walked up to the door, where they had a couple small signs posted in the windows. Now, the best part is, once you walk into the hotel, it's hard to decide whether you're looking at a rundown area of the hotel, or some Albert's Family Restaurant filled up with Asians, young and old. Both are weird and awkward situations, but you kind of figure out where you're headed and you just follow your instincts!
We walked into the Albert's side of the restaurant, and were greeted by a nice Asian lady saying there was actually another entrance into the restaurant - one that was unmarked, haha. Anyway, she brought us to our table. At the time, there weren't too many tables filled, and the ones that were occupied had lots of elderly men and women sitting there - the type that have too much free time and go out for dimsum all too often.
One unique thing about this one restaurant is that the dim sum is not rolled around on carts with cranky ladies shouting out the names of the food she has on her cart. Instead, this restaurant uses the paper method, where every dish is listed and you can check off which dishes and the quantity of each you would like to order. This is the way I like it - guaranteed that the food will come to the table hot & fresh! We ordered most of the usual items (shrimp dumplings, siu mai, ribs, shrimp cakes, buns, etc.), so I don't want to review EVERY single item we ate, I just want to highlight a select few!
One that I want to mention in particular is their custard buns. These are not your typical white bun with gel-like custard in the middle. Instead, these have a hot, liquid egg yolk/sugar combination inside of them! I was really surprised when I ripped off my first piece, because the inside just leaked out of the bun and I knew I had to place it straight into my mouth. I particularly enjoyed the fact that it wasn't super sweet like most Chinese desserts, and you could feel the pieces of egg yolk in the liquid centre. Just beware though - make sure you eat these when they are still HOT. Otherwise you will be greeted with a solid, fatty mess in the middle, don't say I didn't warn you!!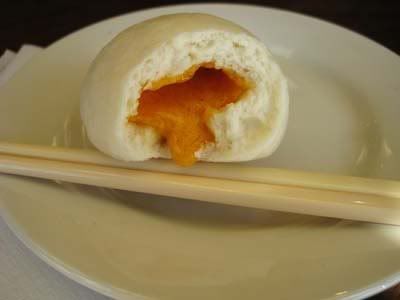 Hot custard bun!
When our shrimp dumplings (ha gow) arrived at the table, I was surprised!! Those dumplings were MASSIVE. The flavour was just right to them too - not too salty, shrimp were deveined and you could taste the sweet seafood flavour to them.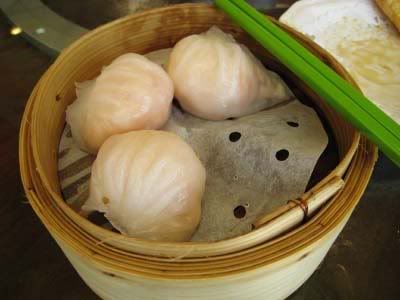 Shrimp Dumplings
Another dish I particularly enjoyed was the shrimp wrapped in beancurd, with cheese in the middle. You would think to yourself that this is a bizarre combination, as did I, but after trying it, it actually tasted very good! The beancurd on the outside was fried to a nice, golden crisp, causing the cheese amongst the shrimp to be melted perfectly. It was a nice pairing that I will definitely try out again !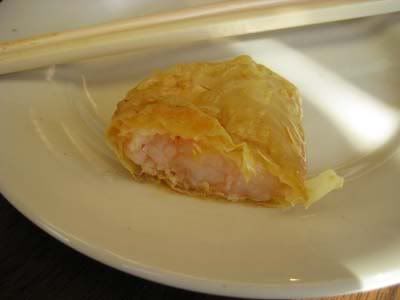 Shrimp and cheese wrapped in beancurd
Last but not least, one of my favourite dishes from the meal was rice rolls with pork ribs, served on a sizzling plate! Knowing me, Asian noodles are my food of choice, and rice rolls are no exception! The sauce for the ribs was infused with the taste of black beans, garlic, and chili, and kept at a nice temperature by the stone plate (I think thats what you call it?!). The heat from the plate continually cooked the rice rolls while they sat at our table, giving them a nice crisp/burnt texture. Add the sauce over top and I'm in food heaven.

Ribs & rice rolls in sauce
Overall, the dim sum was excellent for Edmonton standards. I've even read that the dim sum chef originated in China, and last worked in Vancouver. I have high hopes for this place! Make sure you guys go check it out :)
Delicious Delicious
15540 Stony Plain Road
Edmonton AB