Goodbye, Pad Thai [CLOSED]
August 23, 2010
Two days ago was the day of my mom and dad's wedding anniversary. Traditionally, my sister and I have usually gone out with our parents to celebrate for either lunch or dinner, and then the two of them figure out the rest of their day together. This year, Vince came along with us too - he's pretty much an important part of our family! :)

This year I was kind of lazy, and didn't know what gift to get them, so I decided to treat them to lunch at a Thai restaurant called Pad Thai. Gee, you'd wonder what kind of cuisine they serve *whistles* Anyways, this restaurant has been in Edmonton for quite a while now, and the people behind Pad Thai in Edmonton are the same people that opened the popular Tang Thai restaurant in Vancouver. I discovered this beautiful restaurant early this year, and returned a second time because their lunch menu had many options at a very good price - what university student doesn't love that?! So, when we arrived at the restaurant the other day (my third time), I was greeted with a sign that made me upset before even walking into the restaurant! On the door was a sign saying the restaurant was set to close this past weekend, because it would be torn down and replaced with a retail shopping centre/strip mall. I guess I was lucky to have eaten at the place one last time, on their second last day open.



View of the inside
Each time I have gone to the restaurant, it hasn't been very busy. It seems as though not many people know about this place, or don't really know how to appreciate the value of their food. I know a lot of people tend to head to The King and I, or Viphalay for their Thai food. I've actually never known anyone who goes to this place! But everytime I walk in, it's a very friendly environment, and the inside of the restaurant is decorated beautifully with thai paintings, statues and artwork. The staff are always very polite and friendly too! Although the restaurant was closing down, the staff were wonderful as usual, making it a great lunch for our family.
For lunch we ordered quite a few items to fill our five stomachs. At $8.95 or $9.95 per dish, it's practically a steal to be eating at this restaurant for lunch!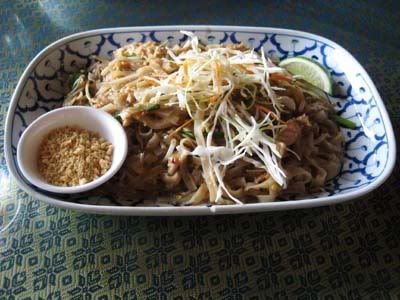 Yummy Pad Thai :)
The first dish to arrive was the Pad Thai. For a restaurant named after this popular dish, it'd better be good! And good it was. I like the pad thai at this restaurant because it's not too sweet, but still salty. The noodles are garnished with a lime, and once you squeeze it on top, you can taste the natural tangy flavours on the noodles. The noodles are cooked al dente, which is what I like - soggy is gross!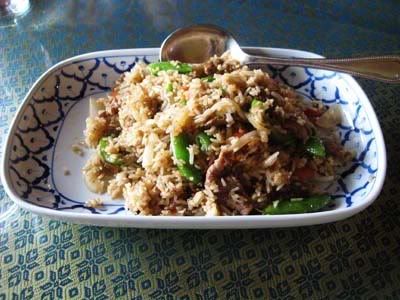 Thai Fried Rice
Next up was kau pad prik, which is a chili fried rice with vegetables and chicken. This was the first time I had tried a dish like this, and I particularly liked it because the rice wasn't super spicy, but flavourful, and the vegetables really picked up the thai spices as well. The rice wasn't soggy, but in their individual pieces and not stuck together. A very nice dish to have contrasting the noodles in pad thai.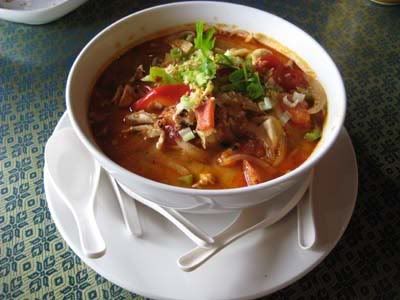 Tom Yum Noodles
After trying the rice, our next dish was the tom yum noodles. As you guys probably know already, tom yum is my favourite soup, so it's a must to every Thai meal I eat! The tom yum soup at Pad Thai has some traces of coconut milk in it, and to add some variety amongst the bowl of noodles, this restaurant adds in fresh tomato pieces, red pepper, chicken pieces and onion slices in addition to the usual mushrooms and shrimp. It's a nice change from what you usually find in tom yum soups, but it's not the best one out there. I am not a big fan of the coconut milk - I like the broth to be clear and watery, rather than a little thicker. The soup at Pad Thai isn't very spicy or sour either, so it's rather mild.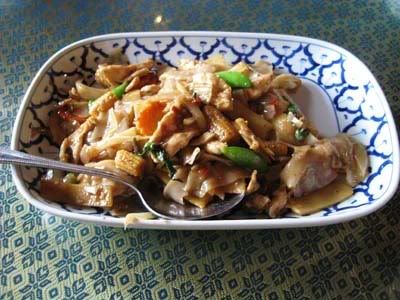 Pad Kee Mao, Drunken Noodles
Our second last dish surely wouldn't disappoint, as it was another one of my favourites, the pad kee mao. This dish is made with flat rice noodles, stir fried in a thickened sauce with meat and vegetables. I really like this dish because each individual noodle is saturated with sauce, and therefore flavour. The noodles have a nice softer, but chewy texture, and it isn't spicy at all - love this dish.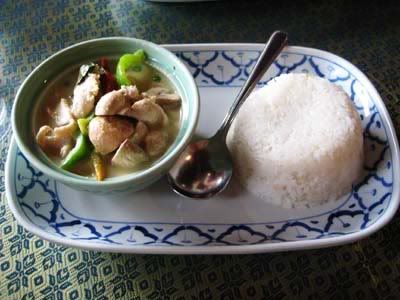 Green Curry
Last but not least, we ordered the green curry with coconut rice. As you might know from my Boualouang post, I'm not a big fan of curry, but I always give it a try. My parents are big fans of curry, and they love to cook it at home all the time (mostly the Japanese kind, but they like to switch it up once in a while!). They didn't like this curry much, because it's different from most of the green curries available at other Thai restaurants. The one at Pad Thai is sweet, and not very spicy - opposite of what green curry is usually like. Adding this dish to the coconut rice wasn't the best combination, because each bite became overly sweet.
I'm really going to miss having this close-by Thai restaurant. Guess I'll have to settle for other types of food for lunch when I'm on campus!
After our lunch, we walked over to the Fringe grounds to catch a play, and my sister covered everyone's tickets as her contribution for the day. We bought tickets for a show written by and starring Tiana Leonty, called 'Spin'. But since we got there a little early, we walked around and found a street performer in a tutu!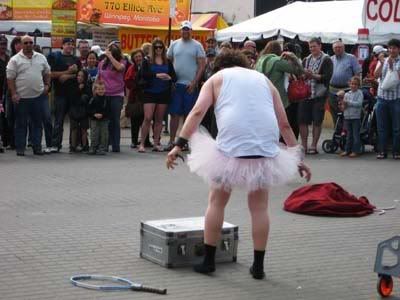 So manly, no?
The play we watched was about an exercise enthusiast, forcing herself to train for the Ironman thriathalon in order to win the love of her trainer. Leonty actually put in a lot of effort for the play - half the time she was acting and riding a stationary bike at the same time! And she's actually VERY strong and muscular, having competed in marathons before. It was an interesting show, but not one I would run around recommending to everyone I know. The humor was rather sexual, and it would have been a little more interesting if it wasn't just herself playing the role of three different characters.
After our play, I had to pick up another one of my favourite festival treats - chocolate covered bananas! This one was covered in crushed oreo. It was an interesting mix, with the little oreo grains, but I wish they were in bigger chunks and less fine, to give a crunch to contrast the mushy banana.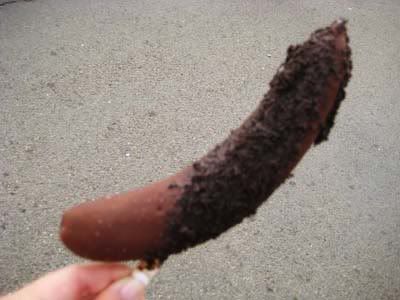 Mmm chocolate covered banana!!
Finally, we finished off our afternoon watching another outdoor performance. This one was a lady from Australia (I think??), and she performed different tricks with hula hoops. She too was a provocative performer, inserting sexual innuendos whenever she had the chance to.

Crazy hula hoop lady
Summer is slowly coming to an end, and it makes me really sad to write this! Not only is school just around the corner, but my MCAT test date creeps closer and closer every single day. Guess I gotta get back to studying!