Sturgeon County Bounty Culinary Cookout 2016
August 12, 2016
Summer is my favourite time of year at the farmers markets as all the colourful produce is in full production. Although Alberta has a short growing season I'm always amazed by the varieties we are able to grow in our region, and how bountiful the harvest really is.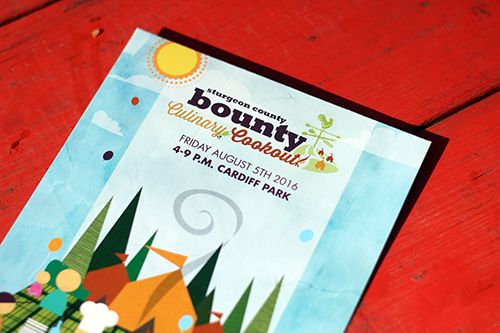 The Sturgeon County Bounty is an initiative that aims to provide producers, chefs and processors the opportunity to showcase the produce and products made in and around Sturgeon County. Last week their annual Culinary Cookout took place in Cardiff Park, so I drove out to the county to check it out.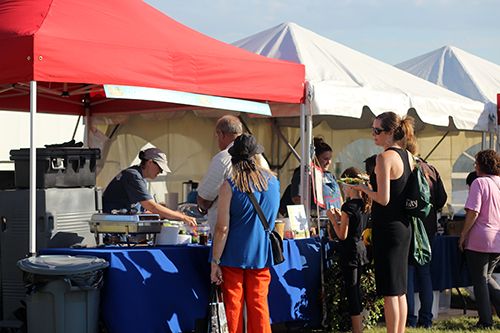 Edmonton's XIX Nineteen and Urbano Pizza joined 12 Acres (St. Albert), Jack's Burger Shack (St. Albert), Prairie Gardens (Bon Accord), and Streetside Celebration (Bon Accord) as the food vendors for the event, so there was plenty to try out. In a similar manner to Taste of Edmonton, the Culinary Cookout used a ticket system for purchasing food from vendors. But it differs in that the vendors are expected to utilize produce and products produced within Sturgeon County. It's a neat way to learn about and try local products!
The first plate we tried was the Spicy Albacore Poke Noodle Bowl from
XIX Nineteen
, who was paired with
Peas on Earth Organic Garden
. The
Tuna Twists at XIX
are one of my favourite bites in Edmonton so this was right up my alley. With the combination of fresh herbs, sesame slaw and cilantro aioli on the noodles and tuna, this bowl of deconstructed tuna twists was my favourite at the cookout.
Next came the Pulled Pork Croquette from
12 Acres
, which featured produce and products from
Vesta Gardens
and
Gold Forest Grains
. The croquettes were hot and crispy, pairing well with the slaw.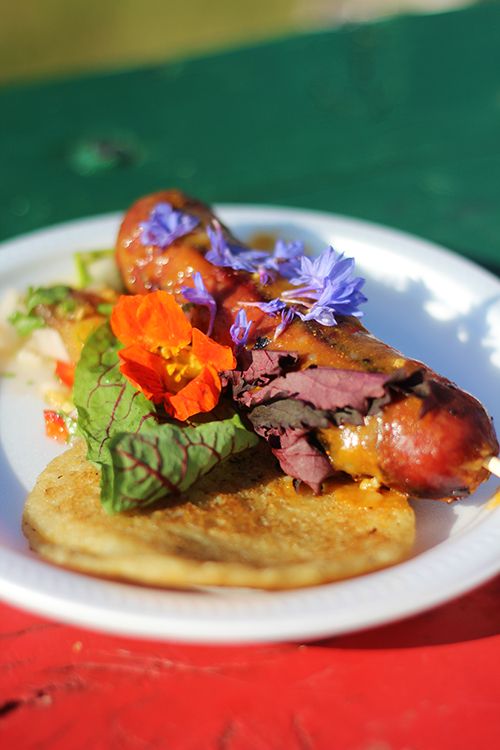 I've been meaning to make it out to
Prairie Gardens
in Bon Accord for some time now, as they have a wide variety of vegetables on their farm for visitors to U-Pick. Lucky for me they were on site and had a variety of dishes featuring their own produce, as well as products from
Country Quality Meats
.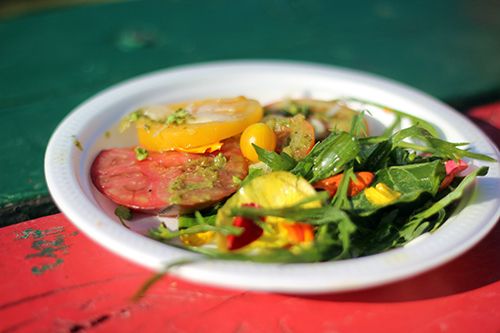 The Smoked Farmer Sausage Fondue caught my eye and was plated beautifully (above), but didn't quite resemble the typical fondue. The sausage paired well with the vegetable fondue, pico de gallo, chutney, corn tamale flatbread, and a variety of greens and edible flowers. Given that tomato season had started, we could not pass up the Heirloom Tomato Salad. Sweet, juicy tomatoes were paired with shaved onion, basil, and arugula and finished with a drizzle of cold pressed canola oil. It was a simple dish, but with the right quality ingredients it's a dish that can't be beat in freshness and flavour.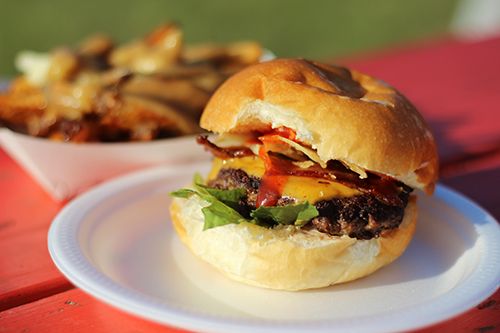 One thing we had not anticipated was having to wait in lines for food, so when we noticed more people arriving to the cookout it was time to divide and conquer! The longest line by far at the cookout was for
Jack's Burger Shack
, and for good reason - they make some pretty solid burgers. Jack's Burger Shack offerings included products from Peas on Earth and J. Nonay's Lakeside Beef, which made our BBQ Crunch burger another favourite for the night.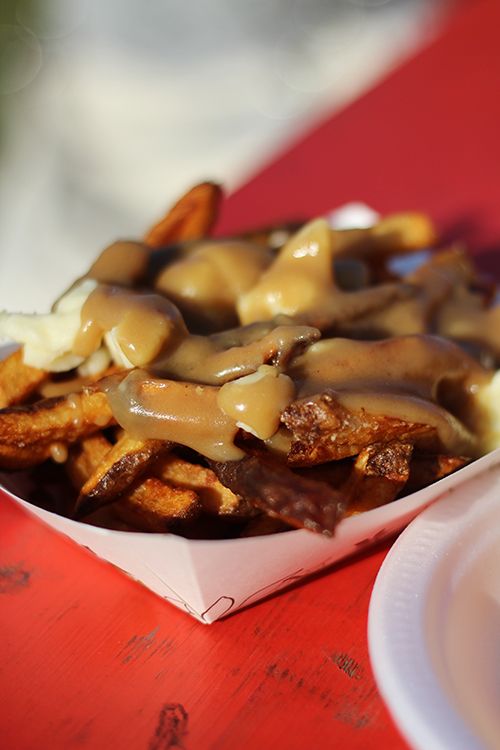 Burgers go hand in hand with fries, so we couldn't pass up the poutine offered at Jack's. Squeaky cheese curds and hot gravy are key to a poutine and this one delivered on all fronts.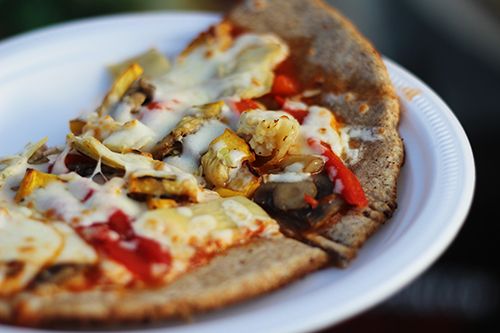 The long drive out to Sturgeon County didn't stop
Urbano Pizza Co.
from bringing out a couple of their TurboChef ovens to join the cookout.
Urbano
offered their Pork 'N Pine and Garden Fire Pizzas, featuring Peas on Earth vegetables and
Manawan Farms
pork on whole wheat dough made from Gold Forest Grains flour.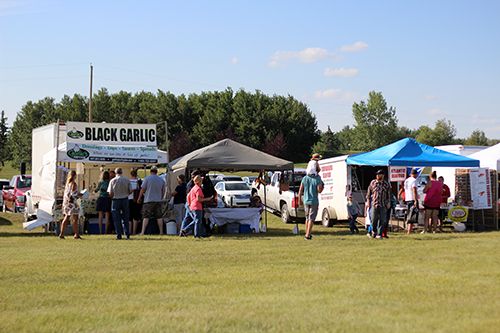 With beautiful weather and a handful of vendors, the Sturgeon County Bounty Culinary Cookout was a great family-friendly event to enjoy on a Friday evening. Some of the vendors from the Morinville Farmers Market were also on site to sell their products, which further enhanced the experience. There were also plenty of children's activities set up around the park so if you're interested, bring the family down for next year's event.
*Disclosure: I was invited to check out the culinary cookout and was provided with tickets for food sampling. Views expressed in this post are solely mine. I was not expected to feature this event on my blog, nor obligated to do so. This post is 100% my opinion, and as always, my priority is to you, the reader, to present an unbiased, thorough review.