Sabor Seafood Festival 2016: August 5 - September 3
August 05, 2016
Seafood lovers get ready! Sabor's annual Seafood Festival is back for it's third year, from August 5th - September 3rd. I had the opportunity to attend the media kickoff dinner last week and there's some exciting plates on the menu this year.

Sabor - 10220 103 Street - Edmonton AB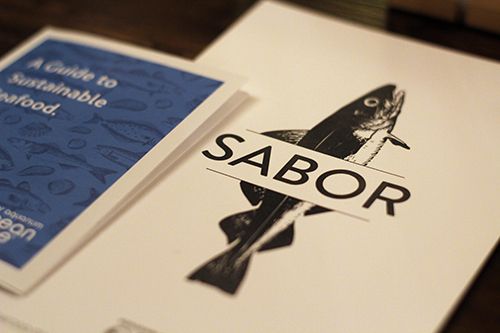 As one of Edmonton's top seafood restaurants, its great to know that Sabor's menu is 100%
Ocean Wise
approved. This means that all the seafood utilized at Sabor is recognized by the Vancouver Aquarium conservation program as sustainable. Given the farm-to-table popularity, it may seem silly to question where your seafood comes from, but overfishing is one of the greatest threats to our oceans. Without making a conscious decision to consume sustainable seafood, fisheries worldwide could collapse by 2048!
Chef collaborations are becoming increasingly popular, this year Chef Jan Hansen of
Hotel Arts
in Calgary collaborated with co-owners Christian Mena and Chef Lino Oliveira. Although the chefs worked on the family-style meal together, the dish created by Chef Hansen will be noted on the Seafood Festival menu this year, and the proceeds from his dish will be donated to Ocean Wise to fund their research programs.
The meal began with five different tapas dishes, and first up was the Scallop & Limpet Ceviche. You won't find limpets on any other menu in Edmonton, so this is your best chance at trying these aquatic snails! You could taste the natural sweetness of the fresh scallops and limpets, but the dish was a tad viscous for my palate.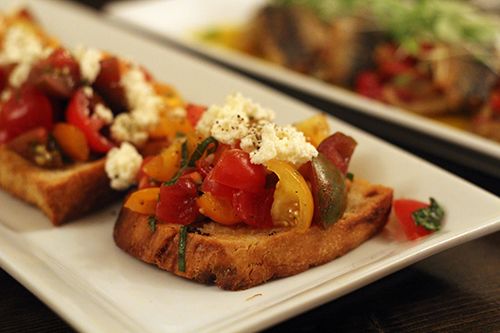 Next up came the Heirloom Tomato & Queijo Fresco Montadito - a Spanish take on bruschetta. The tomatoes were sourced from the City Market on 104St and served on bread freshly baked at the Hotel Arts. The subtle flavours worked beautifully together - it was a simple dish done right!
The Sardina Escalivada arrived next, plated beautifully across the plate. Escalivada is a Catalan dish of roasted vegetables, and the mix of roasted red peppers, eggplant, capers, and garlic paired well with the sardines.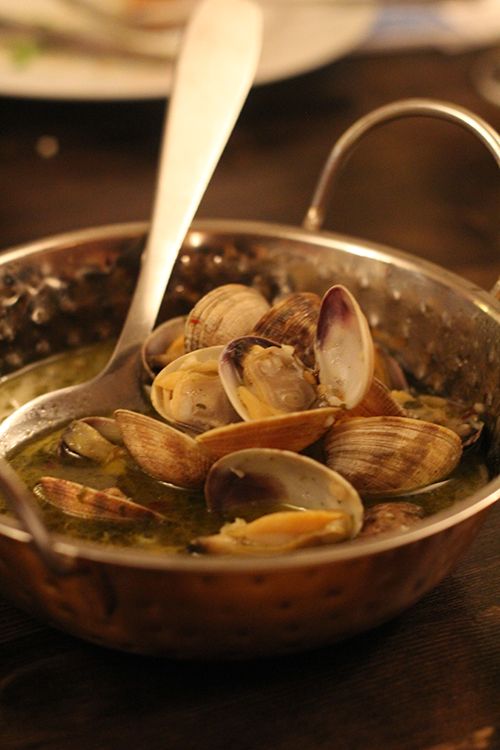 Amêijoas á Bulhão Pato is a dish of clams cooked in a white wine sauce and is a dish with which you cannot go wrong. This Portuguese dish is named after the 19th-century Lisbon poet Bulhão Pato and is a popular first course in many restaurants.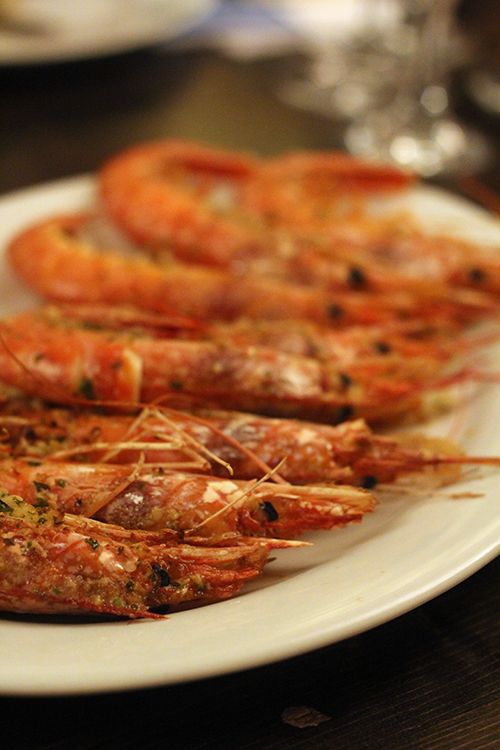 Last of the tapas
came the stunning plates of Gambas al Ajillo, jumbo shrimp cooked with garlic and wine. This interactive course made everyone set their manners aside - you just had to get in there with your hands, rip off the heads, and suck all the good juices out of those prawn heads!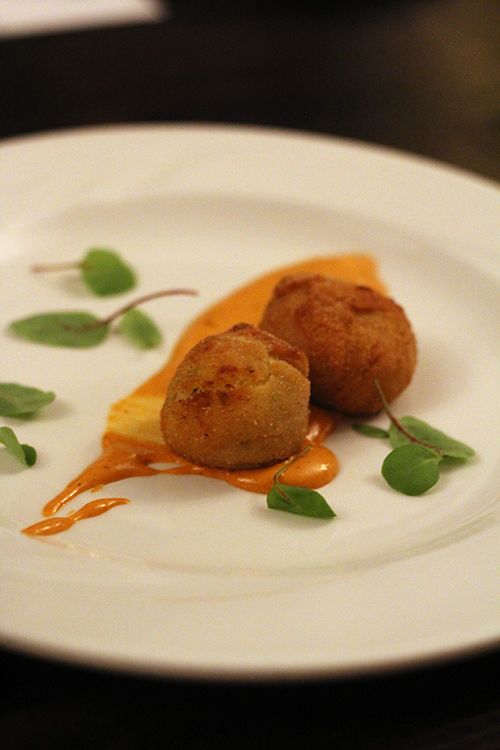 Before the main courses made their way to the tables we all had a taste of the Croquetas de Bacalao. These poached Lingcod and potato fritters had a crispy crust made for dipping into Sabor's signature piri piri sauce. The piri piri has a great kick and is so addictive!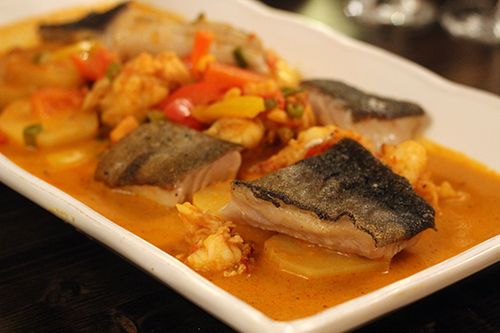 The Caldeirada de Peixe, otherwise known as Portuguese fish stew, was my favourite dish of the night. Sabor's version features beautiful sablefish and poached lobster cooked with peppers, tomatoes, onions, and potatoes in a saffron-lobster broth. The seafood was cooked perfectly and the broth had a nice depth of flavour. If I had access to a spoon I would have finished all that delicious broth!
The last savoury dish of the evening brought together octopus and lamb for a spin on surf & turf. Smoked paprika charred octopus was paired with a chorizo-stuffed saddle of Alberta lamb. The proteins sat on a bed of migas, a side dish of kale, pine nuts, and white navy beans for a filling end to the savoury courses.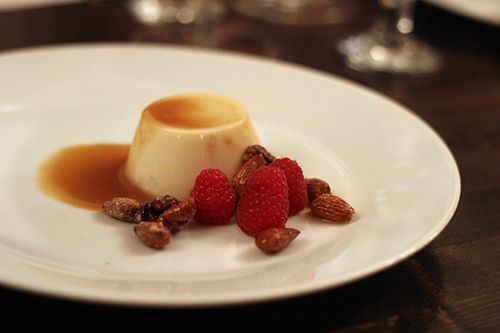 The Leite Crema 'Dona Irene' rounded off our meal and was a great finish to the night. The combination of creamy custard with raspberries, candied nuts, and silky caramel sauce were so good, I might have had two portions. If you're a panna cotta fan, this one is for you!
The Sabor Seafood Festival runs now through September 3rd, so you have just under one month to try out the dishes on the special menu. While the regular menu is still available, I would encourage you to try something new, or even order the dish made by Chef Hansen to support Ocean Wise initiatives! If seafood isn't your thing, not to worry - check out Sabor's newly opened sister restaurant Bodega in the Highlands area for wine and tapas instead.
*Disclosure: Sabor invited me to attend their media preview dinner. Views expressed in this post are solely mine. I was not expected to feature this restaurant on my blog, nor obligated to do so. This post is 100% my opinion, and as always, my priority is to you, the reader, to present an unbiased, thorough review.