A Taste of Europe: Sage Signature Series August 26-30
August 26, 2014
Last week I had the pleasure of attending a media dinner at Sage, the fine dining restaurant inside of the River Cree Resort & Casino. Guests were being treated to a preview of the Taste of Europe tasting menu created by Executive Chef Shane Chartrand which is being featured at Sage from August 26-30.

Sage - 300 East Lapotac Boulevard - Edmonton AB


At the start of the meal Chef Chartrand explained that this European menu was created in homage to some of his favourite European chefs. Each course was a traditional dish inspired by a different chef, and Chef Chartrand put his own personal spin on it.
The first course was inspired by Jose Andres of Spain: clams and chorizo sausage al ajillo with crispy ensalada. The clams were delicate and fresh, and the greens provided a crunchy texture to contrast the other elements on the plate. Al ajillo translates to "with garlic,"and in combination with the herbs and spicy chorizo the flavours in this dish made it a great starter. But my favourite thing on the plate? That egg yolk! Cooked to just the perfect consistency the yolk bound everything together.
Next up was a beef goulash with braised cabbage, potato gherkin cream and spelt bread, inspired by Sven Elverfeld of Germany. Can I just say how beautiful the plate looks? The striking magenta colour immediately caught my eye! This beef goulash probably looks nothing like what you have had in the past, but I will say that Chef Chartrand's take on this classic dish was fantastic. The beef was tender while the bed of braised cabbage provided a different textural element. The potato gherkin cream on top gave it a light dill flavour and the potato crisps, balls, and bread on the side added more contrasting textures.
With the following course we took a trip to Italy for tagliatelle with veal osso bucco, roasted romaine and balsamic foie inspired by Massimo Buttra. This delicate serving of handmade pasta was nothing short of amazing. The contrasting flavours of balsamic, smoke and parmesan all paired so well together that I wish there had been more on the plate. Texture and flavour was spot on with this dish, and the light sprinkling of panko crumbs gave the dish a wonderful crunch. My boyfriend has officially named this the best pasta he's ever had.
The fourth course was inspired by Pierre Marco White of England, and Chef Chartrand gave us his take on cottage pie. We were presented with a truly deconstructed pie made with tender, flavourful lamb with carrots, crispy kale, and pecorino on a bed of mashed potatoes. There was a good portion of meat on the dish, and I loved the crunchy bits of toast that were sprinkled over top. This plate was scraped clean and spotless when I was done with it!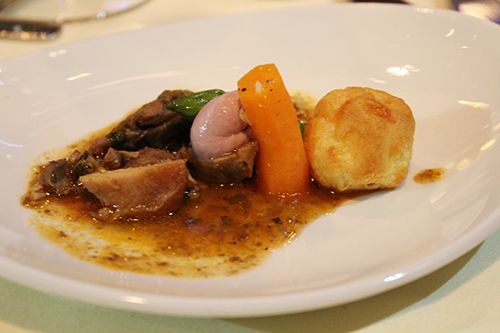 Alain Ducasse of France was the inspiration for our fifth course, which was coq au vin with a burgundy red wine emulsion and gruyere gougeres. The sampling of moist chicken was another winner, but my favourite thing on the plate was the gougere. Light, puffy, cheesy and so easy to eat. I could eat a bucket of them!
Swiss chocolate souffle inspired by Peter Goossens of Switzerland rounded off the meal, and it was amazing to see 50 perfect souffles emerge from the kitchen to the dining table. It's no easy feat, but the culinary team pulled it off! The souffle was decadent, but to make things even better, pots of light creme anglaise were available at the table to pour over dessert. Between you and I, I probably had about half a pot of it. So delicious! Don't tell.
Chef Chartrand is an absolutely talented chef and continues to experiment and express his love for cooking. I would highly recommend visiting Sage to see what Chef Chartrand has up his sleeve, and if you have the chance, definitely check out the Taste of Europe tasting menu available this week from August 26-30! At $49 per person, the six course menu (without beverage pairings) is a steal. Portions are perfect and each course is timed perfectly. Now go make dinner plans, eat & enjoy!
Disclaimer: as this was a media event, views expressed in this post are solely mine. I was not expected to feature this restaurant on my blog, nor obligated to do so. This post is 100% my opinion, and as always, my priority is to you, the reader, to present an unbiased, thorough review.