Port to Prairie: Grandin Fish 'N' Chips
March 07, 2017
For months Edmontonians have been teased by five little words on the window of the space beside The Common: Fish 'N' Chips Coming Soon. Finally the coverings are off the windows and Chef Jesse Morrison Gauthier's second restaurant is ready to serve his take on a British classic.

Grandin Fish 'N' Chips - 9902 109 Street - Edmonton AB


Located right next door to it's older sister,
Grandin Fish 'N' Chips
is a fast-casual restaurant serving up fish 'n' chips with a prairie twist. Taking inspiration from dishes in London and the East Coast of Canada, the restaurant hopes to be a modern, sustainable, and health conscious seafood option in Edmonton.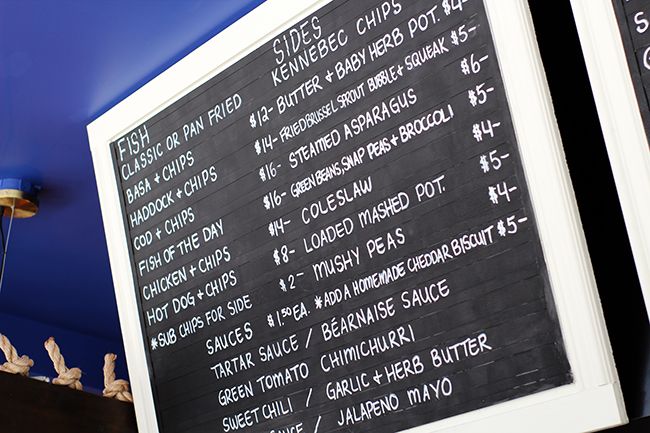 As you walk through the door you'll find yourself below framed chalkboard menus outlining all the restaurant's offerings. When it comes to the fish 'n' chips at Grandin, the classic version features fresh fish coated in tempura batter and served with a side of fries, coleslaw, and tartar sauce. Haddock, Cod, and Basa are always available, and the 'fish of the day' is an additional option. Alternatively, you can ask for your fish to be pan-fried or cooked using a gluten-free batter, both of which are gluten-free options.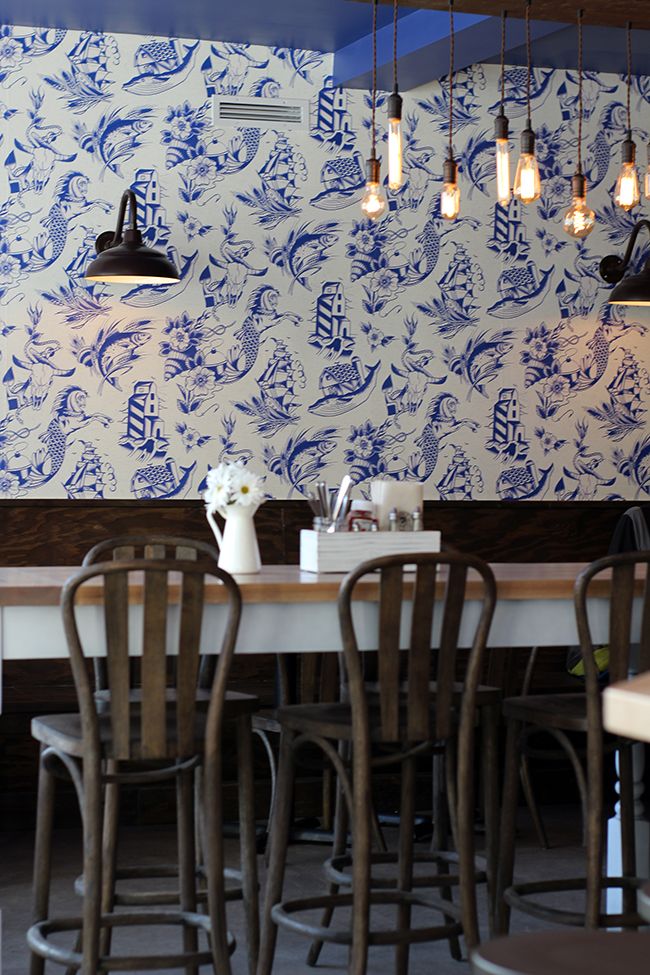 As the restaurant is fast-casual there is the option to dine in or ask for your order to go. The dining room can seat roughly 25-30 people and can get quite busy during the lunch rush from 11am-1pm. Dinner time is slightly different with sit-down service, so the pace of your dining experience is more dependent on your server.
The best thing about the restaurant space is the use of nautical-themed decor. I love the contrast between the stark white and blue, especially in the whimsical wallpaper designed by local tattoo artist Heath Smith. There's some fish bait in one corner, a fishing line in another, and there's even a cheesy collage of children and adults with their biggest smiles sharing some of their best catches. The space has a fun, casual vibe, and is a great space for a casual date or to meet with friends for a quick meal.
I met with a friend for lunch and we ordered a couple items to share. First up came the Cod + Chips ($16) with the standard accompaniments. We were surprised to find that for the price there was only one piece of fish, but it was perfectly cooked and flaky inside of the light tempura crust. The cod itself wasn't seasoned, which allowed for the sweetness of the fish to come through, and the fried batter was barely greasy. A quick squeeze of lemon and a dip into the slightly tangy tartar sauce gave the dish all the flavour it needed.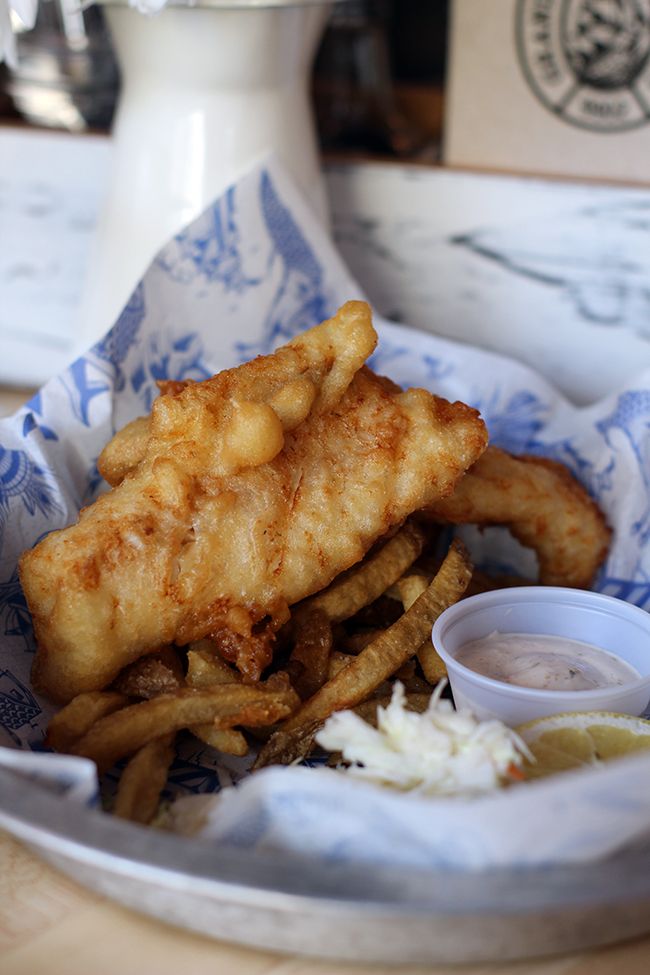 The Haddock + Chips ($14) came next with two pieces of fish and felt like better value given the portion size. It was cooked just like the cod - flaky and coated by a crisp batter. The coleslaw with both orders wasn't much to write home about, and the fries were pretty standard. We ordered a side of Jalapeno Mayo ($1.50) sauce for our fish, but found the kick of heat to pair better with our fries.
In addition to our fish 'n' chips we ordered a side of the Fried Brussel Sprout Bubble and Squeak ($5). I must admit I mostly wanted it just because the name was intriguing, but also because brussel sprouts are delicious! Bubble and Squeak is a traditional English dish made with leftover roasted vegetables fried together with mashed/crushed roasted potatoes. The name comes from the bubbling/squeaking sound that cabbage makes when cooked. This version at Grandin Fish 'N' Chips brings together roasted and caramelized brussel sprouts, parsnips, and potatoes to give you a unique side to accompany your main.
Flaky fish!
Using products from suppliers like
Fins Select
and
Effing Seafoods
, you can be assured that your meals at Grandin Fish 'N' Chips are responsibly sourced and sustainable. There is even the option to purchase fresh seafood to take home from the retail case by the entrance of the restaurant. While there are endless dining options in the downtown core, Grandin Fish 'N' Chips is a great addition as a seafood option, so check them out when you're nearby.