Local Love Story: Love Pizza
February 12, 2016
Day by day Edmonton's downtown skyline is changing, and so are the businesses in the area. At the end of January, Love Pizza opened its doors in the Canterra Shopping Centre off Jasper Ave & 109 Street.

Love Pizza - 10196 109 Street - Edmonton AB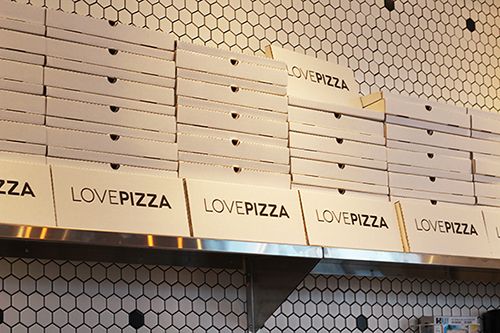 To me, pizza is a food that brings people together. Pizza is a staple at parties, and you typically share pizzas with others. But the story behind Love Pizza is a little bit different - co-owners Braede & Gavin shared pizza on their first date and fell in love over pizza. Love pizza is the baby of their love story, and I think it's great that their story is up on the wall for all to see.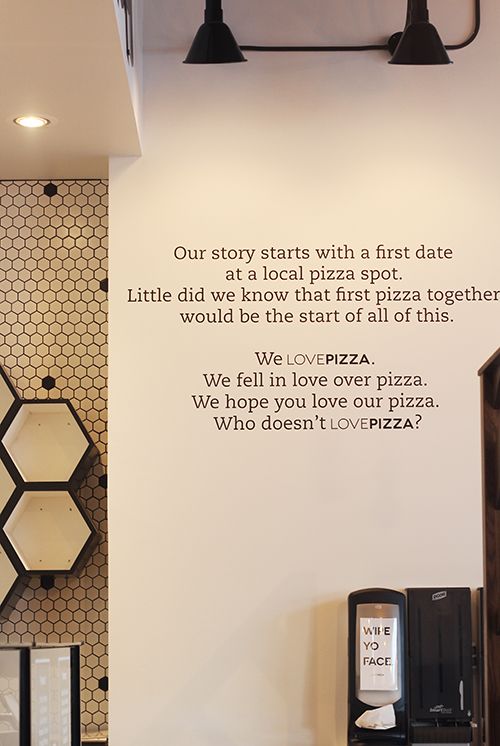 I met up with some girlfriends for lunch last Tuesday and the space was packed with hungry patrons. Aside from the amazing smell of freshly baked pizza, I was immediately drawn to the clean, minimalist design of the space. The use of black and white with geometric shapes give the space a trendy, modern feel.
Like many fast-casual restaurants, Love Pizza runs on a self serve concept where you place your order up at the counter. Pizza dough is made in-house daily, and you have the choice between a Traditional Caputo '00', 100% Whole Wheat made with
Gold Forest Grains
flour, or Gluten Free crust (+$3).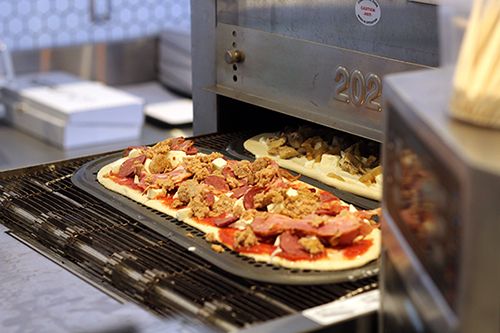 After choosing your base, you can choose from one of the 11 signature pizzas ($11.95) or go on an adventure and build your own for the same price. The signature pizzas feature some mouthwatering combinations, but with housemade sauces and specialty toppings like artichoke hearts, capicolla, and pecorino, you could make a pretty fantastic pizza. Whichever route you choose to take, the pizza goes into the oven for 3 minutes and your pizza is hot and ready.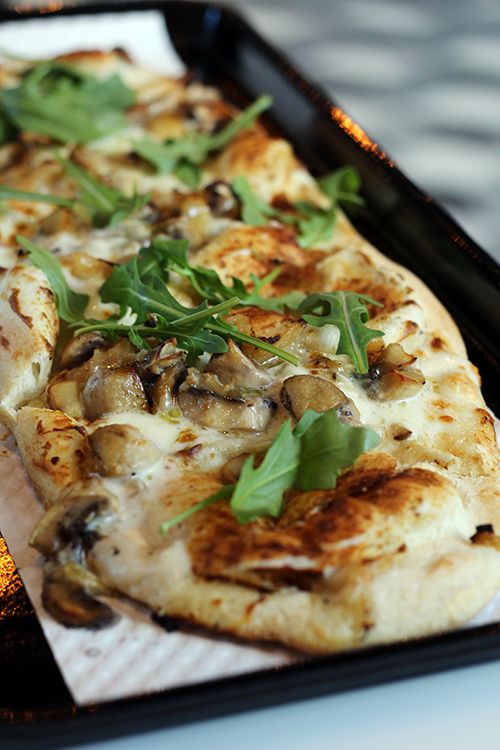 I'm a huge fan of mushrooms on pizza, so I was immediately drawn to the Holy Shiitake ($11.95) on the traditional crust. This vegetarian pizza features housemade truffle parmesan sauce, Fior Di Latte, a roasted mushroom blend, caramelized onions, and fresh arugula. My pizza had an abundance of toppings, but I was only able to make out two different mushrooms. I had hoped for a greater variety, but perhaps the blend hadn't been well mixed. While the combination of toppings was delicious, there wasn't the hit of truffle flavour I was expecting to come from the sauce. Finishing the pizza with a drizzle of truffle oil would have made this pizza perfect for me.
On to the base. If there's two things I hate in a pizza crust, it's when crust enters flatbread territory, and when crusts are soggy and unable to hold up the weight of the ingredients. The '00' crust at Love Pizza is anything but that - it's fantastic. The dough rises enough to give the pizza structure and a soft bite, and it stays thin so as not to overwhelm each bite of pizza.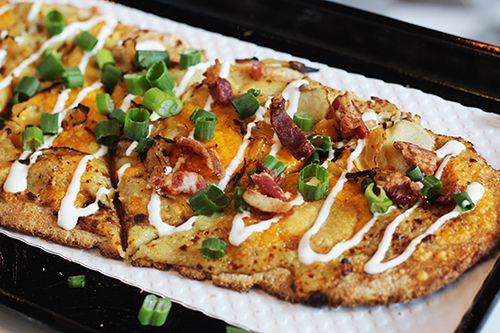 Next came the Ode to Ukraine ($11.95), featuring a combination of roasted garlic spread, orange cheddar, shaved potato,
Irving's Farm
bacon, caramelized onions, green onions, and finished with a drizzle of creme fraiche. The flavour was similar to that of a perogy, and I enjoyed the added smokiness from the bacon. We opted for the whole wheat crust for this pizza and I found that it didn't rise as nicely or have the soft, chewy bite to it, making it similar to a flatbread. Although whole wheat is a healthy alternative, I'm definitely sticking to the traditional crust.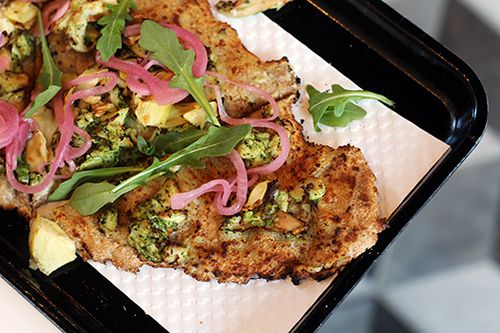 For our final pizza we went with the City Market ($11.95) on whole wheat. Pesto pulled chicken, artichoke hearts, cherry tomato, pickled red onion and goat cheese rested on a bed of roasted garlic spread. It was another great combination of flavours, albeit a tad dry given the use of goat cheese.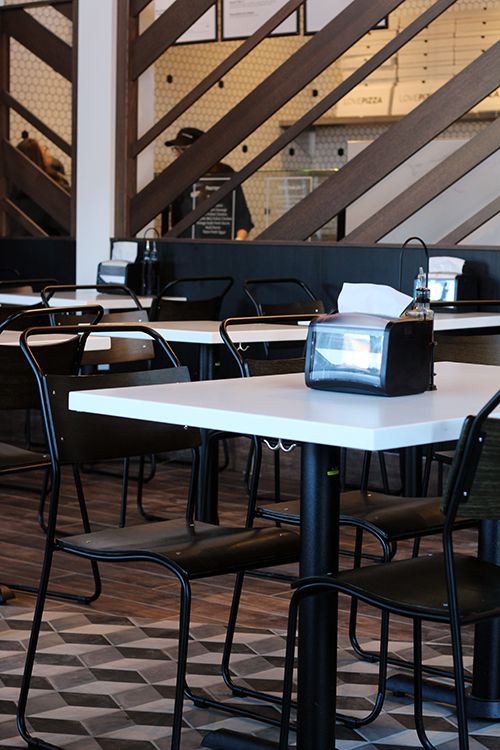 It's great to have another fast-casual restaurant open up in the downtown core, and I'm sure those working in the area would agree. Being a small business, Love Pizza aims to source local ingredients where possible to strengthen the community. One of the menu boards is dedicated to listing the local suppliers they partner with, and I think it's great that they make sustainability a priority.
With a great selection of quality ingredients (there's over 40+ choices), the pizza combinations are endless, and I'll definitely be back for more. What's even better is that Love Pizza has a loyalty program where you can earn points towards free pizza, and you get free birthday pizza!
Sign up here to get $5 off
your first pizza and thank me later. Whether you're grabbing lunch on the go, needing a late night bite, or going on a first date, give Love Pizza a try and see if you love their pizza too.