Ice District Eats: JOEY Bell Tower
September 23, 2016
Now that Rogers Place is officially open, where will you be eating before you head to your next concert or Oilers game? There's been a lot of buzz about the restaurants slated to open in the Ice District - the most recent one is JOEY Bell Tower.

JOEY Bell Tower - 10310 101 Street NW - Edmonton AB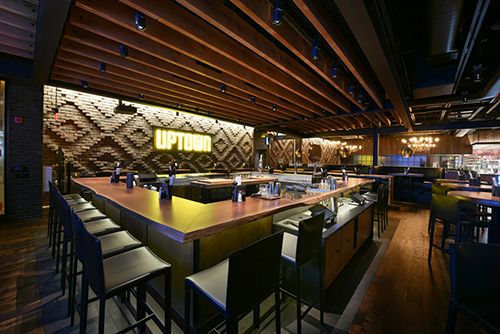 photo courtesy of JOEY Restaurants
The JOEY Restaurant group has a few locations in the Edmonton area and recently closed the popular Jasper Avenue location to open Bell Tower, their new flagship location in the city. In the new space rustic meets modern, and it is absolutely gorgeous. The space is huge, but given the location and the short distance to Rogers Place this JOEY location is sure to be packed with the post-work and pre-game crowd!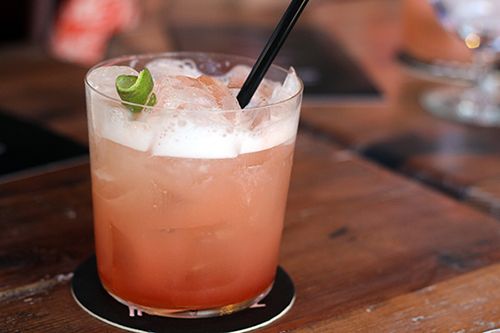 Seven Seas Cocktail
As this JOEY is a flagship location there are going to be a few dishes on the menu that are unavailable elsewhere. I had the opportunity to attend a preview dinner last month hosted by Chef Chris Mills (JOEY Restaurants Executive Chef) and Chef Colin Fryer (Head Chef JOEY Bell Tower) and was pleasantly surprised by many dishes on their globally-inspired menu. In my high school years JOEY was the restaurant of choice amongst me and my friends, so I admit that this dinner was a bit nostalgic!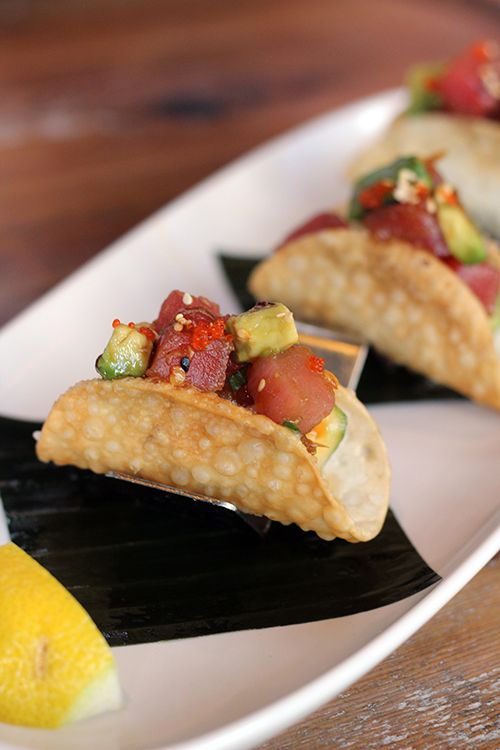 The evening started with a preview of some of the sushi appetizers exclusive to Bell Tower, both of which were inspired by Chef Mills' time training in Japan. The Hawaiian Tuna Tacos ($12.25) feature citrus soy marinated ahi tuna, fresh avocado, and a chili miso sauce on sushi rice all wrapped into a crisp tortilla shell and topped with a spoonful of flying fish roe. The ingredients were fresh and flavourful, but what I really liked was the contrasting textures between the crisp shell and the soft sushi rice.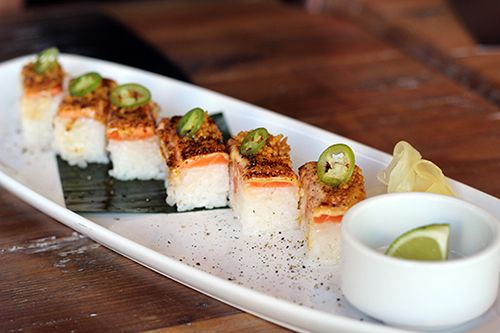 Next came the Osaka Style Pressed Salmon Sushi ($14) which I was quite surprised to see on the menu. This style of sushi hasn't quite made it's way to Edmonton yet so it was a nice change from the usual maki. Shaped using a special box, this sushi features torch seared salmon, 'umami sauce,' and shaved serrano peppers. The texture was spot on and I would definitely recommend ordering this on your visit.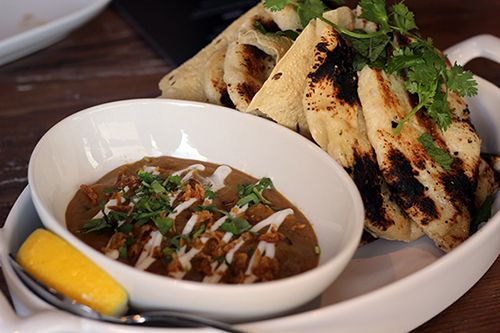 The Night Market Curry dip ($12) is a spicy chickpea curry that comes with housemade naan bread and is perfect for sharing. But if it were up to me I would keep the dish to myself! The curry is aromatic and has a great depth of flavour that I could not get enough of.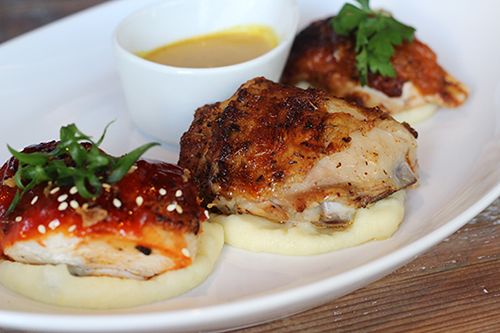 JOEY Bell Tower is bringing back rotisserie chicken with their old style gas-fired French rotisserie. The chicken is first brined for 24 hours, marinated, then spit-roasted to perfection. As part of the Chef's Daily Rotisserie Chicken ($23.75) a different sauce is paired with the chicken each day. Since JOEY is globally-inspired, there might be an unexpected unique flavour on your visit. For the evening tried the Peri Peri, Vindaloo, and Angry Bird flavours. Peri peri and Vindaloo are self explanatory, whereas the Angry Bird flavour comes from Korean gochujang. Each piece of chicken was moist and flavourful, but I found myself partial to the Peri Peri with a squeeze of fresh lemon juice.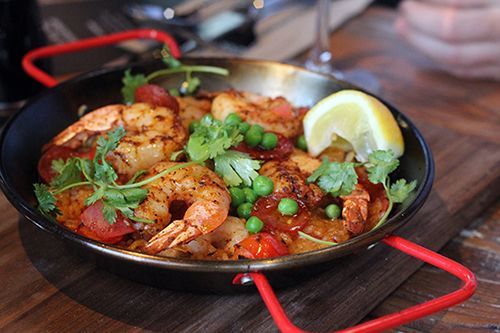 JOEY's take on Spanish Paella ($22) combines lobster saffron broth with shrimp, smoked chorizo, chicken, peas, and tomatoes. The result is a fragrant, flavourful paella loaded with protein. It sounds silly, but the crisped rice at the bottom of the pan makes the dish with the contrast in textures.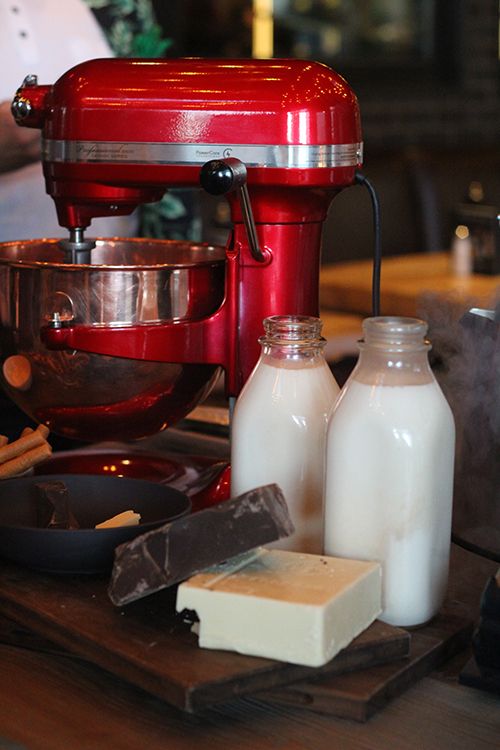 All JOEY locations now offer Spun Daily Ice Cream ($6) which is made fresh daily with liquid nitrogen. If you have never tried liquid nitrogen ice cream, this is a must! The use of liquid nitrogen allows the custard base of ice cream to be flash frozen, meaning no ice particles freeze within the ice cream mixture. The result is the most decadent, creamy ice cream you've ever had. We tried sour cherry chocolate, double chocolate, salted caramel, espresso, and strawberry jam. All were tasty, but just take my word for it - you need to try the salted caramel if it is on the menu for the day. You can thank me later.
JOEY Bell Tower is in a prime location downtown and is sure to be busy with the post-work and pre-game crowd. There's sure to be something to please every palate on the globally-inspired menu and JOEY is very accommodating when it comes to allergies and dietary restrictions. Although it isn't drastically different from other locations, keep in mind that it is a flagship location with more culinary creativity and unique dishes on the menu.
A big thanks to the kitchen crew & team for the great eats and hospitality - I'll be back for that curry dip and most definitely won't be sharing!
*Disclosure: I was invited to the JOEY Bell Tower menu launch.. Views expressed in this post are solely mine. I was not expected to feature this event on my blog, nor obligated to do so. This post is 100% my opinion, and as always, my priority is to you, the reader, to present an unbiased, thorough review.