Island Flavours: Sambol Sri Lankan Kitchen
September 18, 2015
The use of freshly roasted and ground spices is one of the best ways to infuse flavour into a dish. That's exactly what the cook at Edmonton's latest Sri Lankan restaurant does to bring dishes to life.

Sambol Sri Lankan Kitchen - 9261 34 Avenue - Edmonton AB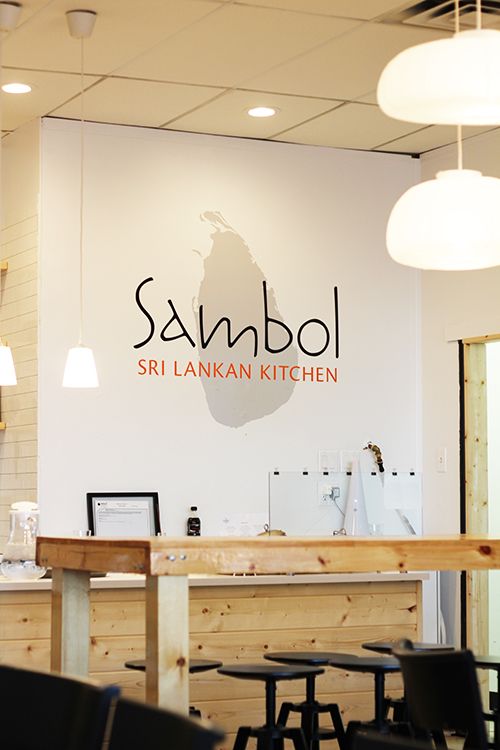 Amongst the mix of East Indian and Korean restaurants and boutiques along 34th Avenue in Edmonton, Sambol is one of few restaurants offering Sri Lankan dishes. While most multicultural restaurants feature decor representative of their culture, Sambol keeps it simple with simple design in a brightly lit space. Some girlfriends and I stopped by for dinner on a Thursday evening and we were greeted warmly by owner Champa Pathirana.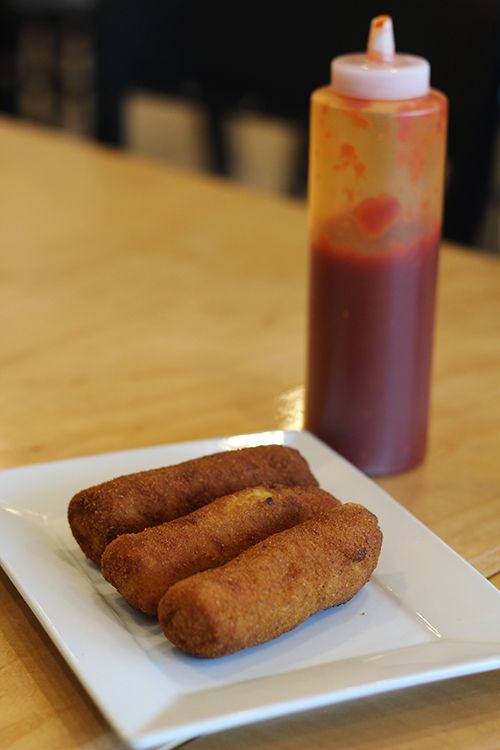 None of us had any previous experience with Sri Lankan cuisine, but luckily Champa was more than willing to share her knowledge and recommendations with us! Through conversation it is obvious that Champa takes great pride in the food that comes out of the kitchen. Chef Priyantha Jayawardena heads the kitchen with his passion and energy for cooking, making sauces and curries from scratch, and roasting and grinding all spices in house. Sambol is also a dairy free restaurant, using coconut milk exclusively in all the curries and desserts.
Our evening started with an order of Fried fish Rolls ($5/3), where a mixture of tuna, potato and spices are deep fried and served with a side of hot sauce. They make look boring, but the thin, crispy exterior breaks into the smooth blend of ingredients, giving contrast in each bite. I probably would have eaten all three if I could!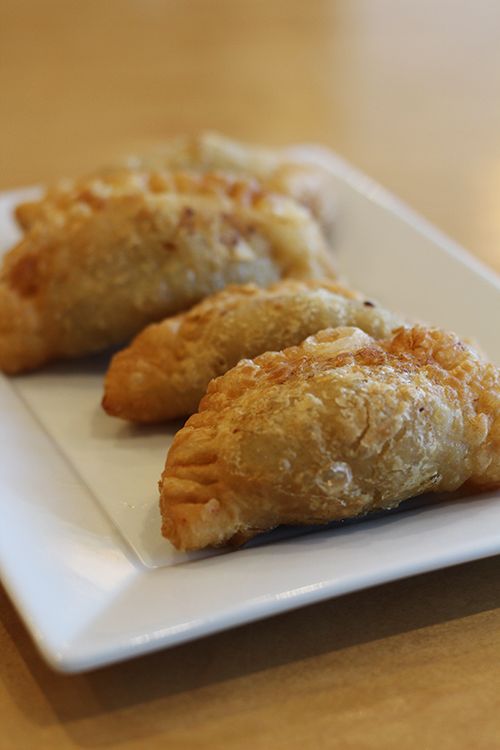 Next up came our order of Chicken Patties ($5/4), where seasoned chicken is wrapped up in homemade puff pastry and fried. The flaky pastry breaks away and the filling is similar in flavour to the seasoning of the mixture in the fish rolls. The dish is great for sharing, and is delicious thanks to the great spices used in the fish.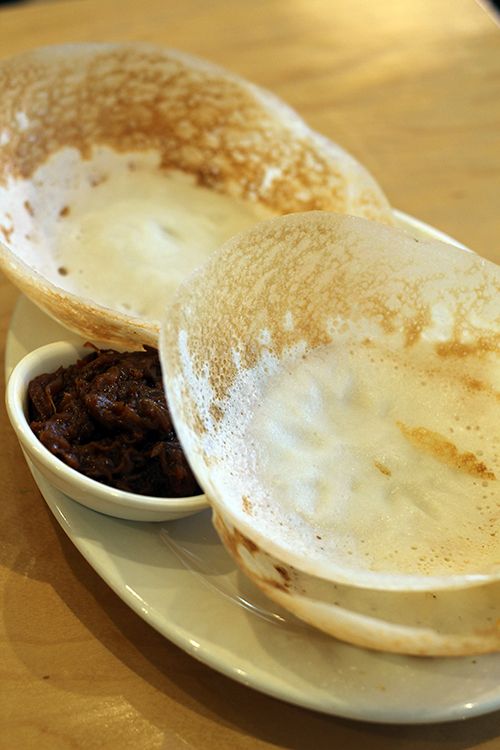 Anyone ever heard of Sri Lankan hoppers? Hoppers, a popular dish in Sri Lankan cuisine, are based on a slightly fermented batter made with rice flour and coconut milk. They are similar to that of a crepe, and can be sweet or savoury based on the condiments they are served with. We ordered traditional hoppers ($8/4) and they were served with a side of fragrant seeni sambol (caramelized onions). The paper thin edges had a beautiful crisp, and the centre had a steamed cake-like consistency that was slightly sweet from the coconut milk. Paired with the caramelized onions, the play between sweet and savoury was delicious.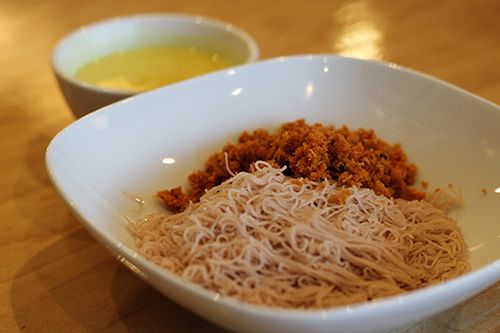 Hoppers can also take on a string form, where the dough is pressed out into thin noodle strings and formed into a little "cake" and steamed. The String Hoppers ($4/5) are served with a side of coconut gravy and topped with pol sambol, a condiment made with fresh grated coconut, chilies, salt and onions. I've always enjoyed the traditional savoury sambal made with chilis, garlic, fish sauce, shrimp paste and other ingredients, so this coconut version was very unique in both flavour and texture. The string hoppers reminded me of vermicelli, and by themselves didn't have any flavour, so the heat from the curry and sweetness from the pol sambol made this dish shine.
For larger fare we opted to try their bowls to share, and started with the Kotthu Bowl with Chicken ($12). Kotthu means 'chopped', so this popular street food dish at Sambol is made with chopped up roti sauteed with vegetables, egg, chicken, and spices. Curry is served on the side to be drizzled on top of this dish, but it is flavourful even on its own. I loved the chewy texture of the roti, and the addition of curry kicked up the heat a notch.
We also ordered the Banana Leaf Bowl, which is Sambol's version of Sri Lankan lamprais. Lamprais is actually a Sri Lankan Dutch Burgher (ethnic group in Sri Lanka) delicacy, where all the traditional ingredients are wrapped up inside a banana leaf and baked. Sambol's banana leaf bowl has seasoned yellow rice served on a banana leaf, topped with eggplant moju (seasoned and fried eggplant), seeni sambol (caramelized onions), a fried cutlet, beef curry, and a deep fried egg. It's all the traditional ingredients served beautifully in a bowl. Mix everything together and you get an explosion of flavours. There's sweetness from the caramelized onions, savoury and spicy from the eggplant, fragrant spices from the curry and the rice, and somehow it all works well together.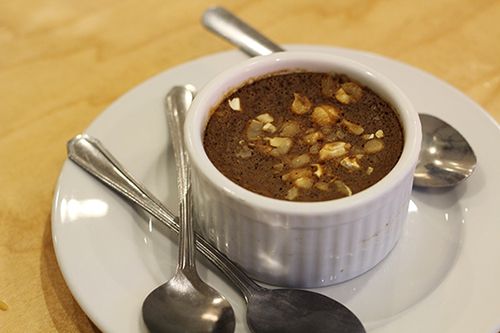 There's a handful of interesting desserts on the menu at Sambol, so we picked the one with the most interesting name to try out. Wattalapum is a traditional Sri Lankan custard made with coconut milk, jaggery, cashews, eggs and spices. The deep brown colour comes from the jaggery, which is a concentrated sugar with molasses. This isn't your typical creamy custard though, it's thicker with almost a sponge/cake like consistency to it. The bottom of the custard was a little too sweet for my liking, but I enjoyed the contrasting texture from the cashews and the nutmeg and cloves used in cooking the custard. Champa mentioned that nutmeg and cinnamon are commonly found in heavier desserts like wattalpum as it is believed that these spices aid in digestion of heavier meals. Neat!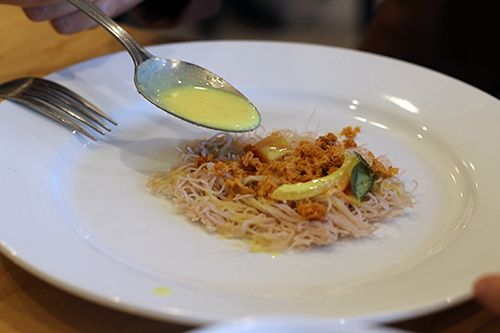 Assembling the String Hoppers
While Edmonton is a multicultural city, it has quite a small Sri Lankan population so I'm glad that Sambol has opened up it's doors to share traditional dishes with Edmontonians willing to try something new. The dishes are full of flavour and prices are very affordable, making it an easy choice for lunch or dinner if you're in the area. I'm already itching to go back, and can't wait to eat my way around the menu. Stop by if you have a chance and let me know what you think!